Check out a brand new alehouse on Thursday, February 27th: Baltimore brewer Heavy Seas will open its Rossyln alehouse doors today. Try their six year-round drafts including the one you've definitely heard of (Loose Cannon) and a most refreshing Cutlass amber lager. Tasso ham hushpuppies and crab soft pretzels should entice you to hop on the metro. Continue Reading
Or, be lazy and have 316 different beers brought to your door: Instacart is a brand new service bringing WholeFoods groceries (read: beer) right to your door in under an hour via personal shopper. Though, you'll pass a whole hour just perusing the options. Mmm Shiner Bock, no -- Brewery Ommegang Chocolate Indulgence! Because we care, here's a discount code: ThrillistDC. The first 100 of you get a $10 credit and free delivery.


Finally conquer that homebrewing resolution on Friday, February 28th: You humble bragged to your friends that you would try homebrewing in 2014. Get everything you need at the 3 Stars Brewing Company homebrew shop. Don't be surprised if your friends are reluctant to try the first batch. Store hours are 3-8pm on Fridays.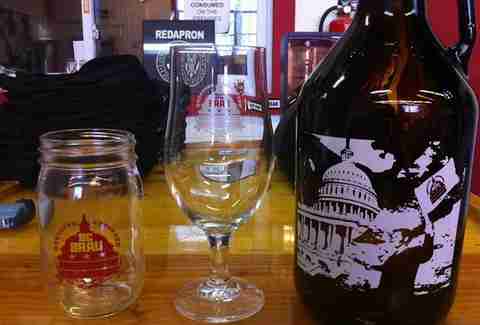 Get it by the growler on Saturday, March 1st: If you have yet to set foot inside the DC Brau brewery, you're missing out. Hit up Growler Hours from 12-4pm to fill up on your favorite suds. What's new this month? 32oz growlers, that's what. Be a more informed consumer and take a tour at 1, 2, or 3pm.
Then, come in first at a 1K beer walk in NoVa: Start by buying a 1K Beer Passport and picking a heat. Don't waste one second worrying about the weather on Saturday because this race is indoors in the shops of Crystal City. For $40, you'll stop at  "hydration stations" to sample about 20 different brews. See what you'll be sipping and sign up


Kill a keg or two on Monday, March 3rd: It's a little-known fact (okay secret) that the first Monday of every month, District Commons and neighboring Burger Tap & Shake enlist thirsty Washingtonians to kill their kegs. You'll be up to your eyes in $3 craft beer, because everything's gotta go in an effort to clean out the combined 1.22mi long beer lines. The suds sucking starts at 6pm. Pro tip: Allagash White is usually the first to kick.
Or, party like it's Mardi Gras on Tuesday, March 4th: Okay, it IS Mardi Gras. Spend Fat Tuesday at the Bayou Bakery for Bayou Gras Block Party with N'Orleans Chef David Guas. A beer truck will dispense Abita Amber and Abita Mardi Gras Bock from five taps. Three pours are included in a $15 Krewe de Brew beer ticket. Jambalaya and gumbo will go great with all that beer. Don't miss out on creepy baby king cake