Washington DC Your mission: get yourself to Union Market this weekend to try these five dishes from some of its finest and NEWEST vendors. Bring a team of friends (or one extremely hungry friend), and get ready to dive into venison chili, top secret soups, and more.
Recommended Video
The Most Overlooked Mediterranean Paradise in Europe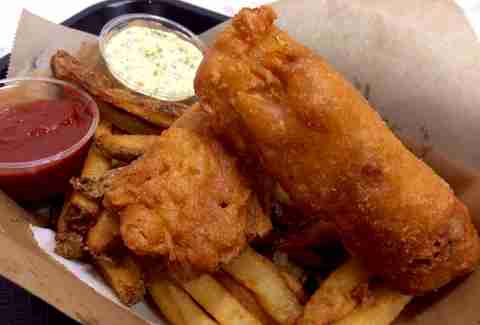 The District Fishwife, Fish & Chips
Predatory catfish. That's the secret behind District Fishwife's perfect fish & chips. Owner Fiona Lewis says they use blue catfish because it's a local invasive species that showed up unannounced from Florida to wreak havoc (ugh, Florida is the worst). You'll forget it's out to get you once it's beer battered and dipped in tartar sauce laced with dill. The newcomer only serves one or two dishes on top of their fish market operation, but not for long. Continue Reading
Bidwell, Venison Chili
The only sit-down restaurant in Union Market orders 50 pounds of venison a week to meet the demands of hungry carnivores. Warning: once you consume this crock, all of your future chili tailgates will fall short. Very short. Beef more your bag? Get the patty melt served on Jewish rye with red beet thousand island dressing.


Rappahannock Oyster Bar, Lambs & Clams
This bowl of new-school surf and turf is seriously smoky. Ground Merguez lamb sausage combines with some bivalves, sofrito, pigeon peas, and aioli for brothy awesomeness. Pair it with The Woolrich: Scotch, Amontillado Sherry, honey, and bitters. It's Rappahannock culture to experiment, so see what they're up to and ask for a nibble -- that's how we tried off-the-menu oyster pâté.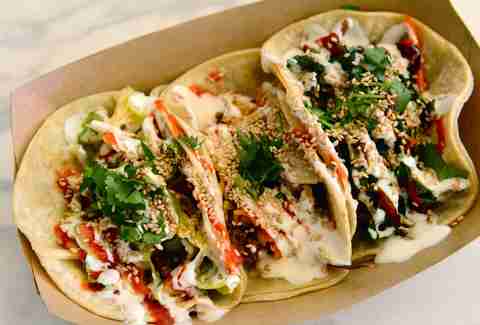 TaKorean, Ssamjang Roasted Pork
After 3.5 years of operation, pork is finally making an appearance on the TaKorean menu. It's dry rub-cured before being slow roasted and seasoned with Korean-style sauce. You can always count on pulled pork to remind you why it's the best protein. Rice bowls are also new to the menu. The food-truck-turned-market-stand will explode into a full-blown shop this summer in the Navy Yard.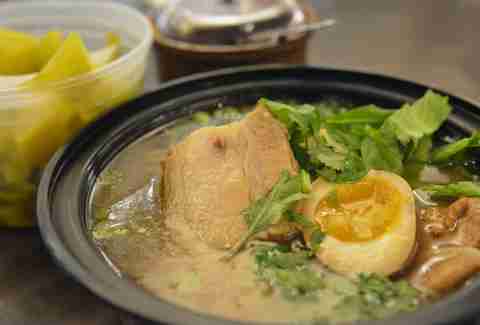 Maketto Pop-Up, Soup of the Day
Chef James Wozniuk is staying occupied by making soup Wednesdays-Sundays until Maketto opens its doors. You won't see a sign, so just look for a guy running around with vats of strong-smelling soup. He offers a new soup each week -- and says his recipes for sour fish soup, curry laksa, Bún bò Hue, and the like are all in his head. We're surprised he has a normal-sized head. Toss in his pickled mustard greens and order a set of bao buns.