Washington DC Event of the Week
Embark on a marathon you've actually been training for with the DC Beerathon. This self-guided hops journey through Northwest DC has 26 stops, each with a 12oz craft or premium pour of beer. Check in is from 11a-3p, and participating restaurants will serve you 'til close. Get ready for a journey
Recommended Video
Drink This Winter Bourbon Smash and Conquer Cold Weather Forever
Thursday, November 7th: Roll yourself back to the high school days of rapping along with the radio behind tinted windows and head to LIV for Hip Hop Karaoke. Yes, you get your very own hype man. Sign-ups start at 9p, $5 cover after 1030p. Continue Reading
Friday, November 8th: Thank you Tennessee for bringing something better than Lamar Alexander to Washington: Moonshine 2013. Try Tennessee State Society's signature cocktails, comfort yourself with Southern food and hit up the Jack Daniel's open bar for a mere $30 ($40 for a couple). Party from 7-11p at Admo's Southern Hospitality.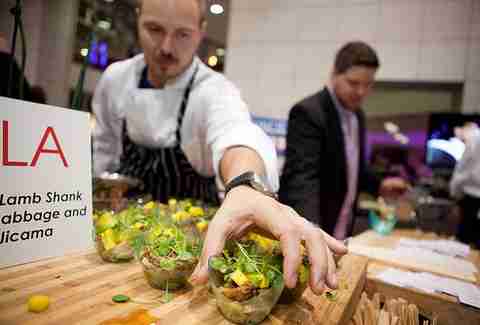 Monday, November 11th: If you secretly hoard Top Chef episodes and then binge eat Bugels while watching them, this is the event for you. DC's own Carla Hall is hosting the Capital Food Fight -- competitive bites from 75 top restaurants including new comers like Eat the Rich and Maketto. Guzzle beer and wine to help justify the $250 price tag benefitting DC Central Kitchen.
Freebie of the Week - Wednesday, November 13th: Tequila tastes so much better when it's free. That's why you can't miss El Centro Georgetown's very last free tequila tasting from 5-7p. This spirited swan song features Cazadores Tequila. Just show up.