It's easy to write Washington, DC off as America's least romantic city -- what's so charming about a bunch of monuments to old, dead presidents? Then there's the bad rap DC gets for being too career-focused and transient. But there's more to DC's dating scene than meets the eye, and things tend to particularly heat up with the weather and the accompanying disappearance of bulky winter wear. But if you're going to do dating in DC right, here are 15 things you need to know.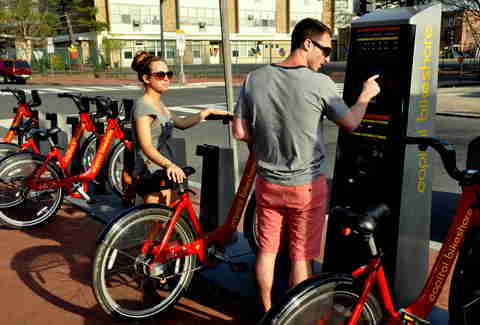 1. Dating in DC is not hard, but finding someone you can hang onto is
This city is turning decidedly younger, which, if you happen to be a young person, or an older person looking to creep on younger people, is great! But, DC also has a reputation for being one of the most transient places in the country. Dating is the easy part. It's holding on to him or her that's the challenge.

2. Dating does not have to be expensive
According to a recent survey, men spend about $177 on a first date in DC, but why? Our city is home to tons of freebies, including entertainment, concerts, and museums. Plus, there are generous happy hour deals. It's crazy-easy to have a cheap date without appearing to be a cheap person.

3. Never, ever start a date with the question "So, what do you do?"
This is the networking capital. If someone you meet starts out by asking, "So, what do you do?" run and turn the other way... unless you're one of those go-getters who doesn't leave the office until 9pm most weeknights. In that case, it'll probably work out great!

4. That said, be ready for the question "So, what do you do?"
Hopefully your date heeded #3 and eased into it a bit, but in this town, it's going to come up. Here are some answers you're likely to hear: I'm a lawyer (or) I work at a nonprofit (or) I'm a consultant (or simply) I work on the Hill. Pro tip: never date someone who works on the Hill.

5. If you must swipe right, go for Hinge
The company first launched in Washington, DC and is a less-creepy alternative to other popular dating apps. Friends-of-friends always seem safer than a complete stranger.
6. Repeat: True love does not exist at the corner of 9th and U Street
Did you meet her in the line at The Brixton? Or, maybe you met him outside of Nellie's? Better yet, you met in line for Jumbo Slice. This is not "the one" and you should not take this person home to Mom. But you're likely not in the state to be concerned with such things right now, so in the short term, go for it!

7. Weirdly, it does exist at a White Ford Bronco concert
Nothing says love like a '90s cover band. One of the more notorious such bands in town, White Ford Bronco, also happens to have a dedicated following among the 20-something set. Apparently Third Eye Blind is a powerful aphrodisiac.

8. If you're in line at Rose's Luxury, this better be serious
A no-reservation policy means waiting in a long line at 5pm for a table that will open up three hours later (if you're lucky). You had better really like spending time with this person.
9. Guys, you really have no excuse
A couple years ago, Men's Health named our city the best place to live if you're a single man. So really, you just need to get out more.

10. Actually, ladies don't really have one either
Census data shows that people like to be single here at an almost alarmingly high rate. There has to be someone out there who matches your particular set of neuroses.
11. Nothing says a first date like a drink at Bar Charley
Keep it classy but also keep it cheap. A drink and snacks at this bar won't set you back more than $20 or $30 bucks.

12. Intern season officially starts in May
Summer isn't the only reason to stay single. A crop of wide-eyed recent graduates arrive to Washington, DC each May. It's like something you'd see on Wild Kingdom.
13. You can't beat the view from the elliptical at VIDA
Where do some of the most fit (and self-obsessed) people in DC go to workout? One of the many VIDA Fitness locations found around town. Stop staring and start stair-climbing already.
14. Your dating game is not as good as our President's
Barack and Michelle know all the hottest place in town for date night.

15. It's impossible to run out of date-night ideas
Otherwise, you clearly didn't read this.
Sign up here for our daily DC email and be the first to get all the food/drink/fun in town.