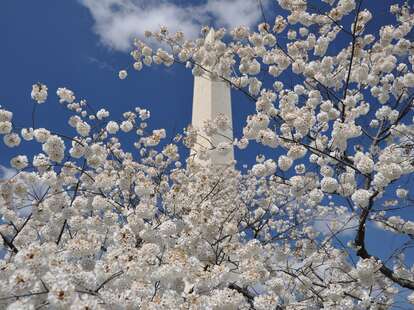 Whether you just got to DC or have been here a while, you know we love to eat, drink, and argue. More specifically, here are 30 things we can't get enough of, starting with #1: cherry blossoms. DC is perpetually in a state of either going new-parents-level photo crazy over the blossoms or waiting for them to return. While you're waiting, here are 29 other things you can't stop loving:
2. Rooftop bars
Doesn't matter what you're drinking as long as the stars are the ceiling.
3. Status
From being dubbed a restaurant "regular" to being on the invite list for every embassy party, people love having their name out there. And more importantly, having other people KNOW their name is out there.
4. Jim Vance
The man can do no wrong.
5. Happy hour
Particularly the ones that last until at least 7pm, because you know no one's leaving work at 5pm in this town.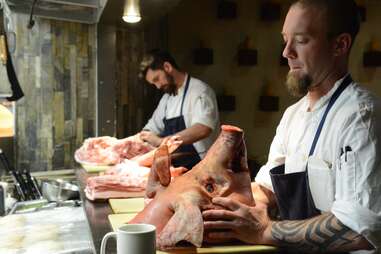 6. Pork
A dinner out in DC isn't complete without a chef with a pig tattoo bragging about the heritage breed pig you're about to eat from "nose to tail".

7. National Public Radio
Totally cool to consider Diane Rehm family.

8. Fresh farm markets
That one day a week we stock up on fruits and veggies from local farms before forgetting that they're in the fridge until the following week rolls around.

9. Uber
It's talked about like the second coming, but really is just transportation.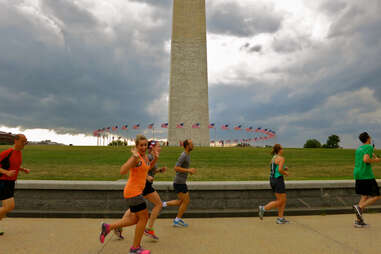 10. Running
We've managed to turn a solitary sport into a social outing. And, on any given night, the decision to have that second (4th?) beer revolves around where you are in your marathon training.

11. Delivery
We're not talking pizza. New services like Postmates and Caviar will bring DC's finest straight to your door. But don't be surprised to find yourself yelling, "PEDAL FASTER!!", while watching your bike delivery guy's progress on your phone, especially if you've been drinking.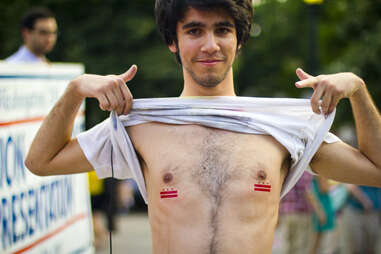 12. DC flag tattoos
Often acquired after going to one of these places.

13. Getting it on in bar bathrooms
14. Being late, on purpose
Status, remember? Blame "traffic". Or even better: "single tracking".
15. Brunch
Preferably boozy.

16. The Billy Goat Trail
It's just challenging enough to work off brunch.

17. Free anything
With comically pricey rent (and just about everything else), Washingtonians can't get enough of free sh*t. Free concerts, free outdoor movies, and happy hours that sling free food help everyone get by.
18. Taking pictures of crowded Metro platforms
Because you need to commiserate with someone and the unshowered gentleman next to you isn't going to cut it.

19. The Caps
Since there are no split allegiances with Baltimore teams when it comes to dudes on ice, the Caps are one team everyone can root for. Even transplants from other cities, because hey, it's hockey.

20. Okay, okay the Nats too. And, as of late, the Wizards.
The Redskins are a headache.
21. Homegrown fast casual
Cheers to Sweetgreen and Cava Grill for keeping us full when we're trying not to eat a burger for once.

22. Scandals
Not the televised kind that confuse the rest of the nation about what goes on here, the ACTUAL scandals that impact our lives.

24. Local beer
We also love non-local beer.
25. Grilled cheese
We love it so much that it needed its own gut-busting restaurant -- GCDC. Then there are the build-your-own grilled cheese experiences at Ripple and The Pursuit.

26. New restaurants
Listen in as groups of friends go down their checklists to find a spot that no one has tried yet, deeming it a fit for dinner. Who can imagine going somewhere twice?

27. Pandas
Red ones, black & white ones, baby ones, pregnant ones, escape artist ones.

28. Politics
It's not reality TV. It's reality.
29. Craft cocktails
Whatever that means. Try some here.

30. Connections
It goes like this: I know you from somewhere. Do you do CrossFit with Justin who used to work for Pelosi and live on H Street but just moved to Bloomingdale and started a non-profit to bring abandoned bikes to communities overseas? You know, he only drinks pour-over coffee so we probably all met at Chinatown Coffee Co.? That must be it.