9 DC apartment buildings with serious perks
It's a dog-eat-dog rental world out there, which is why apartments across DC are packing in the perks to get renters to take notice (including pet-oriented ones, assuming your dog didn't get eaten during the rental process). From soundproof jam rooms to electric car charging stations to rooftop pools, see what you're missing out on.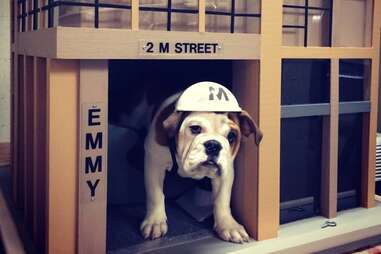 2M
2 M St NE
This NoMa building has been making waves recently because it offers something no other building does, or should: a communal English Bulldog. To stand out from the crowd of other NoMa apartments, 2M allows residents to take Emmy on walks in the area or to play around with the pup. But at the end of the day, Emmy goes home (in a manner of speaking) to her owner, the building's property manager.

Avalon First and M
1160 First St NE
The list of perks runs long at this NoMa apartment building. Need space to jam in with your on-the-verge band? Got it. What about a pet salon to take 2M's Emmy to? D'Tails has it covered. But how do you kill time while the dog's at the groomer? The rooftop pool should do the trick.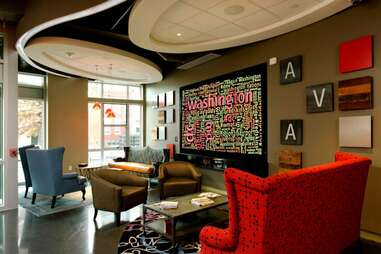 AVA H Street
318 I St NE
The building may have H Street in its name, but it carries an I Street address. But what it has that others don't is a Twitter wall in its lobby. So for those who prefer social media projected on the wall and not just their phones, here's your solution. And when not engaged in 140-character bits of wisdom, this apartment building also has gear walls to keep bikes and other paraphernalia all neat and orderly.
Flats at Atlas
1600 Maryland Ave NE
Sports are front-and-center at this H Street building. Its gym has a basketball half-court so you can do your best John Wall (they might actually be good?!). During the warmer months, the dual-level pool is there for socializing/ ogling, and for those who dislike socializing, there's also a golf simulator.
City Market at O
1414 8th St NW
Hard to believe these blocks in Shaw have given way to City Market's mega-development. But they have. And to entice renters, it's going to the dogs. There's not only two sweet dog runs (one with a fire hydrant!), but there's also an onsite grooming station. For human tenants' needs, the apartment complex has charging stations for electric vehicles. For personal fuel, there's an espresso lounge with gourmet coffee open everyday.
2401 Pennsylvania
2401 Pennsylvania Ave NW
What's more baller than living in a place that can refer you to the right personal trainer? How about an apartment complex that has a five-star restaurant attached to it? In this case, it's the legendary Marcel's, helmed by the badass chef, hunter, and beer knight (!) Robert Wiedmaier, who also let us raid his refrigerator.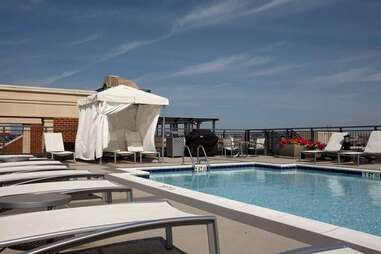 Capitol Yards
70 I St SE, 100 I St SE, and 909 New Jersey Ave SE
This series of three residences packs in the perks. 70 Capitol Yards has a game room with a Wii, Xbox, and Playstation. Over at 909 Capitol Yards, there's a 10-seat theatre with its own popcorn machine. Don't forget the rooftop pool with a cabana. Tenants find little reason to leave Southeast.
3333 Wisconsin
3333 Wisconsin Ave NW
In Cathedral Heights, it must be hard staying in shape, because Buzzuto's building offers complimentary spin, pilates, and yoga classes. After working up a sweat, the building's 12-seat screening room is a great place to cool down/ not exercise.
Highland Park
1400 Irving St NW
Maybe it's not necessarily a perk, but having a 500-gallon fish tank in the lobby helps the hurried masses relax when they're coming home. Oh, these guys also have a bocce court for tenants.