DC Ranks No. 1 at These 14 Things. Suck It, Every Other City.
It's pretty impressive when DC beats out every state in the nation at something, given that whole taxation without representation thing. We've rounded up 14 ways we stand out as number one (note: that's not always a good thing). Surprise, surprise... leaving work talk at the office, kind-hearted driving, ego management, and being adept at handling snow didn't make the list.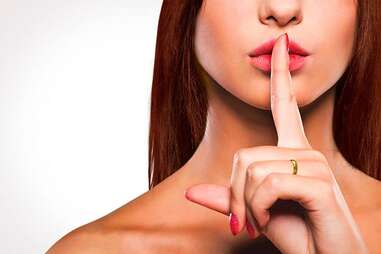 It turns out our "Hollywood for Ugly People" is a lot more like actual Hollywood. Ashley Madison, a site dedicated to helping married people find flings, conducted a study using data from their website to determine the 10 highest cities for cheating in the US. According to their data, DC ranks number one with 7-10% of Ashley Madison users residing in our nation's capital. Wonder how many are in Congress?
Everyone is from somewhere in Washington, DC, but the one thing we all have in common is the USA. Perhaps that's why we're number one in tuning in to the World Cup, according to ESPN. And that's not just for our games. Throughout all 64 matches, we were watching the most. Chants of "I believe we can win" could be heard coming out of just about every bar, pub, office, and apartment.
Sluggish is one word to describe our mail system in DC. In fact, the District is the worst in the nation for late mail service, according to the US Postal Service Inspector General. This is especially concerning when you're waiting for that iPhone 6. Two-thirds of residents in DC and the Maryland suburbs receive their mail after 5pm. Though, everyone stuck at the office probably hasn't noticed.
If there's one thing we're particularly dominant at, it's drinking wine. DC residents consumed nearly 26 liters of wine per person in 2013. That's 34 standard bottles of vino, OR 5.2 boxes of Franzia, if that's how you roll. Why then, are there so few wine bars?
Don't take that walk to the gym or the bar for granted. We have it better than the rest of the country when it comes to urban walkability. We beat out New York at #2 and Boston at #3. This, according to a new report from Smart Growth America. As a result, it's likely we are also #1 at walking into each other while texting.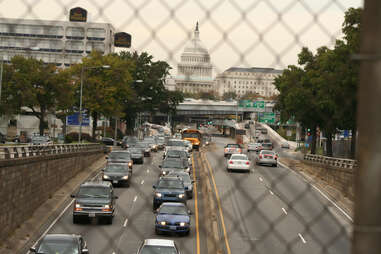 The average traffic delay per auto commuter in the DC area is 67 hours per year. That's like listening to "Serial" from start to finish EIGHT times. Throw in some more facts, like having the least reliable travel times on freeways and 32 wasted gallons of gas a year, and it's easy to see why a Texas A&M Transportation Institute study named the DC region the worst for traffic nationwide.
There's a reason Doi Moi can charge $12 for chicken wings, and Uber can get away with surge pricing sans snowstorm. Washingtonians cash bigger paychecks than the rest of the nation both in terms of average salary ($63,680) and adjusted average salary ($53,875), according to date from U.S. Bureau of Labor Statistics and the US Bureau of Economic Analysis. Average adjusted salary takes cost of living into account (like that $2,800 a month studio you call home).

Along with all that wealth comes feelings. We want to talk about them, and get meds. According to the Minnesota Department of Health, DC ranks highest in number of psychiatrists per 100,000 people. If you can't afford a shrink, sharing your feelings on PoPville's Random Reader Rant and/or Revel is cheap, fast, and effective.
"Hey girl, have you been working out?" is probably the worst pickup line in DC, because the answer's a no brainer — YES. DC ranks number one on The American College of Sports Medicine's Annual Fit City Index. They look at everything from preventative health behaviors to community resources that support physical activity in the 50 biggest US cities. We scored 77.3 out of 100. Though, for the troves of over-achievers in this city who never got a C, 77 just isn't good enough.
Half of DC residents are likely displaying a diploma (or four) obnoxiously in their living room for you to look at during dinner parties. Okay, maybe not, but 50% of DC residents DO have a degree from a four-year college — the highest percentage in the country — according to FindTheBest, which helps people compare cities and states. One only needs to look right or left to see a Syracuse or UPenn sweatshirt.
Here's one worthy of a chest bump: DC is the best in the country at pay equality, with women being paid 10% less than their male counterparts. While this is still something to work at, think about women working full-time in Wyoming who make 64 cents to every dude's dollar. This, according to the National Women's Law Project (NWLP).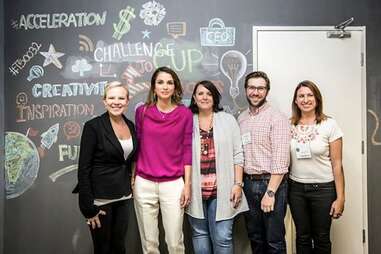 It's time to stop starting conversations with the clichéd question, "What do you do for the government?" DC's got a whole lot more going on. Fast Company just released new analysis naming the District as first in startup activity. They used startups per million residents as the measurement. Similarly, the Wall Street Journal says DC's the perfect place for millennials to find jobs, because DC snagged the top spot in "knowledge-based" or high-tech economies.
DC proudly has the highest ratio of black-owned businesses in the country, with 28% of all businesses being owned by African Americans, according to Census Bureau data. Those businesses include iconic neighborhood restaurants like the Florida Avenue Grill and Ben's Chili Bowl, among many others.
When it comes to the emergency room, time is of the essence. Too bad our hospitals really drop the ball. DC has the longest wait times in the nation, with an average time of 48 minutes. This, according to a national ranking produced by ProPublica.
Sign up here for our daily DC email and be the first to get all the food/drink/fun in town.