13 Things Every Washingtonian Should Know How to Do
Washington, DC life comes with a set of rules: stand to the right on the Metro escalator, never wait in line for a taxi, pretend to have at least a mild interest in politics -- these are just a few of the norms that govern our everyday lives as Washingtonians.

But, some things don't come as natural to District newbies. If you've lived here for any significant chunk of time you know how to do things that others just can't do. Here are the skills that experienced District residents can and should be able to master.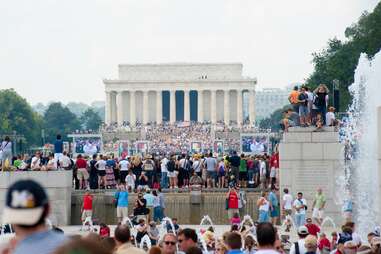 How to be a good tour guide
DC lives off the dime of Uncle Sam and tourists. Therefore it's your responsibility, or rather taxpayer duty, to show out-of-town visitors a good time. So suck it up, and head to the Mall because you're about to play museum tour guide for your sister's roommate's friend from college.

How to maneuver a traffic circle
Speaking of which, let's talk traffic circles. DC natives don't break out into hives when the road goes roundabout. Slow down, yield to traffic, and enter cautiously into the circle.
How to order a rickey... the right way
The rickey is Washington, DC's official cocktail. True Washingtonians know that the drink is pure and simple -- whiskey or gin, half a lime, and carbonated water. It's the only way to stay cool during a District heat wave, and practically every bartender in town knows how to make one.

How to maintain a heavy and consistent buzz at happy hour
Another bar trick that every District dweller must know is how to pick the perfect happy hour. With so many options, it's almost impossible not to find a happy hour that suits your needs. Just remember to leave the bar before the inevitably regrettable awkward coworker hookup happens. Unless you know you're leaving your job shortly after!
How to navigate the Dupont Farmers' Market on a Sunday
Start on the outer edges of this year-round farmers' market, then work your way inward. Maybe a mushroom taco from Chaia or some breakfast pizza from The Red Zebra. Then, get right to work. This is where Washingtonians stock up on Sundays for fresh produce to last them the entire week.

How to find a boundary stone
Walk the outskirts of DC, and you're sure to find one of these milestones. In fact, boundary stones are as old as the city, and each serves as a physical marker for the city's territory, which stands between Maryland and Virginia. True Washingtonians don't need a sign to tell them they've entered the District -- they can spot the boundary stone.

How to pick crabs
This isn't just for Marylanders. District residents live near the Chesapeake Bay and should know how to pick crabs... well, maybe not if you have a shellfish allergy. For the Old Bay uninitiated, there's a handy YouTube video demonstration that will help you get picking.
How to eat a half smoke
Some Washingtonians think that a half smoke should come covered in globs of chili, but the real way to enjoy this DC delicacy is by eating it plain, the way Meats & Food serves it, with fried peppers and onions and lightly dressed with mustard.

How to properly use the word "bama"
There's an entire vocabulary that goes along with being a Washingtonian. If someone calls you a "bama," don't take it too seriously. It usually just means you're acting like a fool.
How to glide through a Metro turnstile
If you're using a paper farecard, you're doing it wrong. If you stop, wait for the turnstile to close, then tap your SmarTrip card, you're still doing it wrong. Real Washingtonians do not stop when walking through the turnstile. It's a seamless tap-and-walk process. Otherwise, you're holding up the flow of the morning commute.

How to avoid the taxi cab stand at Union Station
You're back in town from a restful holiday, and the train is about to pull into Union Station, but you know better than to follow the masses to Columbus Circle (aka taxicab-gridlock hell). Instead you take the First Street, NE exit and rest assured that you are in the clear.

How to avoid the Beltway during rush hour
We call it the contingency plan. It's what happens when you merge onto I-495, and suddenly traffic comes to a screeching halt. Without even a glance at your GPS or smartphone, you know instinctually to exit the Beltway and take the back road.

How to avoid Dulles. At. All. Costs.
Unless you need to leave the country, under no circumstances should you fly out of Dulles. The taxi fare alone will bankrupt you and your family.

Sign up here for our daily DC email and be the first to get all the food/drink/fun in town.