While there are many reasons to love Washington, DC, and plenty of things to explore in the city this winter, everyone enjoys getting away every once in awhile. Conveniently, Washington is just a few short hours' drive from a variety of destinations -- from ski slopes to seaside resorts -- and it's easy to find somewhere that will scratch that travel itch. Here we've curated a couple of locations we think you'll really want to check out -- all within five hours' driving distance from the nation's capital.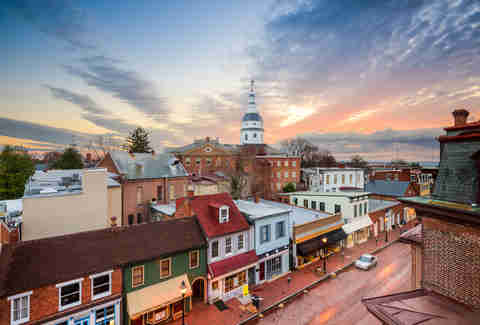 Annapolis, MD
50 minutes, 32 miles
The home of the Naval Academy, Annapolis is charming, picturesque, and the closest destination on our list. With plenty of opportunities to catch glimpses of the water, it's a sailor's dream -- or just a great excuse to admire some really big boats and enjoy some great seafood.
Where to stop:
Slurp up some oysters at McGarvey's before walking the Naval Academy Grounds or the Maritime Museum and imagining what your life would look like at sea. If you're feeling particularly posh, try to catch a croquet match between Navy and St. John's College -- while the Annapolis Cup is scheduled for April 2017, it's never too early to familiarize yourself with the sport.
Should you prefer to just sit on the dock of the bay and relax, Pusser's Caribbean Grille Restaurant is your go-to -- you might recognize the name from their own brand of rum, used to make their surprisingly stiff drinks.
Baltimore, MD
1 hour, 38 miles
Baltimore gets a bad rap from people who only know it through the context of The Wire -- and while David Simon's HBO show is brilliant, it casts an unfair, outdated perception of Charm City as decrepit and dilapidated. The reality is that Baltimore is a thriving town with a vibrant arts and live music scene, incredible food, and plenty of fun neighborhoods, each with its individual character.
Where to stop:
Chef Spike Gjerde's Woodberry Kitchen gets a lot of acclaim -- and rightfully so -- for being one of the regional pioneers of the farm to table movement, and they continue to serve up extraordinary quality food that celebrates the culinary traditions of the Chesapeake Bay. If you aren't one to plan that far ahead, swing by Verde Pizza in Canton for Neapolitan style eats in a low-key, rustic setting or hit up Lexington Market for authentic Maryland eats: We hear you can get the city's best crab cakes at Faidley's Seafood, and Berger's makes some pretty famous cookies...
The National Aquarium (that's right, the NATIONAL Aquarium) in the city's Inner Harbor area is often regarded as one of the best in the world, and is an all-ages friendly destination the whole family can enjoy. Of course, you can always go catch an Orioles game at Camden Yards, but keep in mind that baseball season only runs from April to September/October.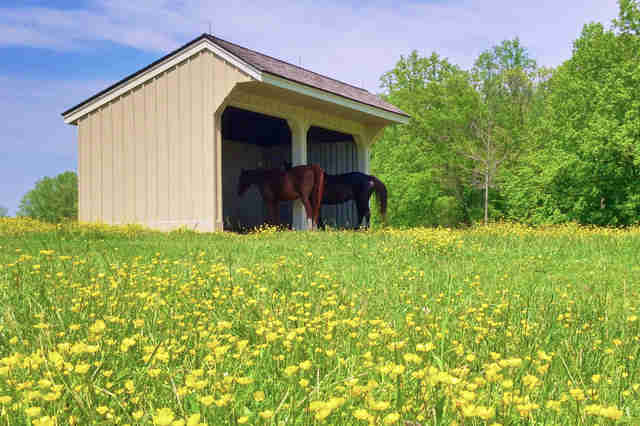 Middleburg, VA
1 hour and 25 minutes, 50 miles
Welcome to horse country! Middleburg has long been at the heart of anything and everything equestrian related in the Mid-Atlantic region, where you can find steeplechase in the fall and spring, fox hunting year round, and polo when the weather permits. If your idea of fun is getting on a 1200lb animal and going 30 or so miles per hour, Middleburg is your heaven -- seriously, they've even got the National Sporting Library and Museum, celebrating the famous stallions and mares of horse racing's history.
Where to stop:
The Salamander Resort & Spa offers luxury and comfort for all, even if you're not much of a jockey yourself. Set on 340 acres of land in the Blue Ridge Mountains and boasting over 160 rooms, the Salamander is the perfect place to get away for some pampering.
If you're looking for an outstanding meal experience with that Old Virginia feel, The Red Fox Inn & Tavern is your destination -- the building dates back to the 18th century, and they keep their fireplace crackling all during the winter months. Fortunately, they take decor, service, and cuisine just as seriously, with fresh flowers, candlesticks, and hearty fare during breakfast, brunch, and dinner service in their tavern. Make sure you bring your appetite.
Charlottesville, VA
3 hours, 118 miles
Best known as the home of the University of Virginia, Charlottesville has a lot more to offer beyond the historic strip known to students as "The Corner" or Thomas Jefferson's Monticello -- though both are very much worth your time as well. Drive down I-66 and US-29 to make it to what is often ranked amongst the best college towns in the US.
Where to stop:
Take your pick from any number of breweries in the area -- seriously, Charlottesville has plenty -- including Blue Mountain Brewery, Champion Brewing, Devils Backbone, South Street Brewery, or the grandaddy of them all: Starr Hill -- just make sure to always have a designated driver. If you're more of a wine drinker, the area surrounding Charlottesville is ripe with vineyards nestled in the foothills of the Blue Ridge Mountains.
Charlottesville's Historic Downtown is a pedestrian-only area that stretches for approximately 10 blocks, and boasts two fantastic music venues -- the recently restored Jefferson Theater as well as the open-air Charlottesville Pavilion. Leg it a couple of blocks further for incredible, affordable dining options in the quirky Belmont neighborhood, including Lampo Pizza, Mas Tapas, and Brazos Tacos. If you're feeling like a late-night dance party, skip the frat houses and head to Mono Loco or Escafé for some great tunes and affordable drinks (by DC standards).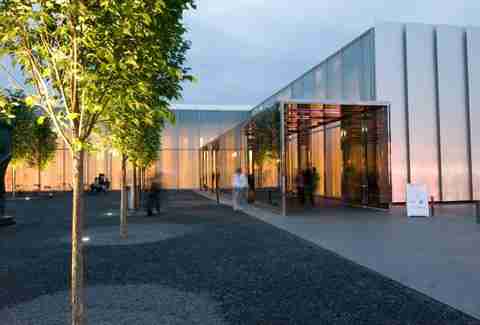 Chapel Hill/Durham/Raleigh, NC
4 hours and 50 minutes, 271 miles
While it might be unfair to lump the three cities in the Research Triangle together, they do it to themselves -- so we'll follow suit. The Chapel Hill-Durham-Raleigh area is a hotbed of culture, food, and fun.
Where to stop:
While the area offers plenty by way of natural beauty, with gorgeous hikes in the Piedmont Plateau, some of its better-kept secrets are man-made: The North Carolina Museum of Art has a fantastic permanent collection that includes major holdings in European painting from the Renaissance to the 19th century -- including a couple of Dutch Masters, while the surrounding Museum Park offers 164 acres of fields, woodlands, and art installations cool enough to give the Storm King Art Center a run for its money.
Of course, the schools in the region are known for their historic domination in college basketball, and the fierce rivalries at both ends of Tobacco Rd. Try to catch a ticket to a game, or go watch at Top of The Hill in Chapel Hill -- just make sure you're not wearing the wrong color when walking into enemy territory. Enjoy one of many fine local brews, and stop by Foster's Market or Gugelhupf for some of the best breakfast in the region.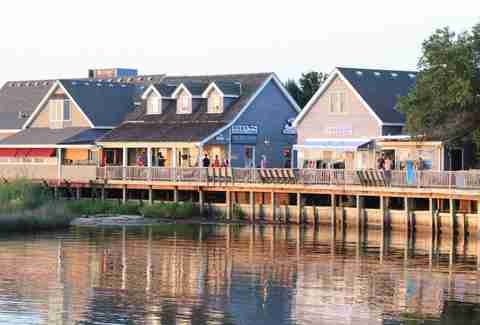 Duck, NC
5 hours and 5 minutes,  275 miles
All right, so it may be a little cold to get in the water -- we get that. But visiting the beach during low season means you can score a great place to stay for relatively little, and who doesn't love the idea of a bonfire on the sand? We've always found the Outer Banks to be great for unplugging and unwinding, and a few days listening to the waves roll in might be just what the doctor ordered.
Where to stop:
The Blue Point restaurant is well-known for its locally sourced high-end seafood with a Southern slant, and it has been serving quality food for over 27 years. If you're feeling like you'd rather DIY, how about hosting a clambake on the beach? The Outer Banks are blessed with relatively mild weather year-round, meaning that the temperature rarely drops below the mid 50s even in the Winter. We'll pack our flip-flops, then.
Pittsburgh, PA
4 hours and 15 minutes,  242 miles
The Steel City may not be as celebrated as its loving brother down the road, but Pittsburgh has plenty to offer for folks looking to enjoy a culture-rich weekend getaway -- for relatively affordable prices. Boasting teams in three of the major sports leagues, a burgeoning craft brewery scene, and a surprising number of unique museums, this ain't your the rust-belt town you thought you knew.
Where to stop:
The Warhol Museum is sure to please your inner artist, and offers exhibits, lectures, and new installations dedicated to celebrating the life of pop art's most famous exponent. The Phipps Conservatory and Botanical Gardens and the National Aviary are two other great educational stops. Once you've worked up an appetite, check out any of Pittsburgh's many excellent Italian restaurants -- our handy guide is right here.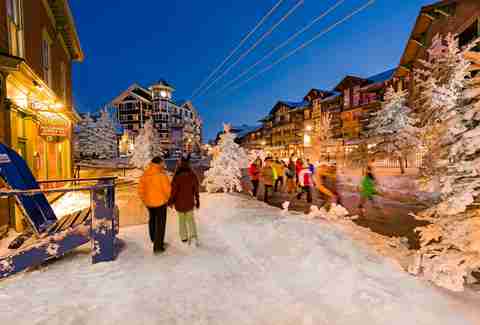 Snowshoe, WV
5 hours, 240 miles
Over 250 acres of skiable terrain within a day's drive from Washington, Snowshoe is a small town and community in the Allegheny Mountains. Developed in the early 1970s, the area is centered around the Snowshoe Mountain Resort, which enjoys a reputation as offering some of the best skiing in the mid-Atlantic area.
Where to stop:
The Village at Snowshoe is a short distance from the action, and has a nice stretch of bars, restaurants, and retail shops with a Euro-style aesthetic, lending it an air of sophistication and charm that feels more Alpine than Atlantic. Snowshoe Mountain also offers a tubing park -- open to all skill levels and ages -- where the entire group can barrel down the mountain together.
Sign up here for our daily DC email and be the first to get all the food/drink/fun in town.