7 Perfect Weekend Getaways for When You Need to Escape DC
Seaside towns (without the crowds!), crisp winery tours, and more.
Fall brings crisp, pleasant temperatures to finally enjoy the great outdoors in the mid-Atlantic region without breaking a sweat. And those cooler temps also mean fewer crowds at some of the area's top destinations, translating to an even-better experience in the slight off-season.
With museum-filled days in nearby cities, scenic drives to mountain towns amid the changing leaves, and waterfront getaways without the crowds, the region has plenty of incredible weekend getaways to enjoy now that summer is coming to a close. We've rounded up seven destinations in Maryland, Virginia, and Pennsylvania that make perfect escapes from the city, so get out of town and head to one of these spots before the year ends.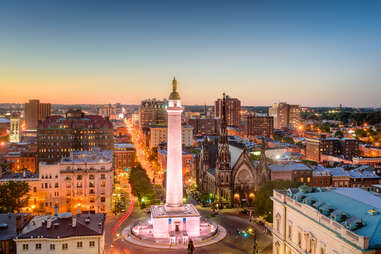 Distance from DC: One hour
Baltimore is always a reliable spot for a quick weekend getaway. But with new art exhibits, restaurants, and bakeries, there's never been a better time to make the trek. Known for its extensive Matisse collection and contemporary art, the Baltimore Museum of Art's latest exhibit explores the friendship between the artist and museum benefactor Etta Cone and you can make reservations for free general admission on the museum's website. Visit the Walters Art Museum for a retrospective on Baltimore jewelry artist Betty Cooke or the American Visionary Art Museum to glimpse a new exhibit on the twin forces of healing and compassion, which begins October 9.
Beyond striking art museums, families headed to the city have plenty of attractions at their disposal, including The National Aquarium in Baltimore, the Maryland Science Center, and the Maryland Zoo in Baltimore. Keep an eye out for free admission to area arts and cultural attractions during October's Free Fall Baltimore promotion, which makes a return. The Maryland Center for History & Culture, for instance, is hosting free performances, admission days and other special events in conjunction with Free Fall.
Don't leave before stopping in one of the city's newer restaurants, including the stylish, Black-owned BLK Swan, restaurant and butcher John Brown's General & Butchery, and Busboys and Poets' first Baltimore outpost. Italian cafe and restaurant Allora recently opened in the Mount Vernon neighborhood, serving breakfast and lunch, with dinner coming soon. To satisfy your sweet, pick up a treat from one of Baltimore's Black-owned dessert shops: the vegan Cajou Creamery or Aunt Kelly's Cookies. Stop for a nightcap and art exhibits at the city's newest drinking spot, Baltimore Spirits Co.'s Cocktail Gallery.
Find a great Airbnb in Baltimore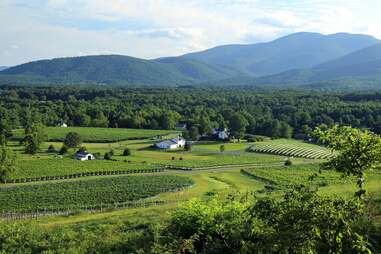 Distance from DC: Two hours and 30 minutes
With the Blue Ridge Mountains as the backdrop, central Virginia's wineries and attractions offer the perfect escape from city life. And wine lovers have plenty of choices with nearly 40 vintners on the Monticello Wine Trail. Sip red, white, and rosé wines at the resplendent Barboursville Vineyards, whose 18th century Italianate estate will whisk you to the Tuscan countryside for the afternoon—or evening if you stay overnight in one of the gorgeous cottages on site. Delight in the whimsically designed Merrie Mill Farm & Vineyard in Keswick, one of the newest wineries on the trail. Splurge on an overnight stay in the legendary luxury resort Keswick Hall, reopening to the public in October after an extensive multi-year renovation.
Downtown Charlottesville's main attraction is the brick-lined pedestrian mall, chock full of endless restaurants with outdoor seating and historic movie theaters. But there's plenty to see beyond the mall. Head to the Wool Factory, a former textile mill that houses The Workshop, a boutique wine and coffee shop, Selvedge Brewing, and Broadcloth restaurant. Food hall the Dairy Market features a cocktail bar, pizza, baked goods, and more in a former ice cream parlor built during the early 20th century.
Find a great Airbnb in Charlottesville
Distance from DC: Four hours
This former rust-belt town has become a magnet for food, beer, and arts lovers looking for an affordable weekend of restaurant and museum hopping.
The four museums that comprise the Carnegie Museums of Pittsburgh have reopened with new guidelines in place for visitors, including timed reservations and mask requirements. Make the Warhol Museum your first stop on a cultural tour. Featuring exhibits and interactive experiences on eight floors, it's bound to enhance your appreciation of pop art's most famous proponent, and a new exhibit starting October 14 explores the relationship between artist Marisol and Warhol. Nature and bird lovers can head to Phipps Conservatory and Botanical Gardens and the National Aviary, and there are options for science nerds and natural history lovers, too.
Find a great Airbnb in Pittsburgh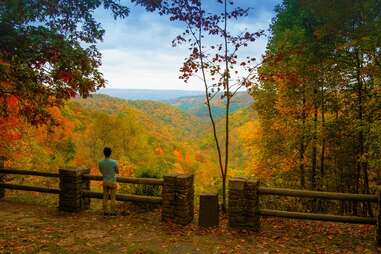 Distance from DC: Three hours
With abundant state parks and a freshwater lake that covers 3,900 acres, Deep Creek Lake offers the perfect escape for a socially distant getaway. While the area attracts outdoor enthusiasts during the warmer months, winters in Western Maryland were made for skiing while the abundant foliage also makes it a popular destination for fall. Garrett County's fall foliage driving tour takes visitors on a loop that starts at the visitors center and winds through state parks and historic sites.
Wisp Resort features 33 slopes and covers 11 miles, ranging in difficulty for the novice and expert skiers and snowboarders. The resort also offers lessons for those who have never hit the slopes or need a refresher. Cross-country skiers can head to one of the trails in the county's seven beautiful state parks.
Find a great Airbnb in Deep Creek Lake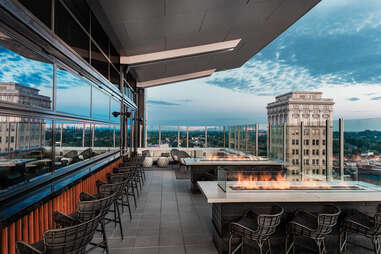 Distance from DC: Two hours and 20 minutes
Plan your fall vacation in Lancaster as early to take advantage of the prime leaf-peeping season, which runs late September through early November. To start the trip, drive along Route 772 from Marietta to Intercourse, stopping at quaint small towns and roadside stands selling produce from nearby farms along the way. First-time visitors eager to deepen their knowledge of Amish life can stop at Amish Village to tour an 1840s farmhouse. Be sure to stop at a country store to pick up whoopie and shoofly pies, freshly baked cinnamon buns, and other goods.
For a more urban experience, discover antique shops and local boutiques on the 300 Block of North Queen Street in downtown Lancaster. The walkable historic downtown is also home to Lancaster Brewing, where you can sit outside (on a warmer day) and drink Shoo-Fly Pie Porter. Dine at gastropub the Pressroom Restaurant or enjoy a view of the town at the rooftop bar, the Exchange, at the Lancaster Marriott at Penn Square. The trip downtown wouldn't be complete without a stop at the Lancaster Central Market, which houses more than 60 vendors selling locally sourced meat, poultry, and cheese to take home.
Find a great Airbnb in Lancaster
Eastern Shore, Maryland
Distance from DC: One hour and 30 minutes
While the waterways of Eastern Shore get all the glory, the area possesses plenty of attractions that make it an idyllic getaway for food, wine, and art lovers during the cooler months.
Dubbed the cultural capital of the Easton Shore, Easton is home to Studio B Art Gallery, the Trippe Gallery, and other art venues where you can purchase a painting that depicts the area's stunning landscapes. Architecture buffs will find a treasure trove in downtown Easton's rehabbed historic buildings. Bluepoint Hospitality Group has turned many into glitzy restaurants, lounges, and cafes filled with priceless art and eye-catching details, but their newest business is a more casual affair— Roman-style pizzeria Roma Alla Pala. Pick up wine, food products, and other epicurean delights at the Wardroom and browse the collection at Flying Cloud Booksellers, the newest businesses to open in the area. Dine at The Stewart whiskey lounge, which boasts two paintings from Peter Caulitz, a court painter to Frederick the Great, and a single-malt Scotch collection worth half a million dollars or check out another fine dining establishment, Bas Rouge, which displays an Austrian Lobmeyr crystal chandelier as the focal point.
Continue the drinking and eating adventures at the area's wineries. Make reservations and bring your mask to try the red and white varietals paired with local cheeses at Crow Vineyard & Winery LLC in Kennedyville, where you can spend the night at farm stay B&B. Located just over the Chesapeake Bay Bridge on Kent Island, Cascia Vineyards invites visitors to its tasting room on weekends or by appointment. Spend the night at St. Michael's newest hotel, the 34-room boutique property Wildset and dine at its onsite seafood restaurant Ruse.
Find a great Airbnb in Easton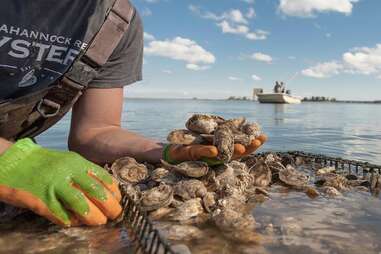 Distance from DC: Two hours and 30 minutes
Virginia's Chesapeake Bay region captivates visitors during the warmer months with its watersports and state parks overflowing with hiking trails. But fall and winter brings visitors to the Middle Peninsula and Northern Neck seeking food and wine experiences without the crowds.
Irvington's Tides Inn will host Taste by the Bay on November 20, an annual festival during which guests can sample local wine, beer, and food from area restaurants. The festival is a perfect way to kick off your eating and drinking getaway, but you can also learn to shuck oysters and pair them with wine at the Inn's Virginia Oyster Academy on Fridays and Saturdays or check out an assortment of classes—from yoga to cocktail making and pottery taught by resident artists.
The Virginia Oyster Trail contains worthy stops in this region, including the Rappahanock Oyster Co., where visitors can get oyster and other seafood dishes to go from the restaurant Merroir Tasting Room. Pair fried or raw oysters with chardonnay and chambourcin at the Dog and Oyster Vineyard in Irvington while sitting next to a firepit or heater on its gravel porch or open-air tasting room. Call ahead as the off-season schedule is weather dependent. Stay overnight at its B&B, the historic Hope and Glory Inn, a former boarding school that dates to 1890. Other quaint B&Bs and boutique hotels include Victorian charmer Kilmarnock Inn and Greek Revival mansion Essex Inn Bed and Breakfast.
Find a great Airbnb in Virginia's River Realm