One of the perks of living in DC is that you never have to travel very far to escape to new surroundings. And fall and winter are the perfect seasons to get away, as you avoid crowds and hotel spikes but still manage to get in beautiful vistas along the way. From the mountains to Main Street-style shopping and museums, we've highlighted eight weekend escapes to enjoy this season, all of which are within a five-hour drive.
Recommended Video
Please Don't Hang Up: The Best Things to See, Eat, and Do in Seattle, WA
Best Cultural Getaway: Baltimore, Maryland
Baltimore has established itself as a destination fit for the creative set, with a vibrant arts scene, inspiring chefs, and diverse neighborhoods, each with its own individual character. Enjoy inventive cuisine at Le Comptoir du Vin in Station North, or modern soul food downtown at Ida B's Table. Naturally, there are abundant seafood selections, from the waterfront crab deck at Nick's Fish House to bivalves at the newly opened True Chesapeake Oyster House. Plus, there's a vibrant brewery scene that you could easily spend a day exploring.
 
While often overshadowed by the larger surrounding cities, Baltimore is a premiere arts destination with world-class museum  and theater. The Baltimore Museum of Art, which holds the largest Matisse collection, is opening a center dedicated to the French artist. The Walters Art Museum's collection spans thousands of years, while the quirky American Visionary Art Museum highlights amateur artists. Theater buffs can check out a touring Broadway production at the Hippodrome, or locally produced plays at Everyman Theatre or Center Stage. 
Distance from DC: An hour
Best Food and Drink Getaway: Charlottesville, Virginia
While best known for its historic neoclassical University of Virginia campus or Thomas Jefferson's Monticello, Charlottesville possesses surrounding natural wonders, and a quaint pedestrian-friendly downtown. Check out Champion Brewing for a dual restaurant-taproom experience and pub South Street Brewery, purchased five years ago by Blue Mountain Brewery. Wine lovers will be rewarded with splendid views of 35 vineyards nestled in the Blue Ridge Mountains on the Monticello Wine Trail. Historic downtown stretches for 10 blocks, and boasts several fantastic music venues, including the historic Jefferson Theater and the open-air Sprint Pavilion. Leg it a couple of blocks further for incredible, affordable dining options in the quirky Belmont neighborhood, including Lampo Pizza, Mas Tapas, and Brazos Tacos.
 
Outdoor enthusiasts and leaf peepers will find few places as resplendent in the fall as Shenandoah National Park's Skyline Drive, about an hour from Charlottesville. Drive the 105-mile scenic road (about three hours) or see the changing leaves up close on one of the dozens of hiking trails. Stay overnight in one of the park's campgrounds or rustic lodges. The town has also recently launched a new tourism campaign designed to launch a more welcoming image since the 2017 Unite the Right rally, during which 32-year-old protester Heather Heyer was tragically killed. Visitors can pay their respects to Heyer by visiting the memorial and street (part of Fourth Street) named for her.
Distance from DC: Two hours
Best Artsy Getaway: Pittsburgh, Pennsylvania
This former rust-belt town has become a magnet for food, beer, and arts lovers looking for an affordable weekend of restaurant and museum hopping. Make the Warhol Museum your first stop on a cultural tour. Featuring exhibits and interactive experiences on eight floors, it's bound to enhance your appreciation of pop art's most famous exponent. The Warhol is one of four museums that comprise the Carnegie Museums of Pittsburgh. Nature and bird lovers can head to Phipps Conservatory and Botanical Gardens and the National Aviary, two other great educational attractions.
 
While Pittsburgh might be known for eateries with mile-high meat sandwiches, there are plenty of other restaurants featured in our guide that will work up an appetite, from French bistros to food halls. Once you've eaten your way through the city, drink up at these 12 breweries.
 
Distance from DC: Four hours and 15 minutes
Best Historic Getaway: Harpers Ferry, West Virginia
Tucked in the Blue Ridge Mountains, Harpers Ferry is both a town and a park operated by the U.S. National Park Service, whose park rangers -- sometimes wearing period garb -- lead animated tours of the historic attractions. The most famous of these, John Brown's Fort, is named for abolitionist John Brown, who led a slave revolt in 1859. Get a glimpse of a preserved 19th-century bar at the White Hall Tavern.
Follow the signs around town to one of the numerous walking paths that lead to elevated vantage points. The Shenandoah and Potomac rivers converge at the Point, which overlooks Maryland, Virginia, and West Virginia. More adventurous hikers can continue further to the Maryland Heights Trail, whose reward is a panoramic view of the town below.
Stop at one of the towns casual cafes to refuel or, if you're in the mood to gamble, head to the Hollywood Casino in nearby Charles Town for everything from sushi to steak and a classic casino buffet. Stay at one of the area's charming bed and breakfasts. Campers can bring their RV or stay in a cabin at the amenity-laden Harpers Ferry/Civil War Battlefields KOA.
Distance from DC: One hour and 40 minutes
Best Outdoor Getaway: Deep Creek Lake, Maryland
Deep Creek Lake in Western Maryland attracts visitors throughout the year, but is bursting with lush foliage in the fall. Throw on a few layers to enjoy Deep Creek Lake State Park's hiking biking trails or go fishing. Watersport enthusiasts should know that some boat, kayak, and paddleboard rental companies remain open through October. Stay overnight in one of the park's cabins or 112 campsites scattered across 1,800 acres.
 
Other adventures await at Wisp Resort, which offers numerous activities, besides skiing, year round. Take a scenic chairlift ride to relish the aerial view unobstructed by snow or ride the Mountain Coaster through twists and turns in the woods. Travelers seeking a more relaxed pace can come for the annual Autumn Glory Festival. Savor homemade jams and locally grown vegetables at the farmers' market, get lost in a corn maze, or discover treasures at an antique market.
Distance from DC: Three hours and 15 minutes
Best Farmland Getaway: Lancaster, Pennsylvania
Drive through the rolling hills in bucolic Pennsylvania Amish country and stop at area roadside stands selling produce from nearby farms. First-time visitors eager to deepen their knowledge of Amish life can stop at Amish Village to tour an 1840s farmhouse. Be sure to stop at a country store to pick up whoopie and shoofly pies, freshly baked cinnamon buns, and other goods.
 
For a more urban experience, discover antique shops and local boutiques on the 300 Block of North Queen Street in downtown Lancaster. The walkable historic downtown is also home to several breweries, including Lancaster Brewing, which produces hearty stouts, and the Wacker Brewing Company, founded by German immigrants in 1870. The trip to downtown wouldn't be complete without a stop the Lancaster Central Market, which houses more than 60 vendors selling locally sourced meat, poultry and cheese.
Distance from DC: Two hours and 25 minutes
Most Underrated Getaway: Easton, Maryland
While St. Michael's might get all the glory, this neighboring Talbot County town is building a reputation as an idyllic getaway for food fans and art lovers. Architecture buffs will find a treasure trove in downtown Easton's rehabbed historic buildings. One of the most admired is the nearly 100-year-old Art Deco Avalon Theatre, which hosts touring musical acts. Stroll through the area on the First Friday of every month when the art galleries and many shops extend their hours.  One local hospitality company has renovated historic buildings and turned them into glitzy restaurants, lounges, and cafes filled with priceless art and eye-catching details. 
 
Visit The Stewart whiskey lounge, which boasts two paintings from Peter Caulitz, a court painter to Frederick the Great, and a single-malt Scotch collection worth half a million dollars. Fine dining establishment Bas Rouge displays Austrian Lobmeyr crystal chandelier as the focal point. Ice cream shop Bonheur, which opened this year and named after Coco Chanel's middle name, features constantly rotating flavors like maple walnut and roasted strawberry rhubarb.
Distance from DC: Two hours and 30 minutes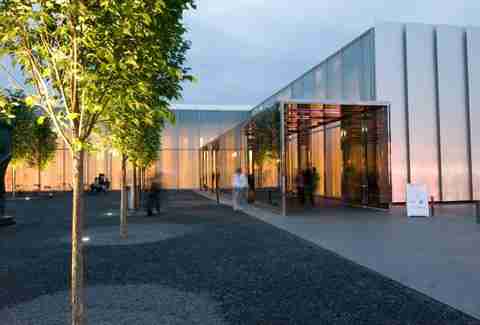 Best Collegetown Getaway: Chapel Hill/Durham/Raleigh, North Carolina
While it might be unfair to lump the three cities in the Research Triangle together, they do it to themselves -- so we'll follow suit. The Chapel Hill-Durham-Raleigh area is a hotbed of culture, food, and fun. While the area offers plenty by way of natural beauty, with gorgeous hikes in the Piedmont Plateau, some of its better-kept secrets are man-made: The North Carolina Museum of Art has a fantastic permanent collection that includes major holdings in European painting from the Renaissance to the 19th century, while the surrounding Museum Park offers 164 acres of fields, woodlands, and art installations cool enough to give the Storm King Art Center a run for its money.
Of course, the schools in the region are known for their historic domination in college basketball, and the fierce rivalries at both ends of Tobacco Road. Try to catch a ticket to a game, or go watch at Top of The Hill in Chapel Hill -- just make sure you're not wearing the wrong color when walking into enemy territory. Enjoy one of the many fine local brews, and a hearty breakfast at Foster's Market or Guglhupf. The latter transforms into a cozy biergarten in the evening.
 
Distance from DC: Five hours
Sign up here for our daily DC email and be the first to get all the food/drink/fun in town.