What your DC date spot says about you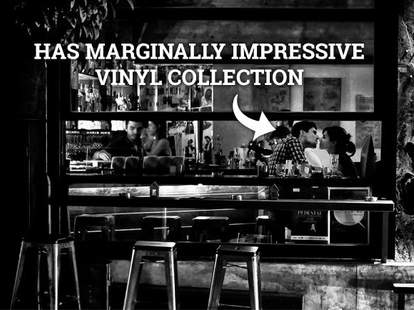 <a href="https://www.flickr.com/photos/spyrospapaspyropoulos/" target="_blank">SPYROS PAPASPYROPOULOS/FLICKR</a>
Good news! Your OkCupid profile, Tinder swipe, or classified ad came through, and you have a date tonight. Pick your venue wisely, because where you choose to bring your special new friend says a hell of a lot about you.
DACHA Beer Garden
Garden Shaw
Your correctly pronounced Weihenstephaner Hefeweissbier Dunkel order screams, "My semester in Bavaria earned me an MBA (Munich Beer Affinity)". To you, Dacha's chronic no-seats situation is an excuse to park it on a bench in the sun and tenderly bond by smearing SPF on each other's shoulders in between bites of bratwurst. You always want to know if a girl can handle your manhood right off the bat: if you order a boot, will she give you the boot?
Ivy and Coney
Shaw
You can read a woman by her choice of Chicago dog, Detroit dog, or "thanks but no thanks" dog. You are responsible for the moderately obscure Journey track on the customer-created Spotify channel. Your sincere hope is that four beers and a Cubs game later, the date finishes with shots of Jeppson's Malört, and you will become smitten because her #MalörtFace isn't bad. Oh and that you end up at the Boundary Stone in Bloomingdale, because it's no frills just like you, and you live around the corner.
 
<a href="https://www.facebook.com/rosesluxury" target="_blank">Rose's Luxury/Facebook</a>
Rose's Luxury Rooftop Garden
Barracks Row
You tend to arrive with a reservation (HOW?!) because you snagged two seats at the coveted rooftop garden communal table where Aaron Silverman just feeds you for the night (oh). Your move: pork lychee salad, strawberry pasta, popcorn soup, brisket, and more and more wine. Your talent: you know people. Or people who know people. Or you have one of the fastest trigger fingers in the District because when those seats go on sale, they're gone in seconds. Must be all that Duck Hunt you played. You don't care how bloated you and your date get. If the meal was a 10, that's a win. You will hold hands while sleeping sitting up, then make the magic happen at 6:40am, and again at 9:37am.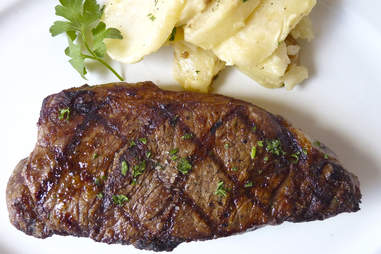 Courtesy of The Monocle
The Monocle
Capitol Hill
You enjoy arriving late from meetings you can't tell your already seated dates about because their security clearance never matches yours. You like that the seafood platter is $100 cheaper than Le Dip, and that you always have an excuse to skip dessert because one of your three BlackBerrys won't stop buzzing. You will never love anything or anyone more than politics, but it would be so nice to have someone besides your easily impressed brother to take to the VIP events your high-ranking Hill job accesses.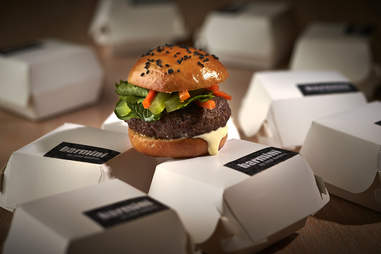 Courtesy of Think Food Group
Barmini
Downtown
You incessantly press the doorbell here even when you have a reservation just to announce your presence. You order the "Big in Japan" because it's factually accurate and contains premium Japanese whiskey along with an Adonis because Sherry is SO IN RIGHT NOW. You order the Foieffel (foie gras stuffed waffle drizzled with caramel and crushed peanuts), and then you order it again. You have bad posture because your wallet is super-thick and you're accustomed to sitting on top of it while people serve you. You want her to know this, that's why you took her to Barmini.
 
Advertisement
SKYN® Condoms
Your pants
No matter where you go, if your special lady friend affords you the honor of making nice with her special lady parts, you'll both want to maximally enjoy the experience while staying protected. Lucky for you two crazy kids, there's a new sheriff in your pocket: SKYN® condoms. Made with a new, FDA-approved material called Polyisoprene, they're stretchier and softer than latex, increasing sensitivity so much you'll start crying… tears of pleasure and thankfulness! Find out more here.
Alan V./Yelp
Sunday Morning at Union Market
NE DC
Your gluttony is refined, dog. Muffaletta from Red Apron, lamb & clams from Rappahannock Oyster Bar, then a quick game of mediocre corn hole followed by a victory (or loss!) celebration of TaKorean? You cannot wait to check off one, possibly two new restaurants a night with this girl, and also possibly make sweet (or possibly umami) love to her.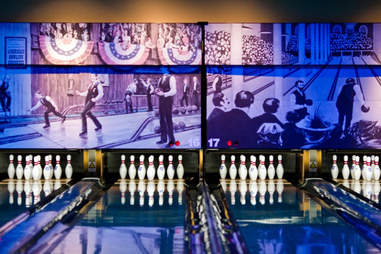 Courtesy of Pinstripes
Pinstripes
Georgetown
First, two games of bowling before a quick game of bocce. Then it's on to dinner where you split an order of spaghetti & meatballs, Lady and the Tramp style, and a dessert flight, because they have those. You peaked in high school and are trying to recreate that, but it's kind of cute, especially because you were chivalrous and put away her eight-pound pink ball and picked up the check with your very own money.
 
Screen on the Green
National Mall
You're punctual (gotta get that blanket unfurled in a prime viewing spot early), prepared (dude are those oysters in your picnic basket?), and either nostalgic for decades you barely remember (Karate Kid!) or a huge fan of not caring what's going on around you (what the hell is Lover Come Back?) because you're constantly making out in public.
 
<a href="https://www.facebook.com/KeyBridgeBoathouse" target="_blank">Key Bridge Boathouse/Facebook</a>
Keybridge Boathouse
Georgetown
You are an athlete and your sport is life. You are the only person in the world who volunteers to help your friends move because it's a good workout. Double kayaks on the Potomac? That makes perfect sense. Gazing at the Kennedy Center and then slowly turning your heads until you're gazing at each other? Okay maybe for a minute and then you'll need to start paddling again!
 
The National Museum of Natural History
National Mall
You say things like "the museum's my treat" (even though it's free) and "I was looking forward to buying you a space ice cream sandwich, but it doesn't look like they have any today" (because they're at the Museum of Air and Space). You are intellectual, but cheap. Oh so very cheap. If she mentions dinner, you will sneak out through the hella crowds as she's ogling fossils -- but if she agrees that "you never run out of things to discover here," the two of you will end the night making natural history of your own.