Does Your DC Suburb Suck? An Investigation.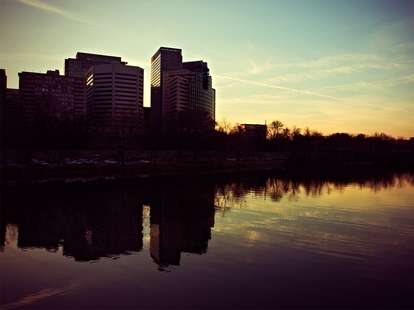 Do you live in a DC suburb? Have you ever wondered if said suburb actually kind of sucks? Had you never thought about it before, but now that someone mentioned it, you ARE thinking about it? Keep reading to find out! Don't see yours? Feel free to defend and/or roast it in the comments.
Arlington
Clarendon Ballroom is the kind of place you'll be partying at in your mid-'20s when you come to the sudden realization that your life is empty and directionless and you hate everyone around you. If you're one of the many "hip young professionals" that's always touted as a benefit to moving into that converted sunroom in an Arlington high-rise you found on Craiglist and haven't gone through this yet... you probably deserve to still be living in Arlington. (P.S. you're still not allowed to tell people you live in DC).
Alexandria
Old Town Alexandria is where people go when they feel like taking a pleasant day trip out of DC, only to realize that it's not actually that cool. Sure, there are cobblestone streets, the Torpedo Art Factory is something to do (?), and Todd Thrasher turns on his blue light, but once you've walked the length of King St, you're always left with a certain sense of being decidedly underwhelmed. Slogan idea -- Alexandria: Decidedly Underwhelming.
Annandale
Maybe you'll eat some delicious Korean food. Maybe you'll get stabbed. It's a toss-up!
Bethesda
Poster child for gentrification. You're trying too hard, Bethesda Row.

Baltimore
The Wire is real. Stay up there, Baltimore. And yes, part of this is just to get Baltimore to lose its collective mind at being called a "suburb," but it'll work.

Chevy Chase
SO. MANY. SPEED CAMERAS.

Falls Church
OK, Eden Center might be a wonderful haven of all things Vietnamese and delicious, but Seven Corners may well be the worst intersection in the history of roads. What good is it to eat amazing ethnic Asian food only to leave the parking lot and get rammed by three cars at the same time from all sides?

Frederick
OK. We know Volt is probably pretty awesome. We heard you the first billion times. We'll make it up to Frederick someday. Maybe. Probably not.

Gaithersburg
Remember when Lakeforest Mall was the cool place to hang out in Gaithersburg? I do. I was 15.
Kensington
The only reason most people know anything about Kensington is because of the Mormon Temple. And that's only because we all probably thought it was Disney World growing up.

McLean
Route 7 is the NoVA equivalent of Rockville Pike.

Olney
A friend remarked that visiting his folks in Olney over the holidays might have been better if he had been in range of a Pizza Hut that would deliver one of those new "shitty-yet-delicious-looking" new Pizza Hut crusts. That's saying something. Not sure what exactly, but something.

Potomac
You might have been brought up in one of the best public school systems in the country, your parents might be exceedingly wealthy, but that doesn't mean you have to be an insufferable ass.

Reston
Reston Town Center is not that cool. Get over it.
Rockville
Let's talk about Rockville Pike. It is a never-ending corridor of homogenous suburban hell that inexplicably enervates drivers, turning them into zombies at the wheel. Half an inch of rain? A pothole? God forbid, a few snowflakes? The Pike will be a parking lot.

Silver Spring
Silver Spring is the only place in the DMV with a business that requires their employees to dress as pirates.

Takoma Park
Fact: All cars in Takoma are legally mandated to have a "My Child Is An Honor Roll Student" bumper sticker on them.
Tysons Corner
You know how some malls park luxury cars like BMWs in the center, roped off from the public with paper ballots for your chance to win? Tysons Corner II is the kind of mall that does the same thing, but the car is a Ferrari. Watching Tysons Corner develop itself into the new urban center it hopes it can be is like observing a perverse microcosm of the global economy. Widening inequality (Tysons Corner I gets trashier by the day), exploding traffic volumes, and ceaseless vertical construction. We get what you're doing, Tysons, but I'd feel better if your city planners took a beat to think about what they're doing to you.

Vienna
86% of the population is soccer moms, which really seems mathematically impossible.

Wheaton
You're going to Wheaton? Is it because you need to go to Downtown Locker Room... or get your car stolen?
Sign up here for our daily DC email and be the first to get all the food/drink/fun in town.