What Is Vero, and Why Are So Many People Downloading It?
As of today, and because I can't say no to a hyped-up, new social media platform, I am one of the first million people to sign up for "Vero," which mixes the "authentic social experience" with Esperanto. Meaning "truth" in the language of global humanitarians, Vero wants to be the new go-to resource for connecting with close friends and acquaintances online. The goal is to outlive other buzzy, bygone social sites like Ello and Peach. We wish it the best of luck.
But what is Vero? Here's what you need to know, and why it might actually succeed right now.
Vero is an app for looking at stuff
An app called Vero has actually been available to download since 2015, when it was first a platform for the sartorial-minded to shop for cool clothes and watch fashion week runway shows. While maintaining the clubby branding, Vero soon branched out to other pop culture outlets, partnering with Charli XCX in 2016 for a behind-the-scenes look at her video for "After the Afterparty," and possibly staging
Suicide Squad
cameraman Clay Enos'
departure from Instagram
, but who's to say. Fast forward to this past weekend, when Vero topped the app store charts as the new hottest social media thingie.
Who is using Vero?
It seems like its current virality has to do with the
mass migration of communities
rallying against Instagram's algorithms. Namely, cosplayers aka the sect of fandom that lives for dressing up as fictional characters. (On Vero's trending hashtags, #cosplay was in the top three.) Tattoo artists fed up both with Instagram's feed and its censorship policies were also among the early Vero adopters. Plus, uh, the
knife community
! And teens! The teens are lovin' it, even though Vero is aiming for an "older, more upscale crowd," according to
CNBC
. But honestly, who knows "why now?" Google Trends marks the exponential uptick beginning on February 20.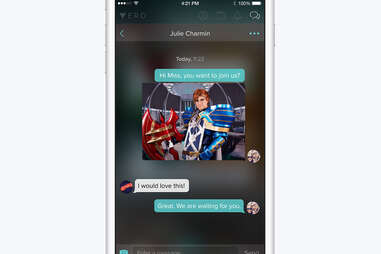 The difference between Vero and Instagram
For one, it's ad-free, and Vero's founder has
given interviews
about how he thinks Big Data is bad. And unlike Instagram, Facebook, or Twitter, it won't algorithmically sort what it thinks you want to see most. Vero's feed is chronological, just like the good ol' days of Insta. You can also sort your network into categories related to your perceived level of friendship (are we diamond-level "close friends" or handshake-icon "acquaintances"?), follow hashtags and #brands, and make multimedia collections of your photos, videos, favorite recent records, movies, and TV, and some other shit I haven't really figured out yet because it's been so buggy. Lastly, and the big reason artists are taking to it, Vero is much laxer on its censorship policies, meaning you'll see a lot more nipples than you do on Instagram. It doesn't want to fall into the "fake news" pit of Facebook, though, so any abusive or offensive content flagged by users will be vetted.
Is Vero free?
The first million subscribers get their accounts for free. After that, there will allegedly be a small, undisclosed subscription fee for everyone else. If you want in, hurry up because they'll probably reach that ceiling soon due to this recent influx of interest.
Who's behind it?
Vero was made by a trio of powerful men: Lebanese billionaire, son of assassinated former Lebanese prime minister, and
collector of rare comics
Ayman Hariri, whose business and labor track record...
isn't great
; movie producer
Motaz Nabulsi
, who served as the executive producer of 2013's
2 Guns
and 2017's
The Music of Silence
, based on the life of famed opera singer Andrea Bocelli; and venture capitalist Scott Birnbaum, who founded
Red Sea Ventures
, an investment company behind the cool shoe brand Allbirds, cool ice creamery Ample Hills, and cool workout clothes company Outdoor Voices.
Should I download it?
I mean, I dunno, if you want to so you can be the one to tell your friends how much it sucks. But, not unlike HQ when the Android version for its New Year's Eve game, the app is experiencing near-constant service errors due to its newfound popularity. So don't expect to have your "authentic social experience" just
quite
yet. Unless you're a cosplayer. Then hurry up.
Sign up here for our daily Thrillist email and subscribe here for our YouTube channel to get your fix of the best in food/drink/fun.
Leanne Butkovic is an entertainment editor at Thrillist. Follow her @leanbutk.