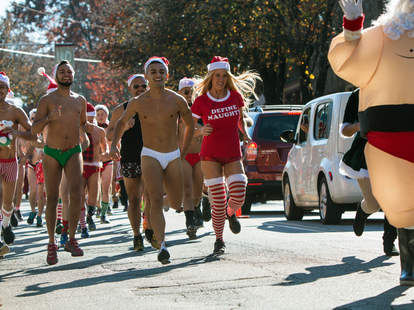 Everything You Need to Do in ATL This Holiday Season
Oh boy, here come those holidays again, amirite? Nobody works, everybody's on the interstate jamming up traffic, and it all seems like such an intolerable orgy of commercialized religious celebration and paganism. But hey! Did you know you can actually ignore all that crap and have a great time drinking, eating, singing and just hanging out around Atlanta? It's very true, and very simple! We did the work and ended up with a list of great holiday happenings totally worth attending.
Courtesy of Miracle
Starting today and happening every day except Mondays and Tuesdays at both locations, Miracle will have super-holiday cocktails (try the You'll Shoot Your Rye Out with Budweiser-marshmallow syrup), or the Snowball Old Fashioned in custom holiday glassware, nightly special events (choir presentations, tacky sweater competitions, holiday snacks), and lots of cheer.
Cost: $12 per cocktail
Starting today and until December 17 you can buy a tree from the King of Pops crew in front of PCM's south lawn. You can also sample hot cocoa and cider, peppermint bark, holiday popsicles and more around fire pits, and there'll be gift wrapping classes so your presents don't look like recyclables.
Cost: Free until you start spending money
The German Christmas market Christkindl lets you in free to enjoy authentic German food and beverages as you shop. There'll be traditional singing and dancing, and a curly headed blonde Christkind imported from Nuremberg, Germany to get pictures with. Also, drink the beer!
Cost: Free
See the lighting of CP's city hall holiday decorations, eat light refreshments, and hear live holiday music out on Main Street.
Cost: Free
For 75 years, the Glee Clubs of Morehouse and Spelman have teamed up at the end of the year to sing Christmas carols. There are 600 first come, first served seats available to the public, and it's always packed, so get there early.
Cost: Free
See Santa, make ornaments and cookies, eat and drink holiday yum-yums from affiliated restaurants and bars (SOHO, Paces & Vine, Guaco Joe's), and get your face painted while you're at it. There'll also be a jazz band and a train to run you around the shopping complex.
Cost: Free
Take BB's $35 Mix & Pour Mixology Class, which led by their head mixologist. The course includes two drink recipes (you get to drink them), and complimentary snacks while you study/drink. Stay for dinner and you'll get a 10% discount at Southern Art next door.
Cost: $35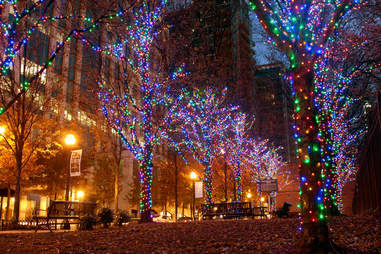 Peachmont Street Christmas Lights

| Blulz60/Shutterstock.com
Buy gifts from a holiday-themed trunk show, or just buy drinks from the cash bar and do holiday karaoke before crashing the photo booth. Since it's a First Friday there'll also be live jazz, gallery tours of current exhibits, and free hot chocolate.
Cost: Free with admission ($14.50)
All month long watch the Dad's Garage Ensemble as they mock your mom's favorite Christmas play using improv. There'll even be a surprise onstage guests every night that not even the cast knows about, which are rumored to include a dinosaur and Colonel Sanders.
Cost: $27.50; save $2 if you buy online
Atlanta Ballet's final performance of their current 22-year-old version of The Nutcracker starts today and goes through December 28. The innovative choreography has lots of fans, and reviewers claim to have been "moved to tears." See it and get a good cry before it's gone.
Cost: $21.25-$125
Walk ATL's less trafficked inner-city semi-circle and get five drinks from bars that include Across the Street, Apres Diem, Hampton + Hudson and Pure Taqueria Inman Park. You'll also stop by Mellow Mushroom in case you need pizza. You will.
Cost: $35
Join this holiday 5K, wear shoes that have jingling bells (encouraged; not mandatory), and help raise money for the Children's Emergency Fund. You'll trot through historic Marietta neighborhoods, and you'll receive a long sleeve technical performance shirt.
Cost: $25
Today is the annual College Park holiday parade. Wave at floating things (unrelated to your newly decriminalized hobby) as they move through downtown College Park. Don't miss the large green Grinch, your holiday spirit animal.
Cost: Free
Hear really fancy versions of your favorite holiday hymns as played by the Atlanta Symphony Orchestra and friends. The band will be joined by the Gwinnett Young Singers and the Morehouse College Glee Club.
Cost: $20-$122
Hit the one-day Indie Craft Experience Holiday Market to crush your Christmas/Hanukkah/Kwanzaa shopping list with craft handmade gifts from more than 50 local illustrators, jewelers, apparel makers and other vendors. First 100 guests get a free swag bag, and they'll also have a DJ to spin un-terrible holiday songs.
Cost: $5
Demi Lovato, Nick Jonas and other familiar pop stars will be performing at this year's Jingle Ball. Proceeds go to the Ryan Seacrest Foundation to help fund youth entertainment dreams, which hopefully don't include American Idol.
Cost: $50 at least
Join this soccer fundraiser that purchases holiday gifts for kids who lost a parent in the past 12 months. Register before the November 25 deadline and you can pick your T-shirt size; otherwise all dudes will get an XL and ladies will receive a large.
Cost: $25
Some of SunTrust's best bars and restaurants (Sports & Social, Todd English, Terrapin Taproom, Yard House, Antico) will offer specials ranging from $3 Coors Light to $4 house wine, $7 oyster shooters, and $8 Negronis. Donations from ticket sales will be made to Toys for Tots.
Cost: $10 before December 1; $15 day-of
Join more than 500 revelers on this holiday-themed bar crawl for shots (peppermint sticks, spiked nog, candy cane, cherry cordial) and food specials at VaHi restaurants and bars like Moe's & Joe's, Fontaine's Oyster House, Dark Horse Tavern, Diesel, and Atkins Park. There'll also be "3/2/1" specials ($3 cocktail, $2 beer, $1 shot), in case you spent all your holiday money on Juiceros for your friends.
Cost: $19.99
Buckhead wants you to crawl too; they've got you posted at five bars including Lost Dog Tavern, Kramer's, and Dive Bar, and there'll be prizes like a signature T-shirt for making it to the last bar, a complimentary shot at registration, and a contest for best/worst dressed. Your beer will even get an outfit -- after registering they'll give you an ugly sweater-themed koozie.
Cost: $21; save $4 if you purchase by November 30
This event always sells out, so snag your tix quick! There will be over 40 beers available, wine, liquor, and an app buffet. There will also be games like flip cup and beer pong and the open bar will run until 1am -- after which drinks will be available for purchase until 2am.
Cost: $70 advance, $80 after the 23rd, and $95 day of
Sign up here for our daily Atlanta email and be the first to get all the food/drink/fun the ATL has to offer.
Fact: Mike Jordan and his friends drink imperial stouts and bum-rush random fancy restaurants every year during the holidays, just to sing Christmas carols loudly before quickly leaving. For proof, follow him on Twitter and Instagram. Happy Holidays, ATL!