They say the best things in life are free, which is why everything on our list of stuff you absolutely have to do in Atlanta this September is… um, totally not free?! Oops. Reading the list itself, though? That won't cost you a thing...
This first-annual themed art exhibit boasts paintings/drawings/etc., of… youguessedit!... heroes & villains from pop culture, plus a chance to try MNB's first-ever imperial stouts, and tunes from DJs Rasta Root and Morgan Garcia.
This five-course 'cue meal paired with various beverages starts with the "Opening Credits" (pork-/cheddar-stuffed fried squash blossom, and a Coors Banquet Beer), and includes bacon-braised brussels w/ Kentucky Bourbon Barrel ale, smoked beef shank w/ Wild Turkey American Honey, and a cold-smoked pork chop w/ Larceny bourbon and soda. Tickets are $60; call 470.355.5116 to reserve a seat.
This one-night-only, traveling fantasy musical-movie stars David Hasselhoff, is based on a Luciferian plot against heaven and features a pre-show performance, a film screening, and a Q&A with the filmmakers, one of whom directed Saw 2.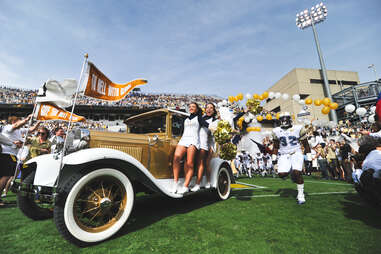 Get college football season kicked off somethin' real proper-like at this three-day throwdown with a golf tourney, a beach party at Lanier Islands' Sunset Cove with a pop-up water park, and football-themed 5k race around the islands.
You know what it is -- you've been waiting in your basement all year for four days of epic weirdness, cosplay, and celebrity appearances.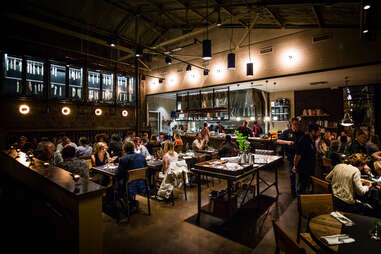 Krog Street Market's meatiest eatery is hosting a special two-hour class that includes a welcome cocktail, then 12 cheese and bourbon pairings, music throughout the night, and a CD of the jazz featured in the class, along with a pairing guide, to take home.
Get your fiscally responsible feast on for nine days straight thanks to prix fixes from 40+ reputable Midtown restos (including 4th & Swift, South City Kitchen, Apres Diem and Serpas True Food), ranging $15 up to $35 for brunch, lunch and dinner.
Hosts Sean Falyon and DJ Dibiase have a low-key monthly jam in the Old Fourth where the only music you'll hear -- unless you're that guy/girl who goes to parties wearing Beats headphones -- is played on wax recordings spun by special guest DJs. How popular has it become? Andre 3000 visited this summer.
The Roots, Ms. Lauryn Hill, Janelle Monae, The Internet, "Classic Man"-singing new guy Jidenna, Eightball & MJG, Scarface, Ghostface Killah, Raekwon and you. Together!
Take one of Malts & Vaults' four staggered (perhaps literally) guided walking tours of the famous dead folks' hangout, then enjoy post-tour beer tastings courtesy of nearby My Friend's Growler Shop. Ticket stubs will get you hookups later on in the area, including a free app at Doc Chey's Grant Park, and $5 off Six Feet Under.
A $100 ticket gets you evening entry to the zoo, an open bar, and all the food you wanna eat from 25 restos (Argosy, Wrecking Bar Brewpub, etc.), plus four stages with live local musical acts, including DJ Ryan Baker.
This 4.5-mile bike ride is actually a food tour of ATL's most diverse strip of eating establishments. Don't miss: pork buns at Oriental Pearl, banh mi from Quôc Húóng, tacos from El Rey Del Taco, and more.
It starts on 9/12 with a free concert (Motown and classic rock music) at Duluth Festival Center, then resumes two weeks later with a parade, carnival, and road race through Duluth called the Donut Dash 5k, in which every runner that participates receives a free donut and coffee from Dunkin' Donuts.
Instead of just saying you were there when Leo DiCaprio didn't show up, go VIP for $125 (proceeds benefit children's charity Bert's Big Adventure) and get a package that gets you into the "Blue Garden" VIP lounge where there's an open bar, food, and instructors offering '20s dancing lessons.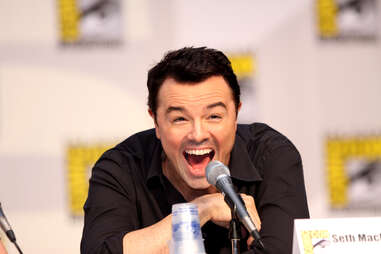 Apparently this is real; the guy from Family Guy, American Dad!, Ted, etc., is singing songs with the ASO this month, which, just like his TV and film projects, will either be hilariously awesome, or… um, not. Worth checking out either way!
It's just like the camping you did as a kid, but with gourmet local food, craft beer and wine, better games and activities (beach happy hour, pingpong, paddleboarding, kayaking, ziplining, basketball, dodgeball, slip-n-slide, etc.), better songs (The Whigs and other bands'll be there performing live), and less prepubescent angst.
More than 50K shoes will be shown and/or for sale at this sneakerhead heaven-for-a-day. Not only that, but there'll be free customization, a station where authentication experts will tell you if your rare OGs are legit or not, a trading pit for you to sling your sneaks, and more.
Four days of cosplay and video gaming, a Manga library, a formal gala ball, an artist gallery, a fashion show, and an "Imperial Maid Cafe" with snacks and analog games. Because DragonCon isn't enough.
Eat and drink everything in Atlanta (from more than 90 of our best restaurants and bars) for three days, from the Friday night kickoff party, to the Big Green Egg grilling stage, chef's tables, kitchen workshops, and more.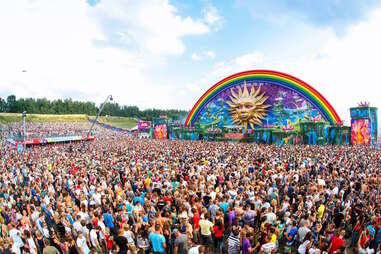 The biggest 21+ music festival in America is back with an expectedly huge lineup (David Guetta, Bassnectar, Adam Beyer, Cashmere Cat, etc.), several options for tickets, and a new partnership with ATL celeb chef Kevin Gillespie, who's partnering with the fest to introduce Tomorrow's Table, an assortment of dining experiences.
Sample 150+ different beers, ciders, and a small selection of wines in the Grand Entry Plaza and Monument Grove at the Ted. You also get to play games in Scout's Alley for free, watch college football on the plaza's 33ft TV, and hear live music from a group called The Geeks Band.
See some of the world's top jet ski and freestyle riders go crazy with acrobatics and extreme water sport performances in 600K gallons of water, which they say will turn Philips into the "World's Largest Portable Pool."