You may be non-stop shopping, constantly getting cozy, and attending endless holiday festivities, but it's important to remember that not everyone is in a position to enjoy the most wonderful time of the year. The holidays are also a time to reflect on how you can be more involved in your community -- for instance, by giving your time, energy, and resources to local charities and nonprofits. Online platforms like Hands on Atlanta and Volunteer Match are great resources for finding ways to help out around the city, ITP and OTP, but those databases can be a bit overwhelming. If you need somewhere to start, any of the options below are perfect ways to give back a bit in Atlanta.
Drive seniors to their medical appointments
Many seniors are unable to drive, so they look to their family and friends for transportation to the doctor's office, the grocery store, and everywhere in between. With I CARE, safe and friendly drivers can volunteer the time, car, and gas to offer seniors free rides to their medical appointments.
Care for Atlanta's pianos
Across the city, you've probably seen one of Play Me Again Pianos' colorful neighborhood installations of Atlanta's rich music scene. The public pianos, which are free for anyone to play, capture the city's creative spirit, but they still need TLC every once in a while. You can volunteer as a piano steward on a weekly basis and help maintain one of those beautiful creations.
Support LGBTQ youth
Lost-N-Found Youth is an organization that has pledged to end homelessness for lesbian, gay, bisexual, transgender, queer, and all sexual minority youth. In addition to offering crisis support and transitional housing, LNFY operates a thrift store in which proceeds help fund their outreach efforts. All that is required of you to volunteer is that you pass a background check, and then you'll be ready to pitch in with the street outreach team, at the youth center, or the thrift store.
Clean and refurbish used bikes
Imagining your childhood without riding bikes may seem foreign to many, but not all families can afford to supply their children with bicycles. Enter Free Bikes 4 Kids ATL, a nonprofit whose sole purpose is to clean and refurbish used bikes and then donate them to kids in need. By volunteering to clean or work as a mechanic, you can boost FB4K's forces leading up to their annual giveaway day at the beginning of December. 
Fight voter suppression
After making work and travel arrangements, the last experience anyone wants to have on election day is being turned away from the polls, but it can happen for a variety of reasons, some as simple as not possessing an accepted photo ID. Spread the Vote is dedicated to removing that obstacle from voting, and volunteers can help by doing tasks like providing transportation to the DMV or ordering birth certificates. 2020's presidential election is peering over the horizon, so help make voting as simple as possible.
Go for a morning run with individuals transitioning out of homelessness
Or a jog. Or a walk. Your speed doesn't really matter. What matters is that Back on My Feet needs volunteers to help support homeless people striving for independence. Each Monday, Wednesday, and Friday morning, people battling homelessness and addiction gather for a run in an effort to set and work towards goals, strengthen physical and mental health, and build community. Volunteers can commit to running at least once a week or contribute in other ways like fundraising or working a water stop.
Play soccer at a MARTA station
The new soccer fields at the West End and Five Points MARTA stations aren't just cool hangout spots. When you pay to play a game of pick-up or compete in the adult leagues, you're actively contributing Soccer in the Street's community betterment programs. Your fee helps kids play in urban soccer programs and funds the development of SITS's expansion to MARTA stations across the city.
Take a dog on a day trip
Even if you're not considering adopting a pet anytime soon, there are still other ways to support your local animal shelter. Inquire about their short-term foster programs and volunteer opportunities, and some, like Paws Atlanta, may have day trip opportunities for their pooches. In addition to their year-long Wags-n-Walks program, the no-kill shelter in Decatur runs the Holiday Lovin' program, which allows volunteers to take a dog out of the shelter for a Saturday full of fun.
Provide health-care equipment for people with disabilities
Friends of Disabled Adults and Children (FODAC) is a Stone Mountain-based organization whose goal is to give people with disabilities the health care equipment they need at little to no cost. If you have unused medical equipment like walkers, wheelchairs, or hospital beds, you can donate them to FODAC to be refurbished and distributed to those in need. For those who don't have any medical equipment to give away, you can still support FODAC's mission by shopping at their thrift store.
Teach English to non-native speakers
Those looking to learn English can enroll in LaAmistad's English For Successful Living program, a volunteer-driven effort that provides affordable English instruction. Volunteers are trained by certified ESL professionals, but you don't have to have any previous experience teaching to join the cause. As long as you're a native or fluent English speaker over the age of 18, willing to commit to a 10-week program, and excited about working with people from different cultures, you can help immigrants learn English.
Preserve the beauty of Piedmont Park
Piedmont Park, Midtown's sprawling 185-acre green space, is one of the most gorgeous public places in the city. Perfect for weekend bike rides, dog walks, and the occasional festival, Piedmont Park welcomes millions of visitors annually, so it takes a lot of hands to keep it clean. Volunteers can assist in its preservation in biweekly clean-up sessions on Tuesdays and Thursdays from 9am to 11am.
Empower victims of sex trafficking
Organizations like Wellspring Living are working hard to counter sex trafficking in Atlanta. Wellspring Living aims to offer transformative care for sex trafficking victims, and you can assist them by serving as a participant volunteer who interacts directly with program participants or as a retail volunteer who helps out at one of their upscale resale stores. 
Help kids visit their imprisoned parents
Parental incarceration disrupts family dynamics and can be detrimental to the children involved. For over three decades, Foreverfamily has been the torchbearer for strengthening family bonds affected by imprisonment, and its monthly family visitation program is crucial to its mission. To aid in these efforts, you can volunteer on a visitation day as a chaperon or help the staff prepare in the weeks prior to it.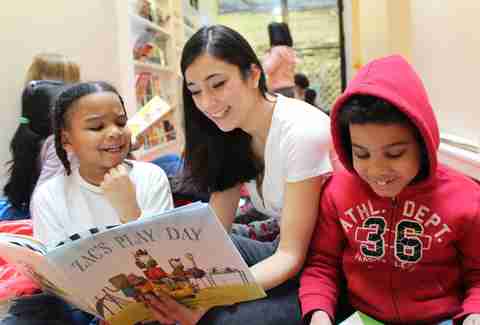 Read books with kids
Pajama Program promotes wholesome bedtime routines for children that help them flourish during the day, and their undertaking involves donating new pajama sets and books as well as caregiver resources to parents. You can help gather those materials by hosting a pajamas and book drive, or you can dedicate your time to participate in a reading party at Pajama Program's reading center. Those hour-long commitments give you the chance to read inspirational stories and connect with program participants.
Improve Atlanta's environmental health
CHaRM, also known as the Center for Hard to Recycle Materials, is a facility on Hill Street that provides a one-stop-shop for people looking to discard their waste in a mindful fashion. Whether you're trying to get rid of an old mattress or the half-full paint cans in your garage, CHaRM is the place to go, but there are still restrictions on what you can and can't bring. Volunteers are welcomed, so when you're not stopping by for a quick drop off, consider lending a hand at CHaRM.
Advocate for immigrants as a translator
If you're bilingual in Spanish and English, your talents as an interpreter and translator could make the world's difference for immigrants seeking legal representation. Kids in Need of Defense (KIND) calls on volunteers who can assist pro bono attorneys protecting unaccompanied immigrant children. Although no bar exam results or professional certifications are required, volunteers must pass a background check. Once cleared, your compassion and language skills are all you need to make a difference.
Reduce the financial burden of communication for troops deployed overseas
International calls can get expensive, and not even our military can avoid steep charges. That harsh reality inspired Brittany and Robbie Bergquist to start Cell Phones For Soldiers, a nonprofit that helps those serving in the military communicate with their loved ones without breaking the bank. You can help by recycling cell phones, both new and used, to the nearest drop-off location or by donating money for calling cards.
Build affordable, energy-efficient homes
Gentrification and affordable housing are huge areas of concern for Atlanta, but Habitat for Humanity shows that neighborhood revitalization can be positive. Their homebuyer program gives first-time homebuyers the opportunity to build and buy an affordable, energy-efficient home in Atlanta with a 30-year, zero-interest mortgage. Register for one of Habitat for Humanity's volunteer orientations, and you can take part in this affordable housing initiative by actually helping build someone's home. 
Promote civil rights
The National Center for Civil and Human Rights sits right beside the World of Coca-Cola and has given tourists and Atlanta natives alike a better understanding of civil rights struggles in America and around the world since its opening in 2007. If you're passionate about civil rights, consider volunteering as a tour guide, an operations assistant, or a brand ambassador.
Answer questions about HIV/AIDS
At AID Atlanta, sharing knowledge is also a form of service. The organization combats the spread of HIV infection with educational programs, a confidential hotline, free HIV and STI tests, and HIV/AIDS-related care. AID Atlanta invites volunteers to the AIDS 101 Awareness and Action seminar so they can be informed in and give appropriate service when volunteering. After completing the training, you can answer calls to the Georgia AIDS & STD Infoline, assist with AIDS 101 seminars, and participate in AID Atlanta's community outreach programs.
Keep impaired drivers off the road
SafeRide America recognizes the need to keep impaired drivers off the road, whether that concerns drunk drivers or drivers with temporary disabilities, and they have created a system that gets them and their vehicle home safely. Monetary donations allow SafeRide to offer rides to impaired drivers who can't afford travel fair, making the roads a little safer over one of the busiest times of the year.
Sign up here for our daily Atlanta email and be the first to get all the food/drink/fun the ATL has to offer.