Here's How to Volunteer in Atlanta for Earth Day
Do your part.
It's springtime in Atlanta, and you've likely felt that urge to start anew by deep cleaning your home, trying new things, and motivating yourself to give those abandoned New Year's resolutions one more shot. The special something that inspires all of us is in the air, so channel those good vibes and get ready to help out your surrounding neighborhoods and communities. April is National Volunteer Month as well as the month that's to Earth Day, so this spring is truly the best time to volunteer your time, money, and energy to help others and contribute to Atlanta's general wellbeing. Online platforms like Hands on Atlanta and VolunteerMatch are great resources for finding ways to help out around the city, ITP and OTP, but those databases can be a bit overwhelming. If you need somewhere to start, any of the options below are perfect ways to give back a bit in Atlanta this holiday season.
Make a long-lasting impact on Atlanta this Earth Day
Earth Day is quickly approaching, so go ahead and set some time aside to learn about local green initiatives and do some community service as well. From Tuesday, April 20, to Thursday, April 22, you can virtually tune into various Earth Day summits geared to the restoration of the Earth, and if you're ready to spring into action, check out earthday.org's 51 ways to effectively leave a positive impact on the environment.
Help fund a local free bike program
Imagining childhood without riding bikes may seem foreign to many, but not all families can afford to supply their children with bicycles. That means that during the initial lockdowns at the start of quarantine this spring, several children were unable to go outside for a bike ride when that's all that any of us really could do at the time. Enter Free Bikes 4 Kids ATL, a nonprofit whose sole purpose is to clean and refurbish used bikes and then donate them to kids in need. Although FB4K's biggest donation and volunteering season takes place during the holidays at the tail-end of the year, you can still support the nonprofit right now by registering to participate in VeloCity Atlanta, a 10 to 100-mile cycling (or running/walking) event that benefits Free Bikes 4 Kids as well as the Grady Health Foundation. Registering for VeloCity is a great way to help keep FB4K up and running, and you'll even get some exercise in during the process.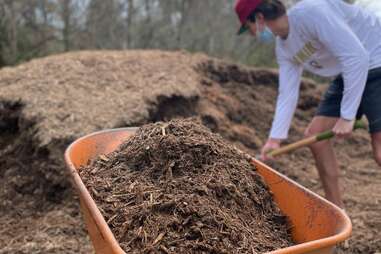 Preserve the beauty of Piedmont Park
Piedmont Park, Midtown's sprawling 185-acre green space, is one of the most gorgeous public places in the city. The park was Atlanta's certified go-to for escaping the confines of quarantine earlier this year, and one year later, Piedmont Park is still the best outdoor respite in the city. Volunteers can assist in its preservation in biweekly clean-up sessions on Tuesdays and Thursdays from 9-11 am.
Improve Atlanta's environmental health
CHaRM, also known as the Center for Hard to Recycle Materials, is a facility on Hill Street that provides a one-stop-shop for people looking to discard their waste in a mindful fashion. Whether you're trying to get rid of an old mattress or the half-full paint cans in your garage, CHaRM is the place to go, but there are still restrictions on what you can and can't bring. Those interested in recycling at the Hill Street facility can stop by on Tuesdays, Thursdays, and Saturdays from 9 am to 2 pm, but they must make an appointment online in advance.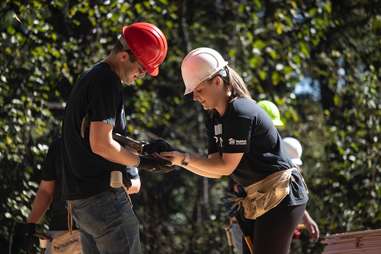 Build affordable, energy-efficient homes
Gentrification and affordable housing were already unyielding concerns for BIPOC Atlantans, and then 2020 rolled around and br/ought an even bigger threat to secure housing—COVID-19. Just as it has done in years past, Habitat for Humanity continues to fight displacement by responsibly revitalizing neighborhoods. The life-changing organization has adapted to the pandemic by offering several ways to remotely volunteer, so be sure to check out all the ways that you can help displaced Atlantans as well as new homeowners on Habitat for Humanity's website.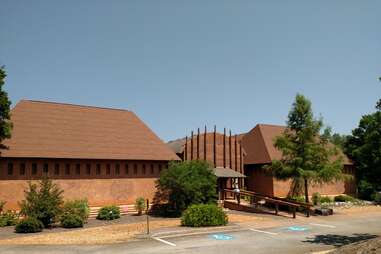 Volunteer at the Funk Heritage Center
About an hour outside of Atlanta is the Funk Heritage Center at Reinhardt University, which tells the story of early Appalachian settlers and Southeastern Indians through education and exhibitions of art and artifacts. You can, of course, visit and donate to the center but there are also volunteer opportunities for people who would like to docent, help with administrative work, or even assist with maintaining the Lou Reeta Barton Northcutt Walking Trail and Native Garden.
Sign up here for our daily Atlanta email and be the first to get all the food/drink/fun the ATL has to offer.
Joshua Robinson
is an Atlanta-based contributor for Thrillist who thinks we should all take some time this holiday season for community uplift. Follow him on Twitter @roshjobin.