Here's How to Volunteer in Atlanta Right Now
Here are some of the best ways you can give back locally.
With Christmas right around the corner, you can use the coming weeks not only to shop for family and friends, but also to find ways to support the elderly, poor, and disenfranchised communities throughout Atlanta. The past few years have been difficult for us all, but especially for the people who don't have the financial means to sustain a comfortable quality of life. So, it's up to us as a city to band together and do our part in order to protect everything in our orbit, and make the world around us a much better place. Exactly how to do that, you ask? Well, it's simple—there are plenty of nonprofit organizations, such as HOPE Atlanta, Everyone Eats, and Habitat for Humanity, and others, that will point you in the right direction. And if you're looking for a specific cause, we've got you covered. Here are some of the best ways to volunteer yourself around town.
The Everyone Eats Foundation's 3rd annual toy drive and wrapping party is back and in partnership with LVRN. This is a fun and exciting volunteer experience where you'll be able sort and wrap the toys collected during their Toy Drive while enjoying Amorous Tacos, Bacardi, and vibing to some of the best artists around. You can bring a toy or unwrapped gift to contribute to the drive on December 8 and 9. You can sign up to volunteer for the event here.
One of the most rewarding community service projects that you can take part in is fighting against hunger, and the Atlanta Community Food Bank has several opportunities for volunteers to join the cause. Individuals can sign up to work a morning or afternoon warehouse shift at the food bank's Hunger Action Center, where they will be sorting and packing recently donated food, repackaging produce or grains for families, or boxing non-perishable items for seniors across Atlanta. Just be aware that proof of vaccination is required upon arrival before you start your volunteer shift.
The financial hardships from the pandemic have made communities in food deserts, like the Westside one that PAWKids serves, suffer even more this year. The Killer Mike-assisted and LaTonya Johnston-led nonprofit enrichment program services residents of Grove Park with basic food supplies, toiletries, and hygiene products. To contribute to PAWKids' cause remotely, you can donate money, gift cards, snacks, pre-cooked meals, and other much-needed household items.
HOPE Atlanta is one of the city's most well-known agencies that's dedicated to fighting homeless, and you can help assist in their hunger relief and housing operations by signing up to volunteer. Meal packing sessions take place on Mondays and Wednesdays from 9 am to noon, and volunteers can also work as servers at the community kitchens from 10 am to 12:30 pm on Wednesdays and Fridays. And for those who are working with a tighter schedule, you can even help out on your own time by volunteering from home.
After making work and travel arrangements, the last experience anyone wants to have on election day is arriving at the polls and being informed that you're ineligible to cast a ballot, but it can happen for a variety of reasons, some as simple as not possessing an accepted photo ID. Spread the Vote is dedicated to removing that obstacle from voting, and volunteers can help by doing tasks like providing transportation to the DMV or ordering birth certificates. With the upcoming runoff election ending today, this year is a crucial election year, so help make voting as simple as possible in 2022 and beyond.
Earth Day just so happens to fall within National Volunteer Month, making now the perfect time for Atlantans to familiarize themselves with environment-conscious nonprofit Trees Atlanta. On Saturdays from 9 am to noon, Trees Atlanta takes on service projects in different communities across the city, and volunteers are welcome to plant trees, care for trees, participate in forest restoration projects, and much more.
Piedmont Park, Midtown's sprawling green space, is one of the most gorgeous public places in the city. The park was Atlanta's certified go-to for escaping the confines of quarantine in 2020, and since then, it has been great to see in-person festivals and events gradually return to the park. To help preserve the beauty of Piedmont Park, volunteers can assist in the Piedmont Park Conservancy's biweekly "Pick Up and Pitch In" clean-up sessions on Tuesdays and Thursdays from 9 am to 11 am. You can also contribute to the park's preservation by joining the Green Heart Club, a monthly donor subscription that directly supports the Piedmont Park Conservancy.
Gentrification and affordable housing were already major concerns for BIPOC Atlantans, and then the pandemic rolled around and brought an even bigger threat to secure housing. Just as it has done in years past, Habitat for Humanity continues to fight displacement by responsibly revitalizing neighborhoods. The life-changing organization has adapted to the pandemic by allowing a limited number of vaccinated individuals to register as volunteers, so be sure to check out all the ways that you can help displaced Atlantans as well as new homeowners on Habitat for Humanity's website.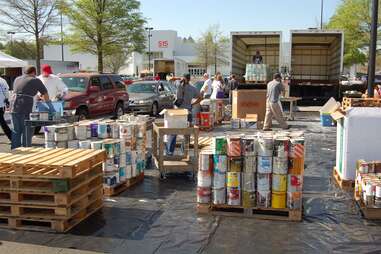 CHaRM, also known as the Center for Hard to Recycle Materials, is a facility on Hill Street that provides a one-stop-shop for people looking to discard their waste in a mindful fashion. Whether you're trying to get rid of an old mattress or the half-full paint cans in your garage, CHaRM is the place to go, but be sure to check the center's website to know what you can and can't bring. Those interested in recycling at the Hill Street facility can stop by on Tuesdays and Thursdays from 9 am to 2 pm and Saturdays from 8 am to 2 pm, but you must make an appointment online in advance. And if you're interested in volunteering for CHaRM, you can sign up for volunteer opportunities here.
Even after the COVID-19 pandemic has partially subsided, nonprofits across metro Atlanta are in greater need of volunteers than ever before. Hands On has continued to be at the forefront of service for this city, along with its surrounding areas. Here, volunteering doesn't have to be monolithic - you can give to a great cause regardless of your situation. You can get your hands dirty in the field doing the work on-site and in-person, make an impact from home, the office or wherever you and whoever you're with, or attend an upcoming equity focused event or training hosted by Hands On Atlanta or one of their partners.
Joshua Robinson is an Atlanta-based contributor for Thrillist. Follow him on Instagram and Twitter at @roshrisky.
Okla Jones
is an Atlanta-based journalist who writes about food, fine arts, and entertainment. His work also appears in ESSENCE, Creative Loafing Atlanta, and Consequence of Sound. Follow him on Instagram at
@coolhandoak
.