June is Pride month around the country and, even though Atlanta has huge Pride celebrations in the fall (one over Labor Day weekend and another closer to National Coming Out Day), June is still an important month for the city's LGBTQ+ community. Like practically every other major annual event or celebration, Pride looked completely different in 2020, but thanks to the resilience of Atlanta and its Queer community, there will be plenty of fun, yet safe, Pride month festivities taking place all-month long.
To give you as many ways as possible to support and celebrate the city's Queer community in 2021, we've compiled a list of local service organizations, LGBTQ-owned dining establishments, limited time experiences, and must-attend events. From sensational new events at historical locations to a full-on Pride festival, here are a few ways for you to uplift, honor, and standy by the inimitable LGBTQ+ community in Atlanta during Pride.
Contribute to nonprofits and service organizations
Lost-n-Found Youth is a local nonprofit organization that's dedicated to combating homelessness for LGBTQ+ and all sexual minority youth, and it gets a considerable amount of funding through its thrift store. To help fund the organization's valiant efforts and support Atlanta's Queer youth, you can go on a mini shopping spree at the LNFY Thrift store, and you can also volunteer at the store by signing up here.
Additionally, there are countless other community organizations—such as Georgia Equality, HRC Atlanta, Atlanta Pride, Southern Fried Queer Pride, Southerners on New Ground, the Solutions Not Punishment Collaborative (SNaP Co.), and Women on the Rise GA, among others—that continue to uplift Atlanta's Queer community, so check them all out to figure out how you can best contribute to their community initiatives.
Also — if you're down to run, jog, or walk for 5 kilometers, Front Runners Atlanta is hosting the 31st annual Atlanta Pride Run & Walk on June 20. The Father's Day weekend race is always held to generate awareness and advocacy for Atlanta's LGBTQ+ community, and this year the Atlanta Pride Run & Walk beneficiary will be Joining Hearts Atlanta, which raises awareness and funds to support prevention, care, and housing assistance to those impacted by HIV/AIDS.
Last year, Wussy Mag hosted a virtual pop-up shop throughout Pride month in collaboration with local creatives Streetcat.media and Christopher Knowles, and although Wussy Mag hasn't announced another digital pop-up this June, the renowned publication does have another epic collaboration that's currently available. In tandem with the Atlanta Hawks' annual Pride Night game at the beginning of May, Wussy Mag teamed up with the city's premiere professional basketball club to create a Pride Night shirt and tank. From the overlap in brand colors to the perfect timing considering the Hawks' current playoff run, this Wussy x Hawks collaboration is a must-cop this Pride month.
And after you cop your wicked limited edition Wussy x Hawks merch, do yourself a favor and check out Wussy Mag's "LMAO" drag show at My Sister's Room—aka the oldest lesbian bar in the Southeast—on June 26.
Grab a bite from a Queer-owned restaurant or bar
While the city is nowhere near as shut down or closed off as it was around this time last year, many Queer service industry workers are still working to recover from the financial hardships of 2020. Whether you're going out for a night of drinks or just need to grab a quick bite, choosing to patronize one of Atlanta's beloved Queer-owned bars and restaurants is one of the simplest and best ways to help keep them afloat during these hard times. There are many Queer-owned bars and restaurants that are offering dine-in and/or take out, including JenChan's, 10th & Piedmont, Joe's on Juniper, My Sister's Room, Twisted Soul Cookhouse & Pours, Las Margaritas, Woofs, Mary's, Virgil's Gullah Kitchen & Bar, and Midtown Moon.
As previously mentioned, Atlanta's biggest Pride celebration takes over the city in October, and Atlanta Pride is the non-profit agency that oversees the annual Atlanta Pride Festival and Parade. Well, months before the highly anticipated event returns, Atlanta Pride is welcoming guests to one of its first in-person events in over a year. Atlanta Pride's upcoming OUT Night at the Georgia Aquarium is a 21+ event that's meant to reconnect and reunite the city's Queer community with an evening of cocktails, live ambient sounds, and intimate acces to the aquarium. Go show your support and start counting down the days until the Atlanta Pride Festival in October!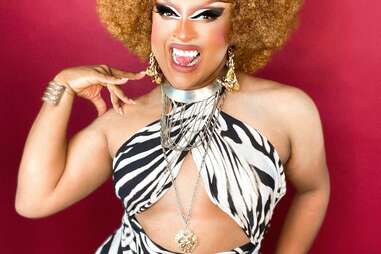 As Atlanta drag extraordinaire, all-around artist, and community leader Taylor Alxndr teased during their love letter to Atlanta's Queer community, the Southern Fried Queer Pride Festival is officially back for its seventh year. As the city's only major, day-spanning Pride event that actually takes place in June, there's no better way to celebrate Pride month in Atlanta this year. The 2021 Southern Fried Queer Pride Festival takes place from Thursday, June 24 to Sunday, June 27, and there will be art experiences, a late-night dance party, community aid workshops, a Queer variety show, a pop-up thrift shop, and so much more.