13 July Events You Absolutely Can't Miss in Atlanta
Fireworks, a laser show, three fire cannons shooting flames 100ft into the air, and a concert. Because America.
You and up to 11 friends get locked in a room for 60 minutes with a wall-chained zombie who gets an extra foot of chain for every five minutes you don't find clues and solve puzzles that lead to the exit key.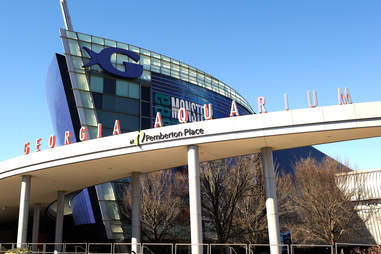 Unlimited beer samplings and food (because America again), live music, beluga whales swimming nearby, and a great view of the Centennial Park fireworks show from the parking deck rooftop.
A rooftop party with two "all-American" buffets, eye-level fireworks-viewing, DJs, and an open bar option for VIPs.
Damn Redhead Photography
Eating contests, wheelbarrow racing, a "Bubble Gauntlet" ("American Gladiators in a bubble suit"), and more foolishness, plus food trucks and beer for cash.
Bring your dog and have pints on pints on pints of craft beer, while eating 'cue and playing summer games for both humans and hounds.
The largest gathering of food trucks in the Southeast, ASFF is $12 to access 50+ food trucks, local merchants and artisans, and live music from five bands including the food truck-named Gritz & Jelly Butter Band.
More than 30 downtown restos (BLT Steak, Game-X, Legal Sea Foods, Morton's The Steakhouse) offer prix fixe menus from $15 to $35 for eight days.
Ford Fry's annual fest of zesty red vine fruit, with 'mato-based meals and drinks from the city's best chefs and mixologists, plus music from an all-chef band.
Basically a 1,000ft vinyl Slip 'N Slide in the middle of Decatur, plus food, drinks, and music.
Taste 50 wines and take home an unbreakable wine glass after an evening of live music, eating, and classy drinking.
Let professional makeup artists turn you into a brain eater so you can get a tour-themed shot at five VaHi bars. VIPs get extra-gorey makeup, a limited-edition T-shirt, after-party admission, and bottomless beer at Diesel.
So much ice cream to eat, because it's so hot outside this summer.