Jazz Fest, Drinks in a Botanical Garden, and More Things to Do in Atlanta This Weekend
Nothing says summer like cocktails al fresco.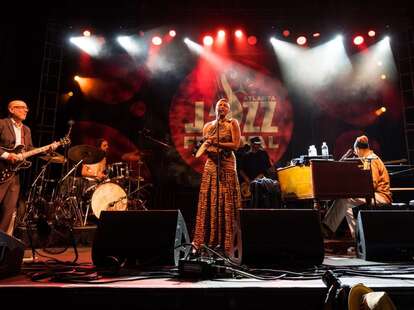 Photo courtesy of Atlanta Jazz Festival
The only thing better than the weekend is a loooong weekend. But there are lots of fun things to do in Atlanta even before the extra day off on Monday. Our annual jazz fest kicks off on Saturday, so grab your blankets and head to Piedmont Park for a live music experience like none other. If you're seeking a more intimate vibe, the Atlanta Zoo and the Botanical Garden are holding separate shindigs that feature craft cocktails and a lowkey atmosphere, plus visitors can also head over to the ABV Gallery for an artist talk with Peter Ferrari and an in-depth look at the establishment's artwork on display. The next few days are yours for the taking, so make the most of it.
Saturday, May 27 – Sunday, May 29
Midtown
One of the city's favorite festivals has returned to Piedmont Park for an annual celebration of all things jazz. Over the years, the Atlanta Jazz Festival has become a tradition that draws music lovers from all around the region to experience the best and brightest. Known as one of the largest free jazz experiences in the country, this event is the perfect way to spend your Memorial Day Weekend, featuring a lineup of Samara Joy, Wynton Marsalis, Ledisi, Nikki Giovanni, and more.
Cost: Free
Saturday, May 27
Old Fourth Ward
Head over to the Atlanta Zoo on Saturday for an event that's so much more than an outdoor experience. Brew at the Zoo is back, and it remains one of the best ways to kick off the summer season in the city. Attendees can enjoy beer and wine samples from breweries all over Georgia, listen to live music throughout the zoo, play yard games, and so much more—all while having an incredible view of the animals at the zoo. Ticket sales will support conservation initiatives to protect species and their habitats.
Cost: $70 for general admission; $120 for VIP tickets
Friday, May 26
Cumberland
Grammy-nominated singer and songwriter Bryson Tiller will land at the Coca-Cola Roxy this weekend for the 14th stop of his Back and I'm Better Tour. Hitting the road for the first time in more than six years, the Louisville native will perform some of his biggest hits to date, building anticipation for his upcoming album, Serenity. With DJ Nitrane on the 1's and 2's, concertgoers can enjoy an intimate show featuring one of the best artists of this generation.
Cost: Tickets start at $145
Saturday, May 27
Westside
No matter where you are in the world, the Caribbean's influence can be felt in some shape or form. With such a large demographic right here in Atlanta, it's only right that that Caribbean heritage is celebrated annually. For almost 40 years, the Atlanta Caribbean Carnival has promoted a broader understanding and deeper appreciation of the Caribbean and has returned for another event just in time for Memorial Day. Held in Westside Park, you can enjoy music, dancing, food, children's activities, and much more while paying homage to a culture that has become so deeply ingrained in our city.
Cost: Tickets start at $40
Sunday, May 28
College Park
One of the most exciting sports leagues is back for another season, and this weekend the home team will kick off the season at home. Pull up to the Gateway Center Arena to watch the Atlanta Dream face off against the Indiana Fever to commence their 16th season in the WNBA. In addition to the high-octane matchup, the Grammy Award-nominated entertainer Baby Tate will perform during the halftime break. With an expanded 40-game season this year, the arena will host 20 home games, which includes six Friday night games and 13 weekend games. Don't miss the opportunity to see players such as Rhyne Howard, Naz Hillmon, Cheyenne Park, and more do their thing right here in Atlanta.
Cost: Tickets start at $66
Saturday, May 27
Inman Park
The newly opened solo exhibition for artist Peter Ferrari is now on display at Greg Mike's ABV Gallery—and you need to check it out. The title of the show is "Covalent", which is the type of bond between atoms in all organic compounds and the base-level reaction that makes life possible. Ferrari found a constant source of inspiration from the ways elements bond, arrange, and evolve over time. During Saturday night's event, the artist will explain his techniques, how he prepared for this current exhibition, and what sparks his creative process.
Cost: Free
Friday, May 26 – Sunday, May 28
Downtown
If you're a fan of football, art, or both, the College Football Hall of Fame is the place for you. The newly unveiled Art of College Football exhibit is a limited-run show featuring rarely seen artwork from 12 renowned artists. This exhibition captures the passion, pageantry, and traditions that make up the most memorable moments in college football. The centerpiece of the new exhibit is a collection of four Arnold Friberg paintings commissioned in 1968 to celebrate The Centennial of College Football, and also includes 15 original serigraphs by noted sports artist LeRoy Neiman.
Cost: $24 for kids, $30 for adults
Friday, May 26 – Saturday, May 27
Midtown
Why tiptoe through the tulips when you can sip a cocktail in them? This summer, the Atlanta Botanical Garden will host a weekly event called Cocktails in the Garden, where you can try in unique drink selections while exploring the summer exhibition Trolls: Save the Humans by Thomas Dambo and listening to live music from A Couple Cellos, the KSU Jazz Ensemble, or Token Rhyme.
Cost: $27 for kids, $30 for adults.
Okla Jones
is an Atlanta-based journalist who writes about food, fine arts, and entertainment. His work also appears in
ESSENCE
,
Creative Loafing Atlanta
, and
Consequence of Sound
. Follow him on Instagram at
@coolhandoak
.