Of course it took a damn hurricane (find out how to help FL here), but it finally feels like fall y'all. And not just a normal, slight-chill-in-the-air fall… but EXTREMELY fall, when the weather went from 80 degrees to 60 degrees in a week. But at least we can now sensibly sport our green, brown, and gold sweaters, corduroys, Timberlands, and other layers of clothing to events like Taste of Atlanta, the L5P Halloween Festival and Parade, and other big events like the Decatur Craft Beer Fest. Fall back! Literally!
Recommended Video
You Can Fit This Grill In Your Backpack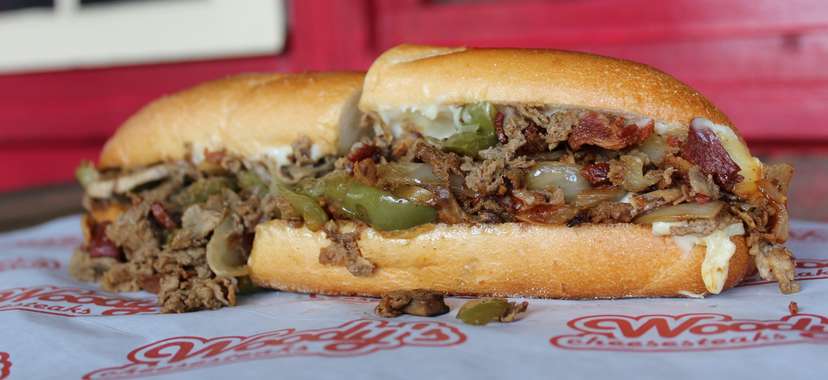 Friday, October 19
Historic Fourth Ward Park
Taste of Atlanta begins tonight with a 6:30pm kickoff party and runs through Sunday. This is your chance to eat food from more than 90 Metro ATL food establishments, including 1Kept, Bhojanic, Poke Burri, STK, and others.
Cost: $25 - $190
Friday, October 19
Providence Missionary Baptist Church
Ailey II (the modern dance company previously known as Alvin Ailey Repertory Ensemble -- aka Alvin Ailey American Dance Theater's younger sibling) is putting on a free show with Dancemakers of Atlanta starting at 6pm. Once that finishes, DJ Kemit is leading a silent disco block party outside on Benjamin Mays, with three "stations" he's curated for your headphones. Shake something.
Cost: Free
Saturday, October 20
Little 5 Points
This is the 18th year for the L5P Halloween Festival and Parade, which means from 4pm to 11pm, there will be freaks, fangs, foolishness, and fun, all dressed up and walking around in our weirdest part of town. Get there early and post up to make sure you see all of the hot, vivid mess.
Cost: Free
Saturday, October 20
Decatur Square
Starting at noon you'll walk into the Decatur Craft Beer Fest and get to sippin' beer from 80+ breweries (the full list is right here). You'll also be entertained by live music from bands Blacktop Rockets, Lloyd's Rocksteady Revue, and Semi-Charmed, with spins from DJ Kwasi between sets.
Cost: $50 for general; $100 for VIP
Saturday, October 20
Olmsted Linear Park
Festival on Ponce is back for the fall edition, with all the folksy fine art and crafts your Michael's-lovin' heart desires... except it's mad local. Come eat and drink, and support your neighbors by celebrating (read: buying) their wares.
Cost: Free to attend
Saturday, October 20
Metropolitan Studio Lofts
It's been two decades since Eyedrum Art & Music Gallery arrived in Atlanta, so come help them party about it. There'll be food sponsored by Six Feet Under from 7-9pm, live bands, quality DJs (Jeff Myers and Keiran), and "an interdisciplinary spectrum of the avant-garde that includes art, music, performance, and film representative of the artists who have exhibited through the years." Oh, and your cover is a requested donation, but know that it'll help them stop getting kicked out of venues and find a permanent home, as well as hire an artistic director.
Cost: $20 donations please
Saturday, October 20
Plaza Theater
Wear a costume, study Winona Ryder's big dance number, shrink your head and head out to Poncey-Highland to watch Beetlejuice -- one of the greatest, weirdest movies about undead people ever -- with others, to celebrate its 30th anniversary. Don't make us say it two more times.
Cost: $13
Saturday, October 20
Brookhaven
Check out paintings, photography, mixed media art, and more from 140 creatives… plus live music and a classic car show during the two-day Brookhaven Arts Festival, held behind the Brookhaven transit station, where the art is usually spray-painted advice about what strange things your ex will do for some change. By the way, we know it was you who put that spiteful, jilted-ex graffiti on the MARTA station, homie. Grow up. And get into better artsy stuff!
Cost: Free
Sunday, October 21
State Farm Arena
Tonight is the So So Def 25th Anniversary Cultural Curren$y Tour, and if you thought the name was long as hell, wait until you hear the string of hit records you and everybody else in ATL (and the world) shook their asses to for the past 2 1/2 decades. JD will be joined by Xscape, Jagged Edge, Da Brat, Bow Wow, Anthony Hamilton, Youngbloodz, Bone Crusher, and other So So Def icons, although it probably won't include a performance from that beloved yellow billboard on I-75. Bring it back, Mayor Bottoms!
Cost: $69 - $99
Sign up here for our daily Atlanta email and be the first to get all the food/drink/fun the ATL has to offer.