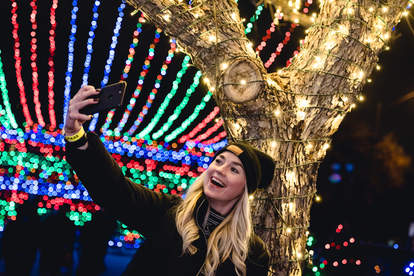 The Most Festive Things to Do in Austin This Holiday Season
Hot drinks, cold temps, and a steadily increasing list of party invites tells us that the holidays are approaching. As we know, Austin never misses an opportunity to celebrate something or to indulge in a little boozy retail therapy. There are plenty of opportunities to re-up on family holiday traditions, support local makers and artisans, and indulge in holiday cheer; or, go sideways with it and do the drag show, a horror holiday bazaar, and a jingle bell burlesque. It's a choose-your-own holiday adventure.
November 21 - January 5
Mozart's Coffee
As we struggle to get even one light strand up around the house, Mozart's puts everyone to shame with its one million+ LED display. It's not just pretty, either: they also set up a light show synchronized to holiday tunes. Stop in between 6-11pm for a snack, a cuppa joe, or some hot chocolate. They don't have alcoholic drinks, but you can always grab one before or after at Abels or Hula Hut.
Cost: Free
November 22 - December 24
6100 Airport Blvd
While we love to support local businesses all year long, it's especially easy to make the choice during the holidays. Shop for just about anything here -- paintings, jewelry, decor, accessories, ceramics, glassworks, Austin-y stuff, and more. It's an easy way to get all your gift-buying done at once, and pay local artists who keep our city awesome. 
Cost: Free
November 23 - January 21
Whole Foods Market on North Lamar
We don't often get the chance to show off our toe pick skills in Austin, so when a skating rink magically appears atop a grocery store, it's a must-do. Every year, Whole Foods brings a bit of whimsy to our world by allowing us to indulge our Olympic ice skating fantasies/Mighty Ducks skills. Roll solo or bring the whole family and feel super Christmassy.
Cost: $12
November 29 - December 30
Zach Scott Theater
Ready your dance pants for a hilarious pop-culture twist on the story of one Ebeneezer Scrooge. Dickens never saw this coming: soulful ghosts (including Tony-nominated Mary Bridget Davies) channel Lizzo, Michael Jackson, Bruno Mars, Cher, and more. You'll laugh, cry, chair dance, and leave the theater feeling life-affirmed. Pro-tip: Show up early to enjoy some live music in the lobby before the performance. 
Cost: $30+
November 30
State Capitol
You think the Thanksgiving Parade in NYC is big... get a load of this! Huge inflatables, favorite children's characters, unabashed marching bands, classic cars, and of course, Santa take over Congress in an outstanding holiday display. Bring unwrapped toys to donate to Operation Blue Santa, a nonprofit that will then deliver those toys to a kid in need in the Central Texas area. 
Cost: Free
December 1
Texas Spirit Theater 
While everyone else is showing Elf and a Christmas Story, the Bullock is putting out some pure Muppet joy. This show promises, not only the glory of the 1992 Muppet classic, but also surprise special effects throughout the screening. Plus you can drop in early for free First Sunday family activities. 
Cost: $5 for Bullock Museum members and $8 for general admission
December 1
Mohawk Austin
Drag, standup, burlesque, music, and more will take over both stages at the Mohawk on World AIDs Day, with all proceeds going to The Kind Clinic. The event is meant to raise funds, awareness, and hold space for people living with HIV. There will also be (you guessed it!) a holiday bazaar with 40 vendors, so ready your wallets.
Cost: $5
December 3
UMLAUF
We love free beer almost as much as we love shopping, so that's why UMLAUF's Winter Fair is a must. Sponsored by Austin Beerworks, Tito's, and Topo Chico, imbibe as you vibe with vendors selling handmade goods and art. Also, there will be carols form Tinsel for that extra holiday boost. 
Cost: $5
December 4-18
The Paramount Theatre
We're suckers for holiday movies, and the Paramount is bringing the best of the warm fuzzy films to the big screen. It's not all sitting back with a bucket of popcorn, though; they're also putting on fantastic events like a John Waters Christmas, Bob Schneider's Moonlight Orchestra, Ian Moore's Family Christmas, and of course, Bruce and Kelly's Christmas (featuring Patty Griffin). 
Cost: Varies
December 7
The Capitol
Ain't no tree like the Capitol tree. Every year the Downtown Austin Alliance puts on one heck of a holiday kick-off with live music, a holiday market, photos with Santa, kids play area, food trucks, special anniversary photo-ops, and more. Make sure you stick around until for the annual KUT & KUTX Holiday Sing-Along and countdown to the lighting of the downtown tree at 7pm. 
Cost: Free
December 7
360 Bridge
BYOB means something totally different at the annual lighted boat parade. The parade, starting at the 360 bridge and ending at Mozart's, is a bedazzled, bedecked display of Austin's seafaring citizens competing for best in show, best pontoon, and most creative. Get in on the party barge or just watch from the shores. The parade benefits Austin Pets Alive and Together We Rise.
Cost: Free /$60 for barge ticket
December 7-23
The Long Center for the Performing Arts
Magic and joy and wonder and warring toys... that's what Christmas is all about. This is the longest-running production of the Nutcracker in the state of Texas, so it's safe to say it's an Austin holiday tradition. Along with the Austin Symphony Orchestra, hundreds of dancers, including the younger students, take you on this magical adventure.
Cost: $40+
December 6-7
The Square, Georgetown
If you're a sucker for Hallmark movies, Georgetown's 39th Annual Christmas Stroll is as close as you can get. There's a hometown holiday parade, Bethlehem Village, live entertainment, food vendors and over 100 arts, and crafts booths. Both days have other fun activities like dessert with the Grinch plus outdoor movie, a swing carousel, a candyland obstacle course, a Winter Wonderland, and Santa's Village.
Cost: Free
December 7
Hotel San José
There's no denying that San Jose Hotel is a standard for "Austin cool," so when they have a holiday market, we're totally there. Grab some food, indulge in a drink, dance to tunes by DJ Feelin Groovy all while marking off your holiday wish list with curated local gifts from Geode Design Studio, Hey Moon Ceramics, Silk Diaries, Ritual Union and more. 
Cost: Free
December 7-8
Maplewood Elementary
Sure, everyone loves a candle or a picture frame (right?), but what about bringing some more beauty into their lives? Chula League's Cherrywood Art Fair still feels like something we're lucky to be a part of. Two days of local artists, live music, kid-friendly activities, and good food right in the middle of Cherrywood. It's a festival for the eyes and an easy way to impress the fam.
Cost: Free
December 13
Aldrich Street
There are only a few things that will get us out on a winter evening but a candy hunt is one of them. Aldrich is hosting a Candy Cane Crawl complete with a flashlight candy cane hunt, prizes awarded for golden candy canes, and a candy-themed photobooth. Sing carols with the Mueller Community singers, have some hot chocolate, and pretend like you're not wearing shorts.
Cost: Free
December 13 - December 24
Palmer Events Center
This is the 43rd year of the Armadillo Christmas Bazaar, and it's lasted so long for good reason: it's like a shopping concert. Great musical acts like Eliza Gilkyson, Warren hood, Suzanna Choffel, The Watters, and more entertain you while you shop. Wend your way through 175+ booths at the Palmer Events Center, with a cocktail in one hand and your holiday treasures in the other. 
Cost: $10+
December 14
37th Street
One of the most homegrown Austin traditions, the residents of 37th street keep on bringing us the holiday magic year after year. It's quirky, it's funky, it's fun and it's something that's part of the fabric of our city. This year, they've got Blowcomotion playing while you walk around and marvel at the magnificence. Afterwards, congregate at Backlot to toast and get toastie.
Cost: Free
December 19
ACL Live
It's Christmas, drag-style, and it's not even trying to make that elusive nice list -- we're talking straight-up naughty, y'all. Get in on this evening of fabulous, funny, magical performances featuring contestants from VH1's Drag Show. It's big hair, big attitudes, backup dancers, and a hefty dose of outrageous amazing antics. The holidays can be a drag, but this won't be.
Cost: $35+
December 21
Still Whiskey
If you're looking for something a little smaller and more local, stop and shop at Still Whiskey's holiday market benefitting SAFEAtx. Everything is handmade and/or vintage and all wares (such as jewelry, bath products, art, and textiles) are made in Austin. There will be live music, 30+ vendors, a raffle, drink specials, and free Flea Bags with goodies to first 20 folks coming through the door. 
Cost: Free
Courtesy of Austin Trail of Lights
December 10 - 23
Zilker Park
As anyone who's been there knows, the trail of lights is nothing short of spectacular. Amazing displays, tasty food trucks, friends and family and strangers walking around happy to be part of the holiday tradition. Make sure to check the specialty nights like Night Lights Preview Party (December 6th), Home Alone Movie Night (December 12th), and the official Zilker Tree lighting (December 21st). Have some funnel cake, take a spin under the tree, and feel all the holiday feels. 
Cost: $10
Sign up here for our daily Austin email and be the first to get all the food/drink/fun in town.