The Most Festive Things to Do in Austin This Holiday Season
Don't forget the spiked eggnog.
The holiday season is bound to be a bit different this year—limited travel, little in-person gift-buying (or exchanging for that matter), and beloved office Christmas parties with open bars and slurring coworkers are but a thing of the past. But there are still a variety of activities around Austin that will allow you to safely celebrate the season. We have rounded up our top picks into one convenient list, so all you've got to do is scroll through, be merry, and be good (practice social distancing), for goodness sake.
November 13 - December 24
6100 Airport Boulevard
Hitting up The Blue Genie Art Bazaar is a tried-and-true Austin holiday tradition for all the right reasons. Over 200 local and regional artists are chosen through an extensive jury process to hawk their unique goods, most with a Texan twist—think everything from artisanal honey to Topo Chico pins to totes printed with a dog dressed as Bob Ross. While you can still stop and visit, due to the unique circumstances of this year, you can even peruse and purchase the selections from the Bazaar entirely online this year as well. It sure beats giving everyone gift cards for the third year in a row.
Cost: Free

November 27 - January 3
Lady Bird Johnson Wildflower Center
For the first time ever, guests are permitted through the Texas arboretum on foot to saunter through the illuminated oaks and the light-splashed forts of Fortlandia—a collection of custom designed forts created by local architects, designers, and artists. Find some peace on earth amongst the gorgeous foliage in the calm of winter, bathe in the lights, and breathe in the open air. Face masks are required at all times. Read more about their safety guidelines here.
Cost: Free - $18 (members only on Mondays)
November 28 - January 3
Zilker Park
In light of (pun intended) the disaster that was the majority of 2020, we all deserve some activities that are merry and bright. With more than 2 million lights illuminating the park, 90 holiday trees lit up, and more than 70 additional holiday displays and light tunnels, there is no way that Zilker Park guests will leave the Trail of Lights with heavy spirits. You've seen the posts all over Instagram, so indulge the urge.
Cost: $25 - $35 (members only on Mondays)

Until January 5
Mozart's Coffee
This year, we're all fit to yuletide. Get the grump out of your system with some twinkle and light at Mozart's Covid Cautious Christmas Light Show. Reserve a table for a one-hour time slot and enjoy all that is shiny and bright alongside live music and some bomb snacks and pastries—from tarts to tortes, scones to streusels, and maybe even a cannoli or two. Reservations are available between 6 - 11 pm. Tables will be six feet apart, and masks are required when not seated.
Cost: $10 per table

Until December 13
Alamo Drafthouse Slaughter Lane, South Lamar and Lakeline locations
Assemble a few friends who've been socially distancing for an escape in the form of a few hours filled with old school fun at the cinema. Each ticket to Alamo Drafthouse's Secret Santa Cinema includes a free Santa or elf hat packed with holiday goodies and "other surprises." With a lineup that includes "Die Hard," "Love Actually," "Gremlins," "The Polar Express," "A Christmas Story," "National Lampoon's Christmas Vacation," and "Elf," you'll find a film your whole party will appreciate (and if not, just treat them to some libations and call it a festive treat). Spend some quality time with the silver screen—Santa knows you need it.
Cost: $15 per ticket
December 4 - January 3
Austin Motel
Everyone's favorite place that is "so close, yet so far out" (literally that is what it says on their huge marquee) is stepping it up even further with holiday decorations and special libations at their Pool Bar area. Austin Motel is known for their use of neon and they have promised to extend this technicolor theme to the lights and trees that will adorn their retro outdoor area. While there, you can munch on snacks like Hot Pretzels and Reindeer Chow, and sip on a Sugar Plum Cocktail or a Hot Chocolate (with no judgement from the friendly staff if you ask for a splash of peppermint schnapps to go in it).
Cost: Free, but reservations required to limit capacity. Reservations can be made online at their site.

December 12 - January 1
Your living room
The tulle, the grace, the fantasy—this holiday staple glides into your home for the holidays en pointe. Let's face it, the holiday season isn't quite right without Tchaikovsky, so Ballet Austin is bringing the wholesome magic of "The Nutcracker" straight to your couch. Centered around the classic fairy tale in which a small child 's nutcracker doll comes to life, the ballet is a tried and true tradition that will inspire a sense of holiday nostalgia. Thirty dollars gets you access to the digital film, plus you can boast that you are supporting the Austin performing arts community. Gather the family together, throw some tinsel on the tree, and get ready for the little ones to practice their pirouettes on the kitchen floor.
Cost: $30 donation
December 6 - 20
The Paramount Theatre
By now you're likely tired of binging shows and streaming movies while cooped up in your apartment (now your workspace and fitness area too). Yearning for the lights of a marquee? Velvet seats? The glitz and glam of a theatre—with limited human contact, of course? This year the Paramount Theatre is offering a holiday film series and is operating at only 25% capacity. The theater is taking extra precautions so staff and patrons stay safe during this precarious holiday season. Masks are mandatory (unless eating or drinking, obviously), and theater doors are now open earlier with staggered arrival times. Featured movies include "Elf" (Will Ferrell at his best), "A Christmas Story" (child with tongue stuck to pole), "National Lampoon's Christmas Vacation" (ah, the horrors of family), "The Polar Express" (Tom Hanks in the uncanny valley) "White Christmas" (1954 musical), "Love Actually" (love story x 9), and "It's a Wonderful Life" (guardian angel saves man, heartwarming journey ensues).
Cost: $11 per ticket

December 12
SignatureCare Emergency Center
If social distancing has taught us anything, it's that there is never enough quality time to spend in the company of our furry friends. Grab the leash and the poop bags; it's time to celebrate our puppies and their unending love and affection with the first annual Santa Paws Pups Parade. Hosted by SignatureCare Emergency Center, the parade features a costume contest, pet-friendly vendors, and free goodies for participants—peppermints and hot cocoa for the owners and puppachinos for the dogs. From 12 to 2 pm, experience a jolt of joy as you flaunt your favorite holiday costume alongside your canine companion.
Cost: Free
December 4 - 6, 11 - 13 & 18 - 20
Bastrop Opera House
Summon the courage to venture outside of Austin for a charming, small town, maple syrup-covered live performance of the musical variety. Based on the Will Ferrell classic, "Elf," this performance will be both presented live and via live stream from the Bastrop Opera House. The film and subsequent musical revolve around a nauseatingly cheerful elf searching for his father in New York City. Immerse yourself in the adorable chaos, support local theater, and get out of the house with the promise of this cheerful, comical Christmas tale.
Cost: $11 - $17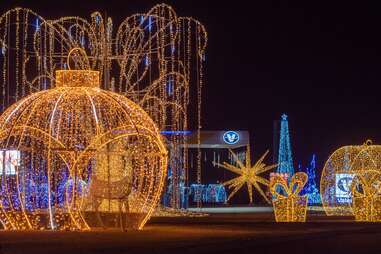 November 27 - January 3
Circuit of the Americas
Foster some much-needed holiday spirit via drive-thru light-viewing on select nights from November 27 to January 3 on Austin's formula one racing track. The one-mile driving attraction boasts millions of holiday lights synchronized to holiday classics, giant light sculptures, and a 60-foot spiral light tree. Pile the loved ones in the car to revel in the red and green glow—bring the kids, the cousins, and the family friends. Hot cocoa and holiday treats will be served up from drive-up concessions.
Cost: $35 per vehicle

December 12
The Vegan Nom
The holiday season may be marked by its turkeys, hams, and green bean casseroles covered in bacon bits to some, but things look a little different to the vegan, vegetarian, pescatarian, and generally animal-conscious communities. The Wandering Vegan Holiday Market, hosted by taco masters The Vegan Nom, will feature vegan eats like Nom Burger, East Austin Coffee, Curcuma, Bruja's Brew, and Milky Way Shakes alongside vegan goods for those who want to shop with a clear conscience. Local vegan artisans will be selling cruelty-free skincare products, makeup, jewelry, candles, succulents, artwork, clothing and much more. Eat and shop from 12 - 4 pm.
Cost: Free

Online at Armadillo Bazaar
As this arduous year of instability and tumult grinds to a conclusion, the Virtual Armadillo Christmas Bazaar is providing a delightful alternative to shopping online with those much-despised large companies and corporations. The Bazaar presents a curated collection of ​works by small artist​s and makers, affording customers the opportunity to discover unique works and support small businesses while also sustaining culture. Browse stunning, varied artwork by medium, artist location, content, or process. You'll find a distinctive work of art for even the pickiest of mothers-in-law or the surliest of uncles.
Cost: Free
Monday - Friday 4pm – 2am, Saturday & Sunday 11am – 2am
Lala's Little Nugget
The tagline "It's Christmas all year round" isn't an exaggeration at Lala's Little Nugget, a quaint Noel-loving bar on Austin's northside. This place has got it all: a snow room, stockings hanging from the ceiling, the leg lamp from A Christmas Story, a Christmas Elvis painting, and Santa memorabilia up the wazoo. 'Tis the season to be jolly (or melancholy), so be sure to sip on the Love Child with strawberry-infused Dripping Springs gin, elderflower liqueur, lemon juice, and Champagne. Or keep it traditional with Grandma's Boozy Eggnog. Bottom line is, you'll want to get lost at this North Pole in Central Texas.
Cost: Free, but drinks on you

December 11 & 13
Virtual Event
The classic comic strip characters meet classical music performance in this free event hosted by the Austin Chamber Music Center. Enjoy the concert virtually, with a live video recording from the Draylen Mason Music Studio at KMFA Classical 89.5's new home in East Austin. The original Charlie Brown music by Vince Guaraldi will be on full display alongside the immensely talented pianist Michelle Schumann, bassist Utah Hamrick, drummer Scott Laningham, vocalist Michelle Haché, and Ephraim Owens on trumpet. Tune in for a concert that will appease and entertain the whole family.
Cost: Free

December 3, 2020 - February 28, 2021
Arlo Grey at the LINE Austin
Want to snuggle up somewhere that, preferably, doesn't involve mistletoe? You're in luck — you can rent your own private, heated, custom-designed yurt set up like a miniature dining room with food provided by the fantastic Arlo Grey. The four-course prix-fixe menu includes dishes such as chestnut & persimmon salad, gulf prawns & grits, and Westholme wagyu ribeye. For those who want to extend the experience to the whole family, each yurt seats four to six comfortably. Do note though, that only those with American Express cards are able to reserve this special experience.
Cost: Tickets are $150 + tax + service charge per person on Fridays and Saturdays. For Wednesday, Thursday & Sunday, it costs $100 + tax + service charge per person.
Sign up here for our daily Austin email and be the first to get all the food/drink/fun in town.