10 Can't Miss Things to Eat, Drink & Do Between Shows at ACL This Year
Free inspo for what to do when you're not singing along with Shania Twain at Austin City Limits.
Photo by Roger Ho, courtesy of Austin City Limits
Photo by Roger Ho, courtesy of Austin City Limits
Y'all ready for the big show? Austin City Limits, the destination music fest that crams tens of thousands of people into Zilker Park, is nearly here. And while it seems like only yesterday when we worshiped at the altars of P!nk, Lil Nas X, and Carly Rae Jepsen last year, this year's ACL lineup is stacked. Headliners such as Foo Fighters, Shania Twain, The Lumineers, Kendrick Lamar, and many more are poised to make this ACL another core memory, along with like 100 other acts spread across the two weekends: October 6 to 8 and October 13 to 15. (You can bet you'll find us in front of the Honda stage on weekend one, screaming the lyrics of "Man! I Feel Like a Woman!" right back at Shania.)
By now, you've already chosen your ACL weekend and likely secured your tickets. You've got your show schedule mostly figured out and, hopefully, a decent sense of when you'll need to hike across the park to avoid the big crushes of people—Paramore weekend one 2022 survivor here!—and claim a good spot in the dusty grass. But do you know what you're going to eat? Do you have a plan for what you'll be up to in long gaps between shows? We've got you covered with some experiences you shouldn't miss throughout the fest.
What to Eat & Drink at Austin City Limits
Barton Spring Beer Hall
We don't know about you, but we need a beer in my hand within minutes of entering the festival grounds. The ride down to Zilker and the schlep into the festival works up a thirst, you know? Timely refreshment is mission critical, so head straight to this beer hall, hosted by Texas' own Karbach Brewing Co. Here you'll find a variety of craft beers to choose from, plus big-screen TVs, and more ways to chill, according to the fest's official website.
Micklethwait Craft Meats
It's no secret that we love this East Austin barbecue truck. Its Central Texas–style meats (fatty brisket, Tex-Czech sausage, smoky pork ribs) and its scratch-made sides, like lemon poppy slaw, citrus beet salad, and jalapeño cheese grits, have earned it a permanent spot on our list of the best places to eat barbecue in Austin. So, as soon as our inevitable craving for barbecue hits at ACL, you know where we're headed. As if that weren't great enough, Micklethwait is bringing its taco truck off-shoot, Taco Bronco, along for the ride again this year. Bottom line: If you're gonna pay an arm and a leg for festival food, do it here.
Salt & Time
The makers of the legendary Butcher's Burger will make their ACL Eats debut. The East Austin full-service butcher shop and restaurant is heading to the festival food court for the first time, and we couldn't be more excited about it. Salt & Time will be serving house-made sausages of the Texas dogs and hotlinks varieties (!), Wagyu smashburgers (!!), and beef fat fries (!!!).
Mister Softee & ACL Sweets
In the sweaty chaos of the festival crowds, the simplicity of a soft serve ice cream cone beckons us. Especially when it's purveyed by our good friend from NYC, Mister Softee. The Austin extension of the iconic Northeastern ice cream truck is pulling up to the festival with its array of creamy delights—sundaes, shakes, cones, and more.
You obviously can't go wrong here, but if you're looking for something else (maybe something a tad less melty), ACL Sweets boasts a smorgasbord of sugar. Along with Mister Softee, you've got 10 other dessert options, including Tiny Pies, Picole, Holla Mode, JP's Pancake Company, Candy Cloud World, to name just a handful.
The Wine Grove
Put the words "wine" and "grove" together and you've got our attention. After all, a crisp can of rosé in hand is just as important as the aforementioned mission-critical beer. Returning this year, Texas-owned BRŸT is supplying the grove's highly crushable wine offerings.
Show Me Pizza
The folks behind this Neapolitan pizza fixture in South Austin are actually closing their restaurant and bringing their entire team over to Zilker so they can sling classic pies for you at ACL for the first time. So maybe do them a solid and get one. According to owner Benjamin Demarchelier, they'll be playing the hits at the ACL Eats stage: cheese, pepperoni, and marinara (vegan) pies. You can buy 'em by the half or get a full pizza. Demarchelier told Thrillist he plans to use proceeds from the fest to help finance a liquor lawyer in hopes of adding beer and wine to the restaurant's menu. Full pizza it is!
Things to Do Between Austin City Limits Shows
American Express Y2K Experience
Like last year, Amex is providing ACLers a fancy, perk-filled oasis between the American Express and T-Mobile stages—with some exciting new theming updates, of course. The lounge is designed to look like a camera emporium and photo studio, complete with eco-friendly digital point-and-shoot cameras for rent or purchase via a partnership with Paper Shoot. You'll also find Amex's pop-up shop partnership for vintage and pre-loved accessories, Depop. The shop will feature a curated lineup of local Texan sellers, such as vintage tees and hoodies from Star Sixty Seven and Morgan B, versatile jewelry from Mina Valore, and other finds from Ragz Revenge, according to a spokesperson.
Best of all, the experience features the Card Members Club on the second level that overlooks the festival (we caught great views of Manchester Orchestra's set from up there last year) and features a bar with air-conditioning. Just note that—as the name implies—you need to be an Amex card member to get into this part of the experience.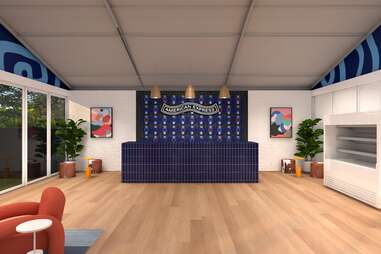 The Centurion Lounge
In addition to the Y2K Experience, Amex announced some big news: Its Centurion Lounge is making its music festival debut at ACL 2023 after years of offering elevated lounge experiences at the US Open. Located next to the American Express stage, this lounge will be exclusive to American Express Platinum cardholders and Centurion Members and their guests. So, it's no surprise that the perks are platinum-level premium: access to the lounge throughout the festival without reservations, a complimentary food item, a complimentary drink token each day that can be redeemed for non-alcoholic or alcoholic beverages, including an exclusive Tito's cocktail, plus lawn seating with views of the stage.
By the way, if you register for ACL Cashless with your American Express Card, you'll get a $5 Cashless spend credit that can be used at the festival. Five bucks probably won't cover a single beer, but, hey, we'll take it.
ACL Market
In case you're interested in spending even more money at ACL, head over to the ACL Market. Located on your way to ACL Eats, the shopping spot is doubling in size this year with a whopping 26 vendors, including Austin Art Garage, Honey Hill Market, and Sustainable Sparkle Bar to name a few.
Hulu House & Coke Studio Experiences
When you're done with your Instagram photoshoot at the colorful flags (it's pretty much mandatory, we know), you can head to the nearby Hulu House and Coke Studio pop-ups to kill some additional time between shows and, better yet, get your hands on some swag. At the Coke experience, you and your festival companions can transform into a band, create album artwork, and shoot a music video with the help of AI and refreshment from the ample Coke Zero Sugar that'll be on hand there. Meanwhile, at the Hulu House nextdoor, you can grab some Hulu swag and even watch live streams from ACL festival stages if you need a break from the crowds.
Tony Merevick is the Managing Editor at Thrillist. When he's not making sure the trains are running on time across the site, he specializes in reporting on travel, food & drink, and local lifestyle—especially in Austin, Texas, where he's currently based. Follow him on Instagram @tonymerevick.