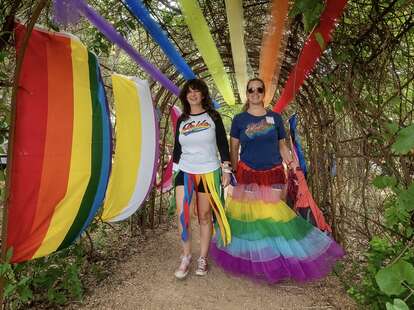 Pride isn't over in ATX just yet… so shantay, you stay! Austin's Pride 2022 takes place on August 20th, and though there's been a bit of to and fro with the date, the party's been heaving ever since nationwide frolics began back in June. We've done the AGLIFF Film Festival, the gay rodeo at Dripping Springs, the Pride Pagent at Rain on 4th, the new Round Rock Pride, and Austin Black Pride, and well, we're still thirsty for more. Let's not forget that there hasn't been an official Austin Pride celebration since way back in 2019. The parade was canceled both in 2020 and 2021, so right now the city is absolutely gagging for just about anything with multi-colored stripes and sequins. Not done with Pride yet, either? Here's what's coming up in August, family.
The Pride Parade
August 20
The star attraction is, of course, the pride parade. With over 400,000 attending in 2019, this year's projected to be even bigger. It's put on by the Austin Gay and Lesbian Pride Foundation, our modest local non-profit, and though slots to join are sold out, you can still support the cause by donation or volunteering. The parade is free to watch, beginning at the State Capitol at 8 pm, working its way down Congress Ave and ending on the Ann Richards Bridge.
Cost: Free
Beyond the Rainbow Festival
August 20
You can't have a parade without the party. Beyond the Rainbow is the official event, held all day long (11 am till 6 pm) in Fiesta Gardens. Bold and outspoken rapper Cupcakke will headline, amongst other special guests. There will be plenty of free games and carnival rides, over 140 vendor booths, drinks and food, and a drag queen storytime. Tickets are available online and at the gates (bring cash).
Cost: General entry from $20.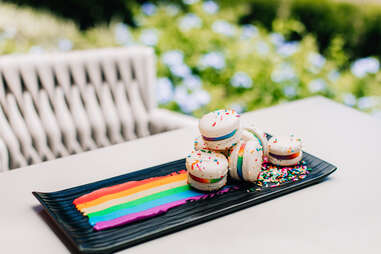 Pop Princesses Drag Brunch
August 7
What do you get when you throw a bunch of Ariana tunes, mimosas, and a meaty tuck together? Pop Princesses drag brunch, of course. On August 7 at 10:30 am, The Four Seasons Hotel Austin will see local favorites Ritzy Bitz and Celia Light, plus iconic New Orleans queens Kookie Baker and Jessica Champagne, impress Pride patrons with a polished lip-sync extravaganza. The accompanying brunch buffet will be New Orleans-inspired, with goodies like Poached Jumbo Shrimp and Crab Claws. Plus, 20% of proceeds will support Out Youth, a non-profit organization that serves Central Texas LGBTQIA+ youth and their allies.
Cost: $150 for the show, brunch, 2 BEV brand sparkling wines per person, gratuity, and taxes.
Rainbow Skate
August 17
Ever since we saw Texan pop diva Jessica Simpson take to the rink with her gal pals in A Public Affair, roller skating has become a gay Lone Star state sport. Rainbow Skate honors our aerobic interests, soundtracked by DJ Chorizo Funk—aka the best DJ in Austin—and is open to all ages at the Playland Skate Center.
Cost: $12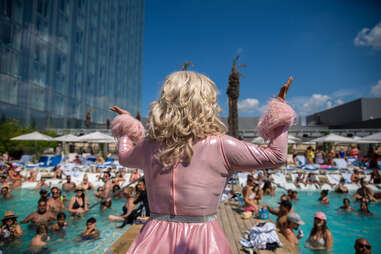 Austin Pride Recovery Drag Bingo Brunch
August 20
Fairmont Austin's an official Austin Pride Partner, so naturally, they have the biggest and best pool party of the week. Head up to Rules & Regs on the seventh floor for a lot of wet fun in company of the Extragrams queens of Austin (apparently, they're very 'extra') and be sure to crash the night and make the Austin Pride Recovery Drag Bingo Brunch the next morning, for more of the same but with prizes worth getting up for (last year they gave away generous staycations at the hotel).
Cost: Food prices vary, no cover.
Jazz at Pride
August 11
Pride doesn't always have to be about Gaga and glitter. How about an evening of jazz to commemorate the occasion? Jazz at Pride premiers for the first time in Austin, featuring world-class artists from the LGBTQIA+ community in a modern, twerk-your-butt-off-to-jazz setting. A 32-piece orchestra will dazzle with hits from Shania Twain, Dionne Warwick, Dean Martin, Ray Charles, and Frank Sinatra against a gorgeous downtown backdrop at Skybox on 6th. Local distillery drinks will be available for purchase, and 'weird and artful attire' is encouraged.
Cost: Tickets start at $35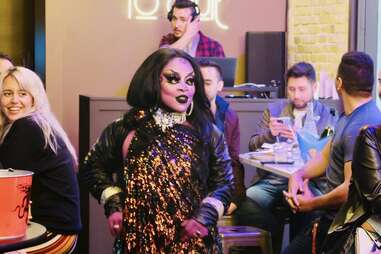 Dirty Dynasty Drag Bingo
August 16
Fourth and Co. will be hosting a special Pride Week edition of their famed Dirty Dynasty Bingo with performances and more from Lady-Grackle Birdbreath and Cupcake. Expect drinks specials at the bar, fierce prizes from Austin-based businesses, and a raffle benefiting Austin Pride. This event is for patrons aged 18 and up.
Cost: No cover.
Pride Pregame Party
August 20
Hanging out at the W? Pop downstairs and join in the pre-game fun at the Living Room from 6 - 9 pm. The lounge will have a market of pop up shops, including local vendors The Little Gay Shop, Kaftko, Las Ofrendas, and Natural Tat. There will be free Deep Eddy cocktails, and of course resident hostess with the mostess, Vylette Ward, will be mixing and mingling. The W is a short walk from Fourth Street's best gay bars. If you're still in the neighborhood come Sunday, join the WET deck's Pride Pool Party from 1 - 5 pm.
Cost: Free
James Wong is a Libra who spends his time pretending to be a vegan, watching wildlife clips, and booking plane tickets. Born in London, lived in Tokyo, and now residing in Austin, his greatest achievement is giving Posh Spice a hug in 2016.