Oh, dear. We were all revved up for Pride 2021 and then Delta happened. Finally, it seems, the third time is the lucky charm for the big 3-0 celebration (originally slated for 2020), and we've totally got everything extra-crossed for the ultimate cele-gay-tion. For anyone new to Bat City's LGBTQIA+ scene let's break it down. Austin Pride takes place in August. Yes, we're the only major city that hosts Pride that month, and what that means is no competition. Queers and their allies know that come August, the only place to be rainbowed up and fabulous is Austin. Yes, the heat is blistering, but that's what skimpy shorts, cocktails, and pools are for, right? (okay, AC too, spoilsport).
Austin Pride's 2022 is slated for August 11 - 13, with the parade at 8 pm on August 13. Though that's a little way off, the city traditionally joins in fun times early like the rest of the nation—the stuff in June and July are just not officially Pride here—but who's doing labels? We've rounded up the best ways to celebrate Pride in Austin with all the information available right now. More to be announced as we edge closer to the big parade.
aGLIFF (All Genders, Lifestyles, and Identities Film Festival) Austin will be putting on a special Pride Mini Film-A-Thon between June 3 - 5 at the Galaxy Theatres. The event will include four feature films, one shorts program, a live comedy show with Transgender comedian and America's Got Talent finalist Julia Scotti (followed by a screening of her documentary Julia Scotti: Funny That Way), live Q&A's with film directors, and some parties in between it all. Full Weekend Badges are $65, tickets to individual screenings are $12. The Julia Scotti Comedy Show, film screening, and party tickets are $40.
Two years on the trot, the parade's been canceled, so you can only imagine all the pent-up frustration. It's put on by the Austin Gay and Lesbian Pride Foundation, our modest local non-profit, and there's a fee that goes towards the production and management of the extravaganza. Y'all need to get in early to ensure a place in the coveted Pride Parade—registration is now open here, and if marching isn't quite for you, then show support by dropping a donation or volunteering.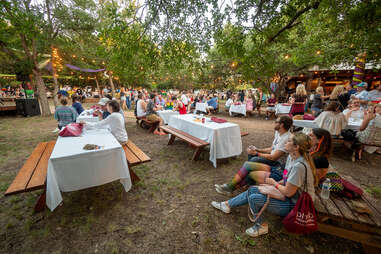 The Texas Gay Rodeo Association and Pride of Dripping Springs are back with a queer twist on the Texan classic—a gay rodeo. Last year's inaugural event drew 1,850 attendees, and this year they promise an even bigger spectacular on June 25, 2022. From 12pm - 7pm, things are family-friendly, with a bunch of daytime activities for all ages, vendor booths, food and drink, and, of course, rodeo events. Then from 7 pm till 11 pm, it's adults-only when DJs take to the decks and drag to the stage (we hear Nadine Hughes will be there), alongside even more food and booze. You'll for sure need to stay overnight. Purchase tickets on Eventbrite, or head here to donate, volunteer, or be a vendor or sponsor.
SXSW isn't the only showcase for awesome live music—not with Pride hot on its heels. The Austin LGBT Chamber's Pride in Local Music event takes place at the Long Center for the third time this year. On June 25, you'll be able to cheer on a slew of talented local LGBTQIA+ artists. The current roster includes Tje Austin, Bleached Roses, Julie Nolen, and BabiBoi, with more names to be added. Expect great sounds, community vendors, food trucks, pop-up bars, and more. Tickets start at $35.
Hit the hotel drag circuit
Pride + visitors to Austin = hotel shenanigans. The best places to book a stay for on-site drag events are Fairmont Austin, W Austin, and Hotel Van Zandt. The Fairmont, one of the official Pride partners, will be hosting a big drag brunch bingo on June 26 by the Rules & Regs rooftop pool, then in August they'll have a Pride pool party on August 13 and drag bingo Pride 'recovery' brunch on August 14. In addition to drag brunches with Vylette Ward, the W will be moving their Living Room Sound Check series up to their WET deck with musicians in the LGBTQIA+ community. This will also partner with a nonprofit in celebration of Pride (more details to be announced). Finally, Van Zandt will be hosting two Pride-themed pool parties, one on June 26 for national Pride month, and the other on August 14 for Austin Pride. Drinks will be sponsored by Bacardi, Bombay, Grey Goose, and Patron, with entertainment details to be announced.
Fuel up at the gay bars
Austin's gay bars keep the Pride flag flying year-round, so expect things to be extra celebratory around the official dates. The best bars include Rain On 4th for the mainstream crowd (look out for their Pride Pagent on May 25); The Iron Bear, a bear-owned and -operated bar that's welcoming to all with excellent drag shows; and Cheer Up Charlie's, a colorful queer bar with vegan food truck, large outdoor music venue, and organic juice blend cocktails. Join the Pride Crawl if you're here in June, where you'll hop through a bunch of them, make new friends, and support The Trevor Project while doing so.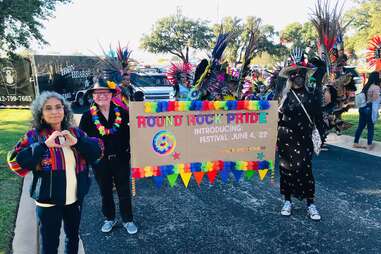 Another newbie to Austin's expanding Pride celebrations, Round Rock will be hosting its own pride festival and parade on June 4. It was founded in 2021 by Round Rock, TX Arts Ambassador and resident, Richard Parson, to celebrate the diversity of the Round Rock community. So take the short drive north and show them some love, or donate here to support their LGBTQIA community.
The Xtravagayza is a brand new three-day event put on by Austin-based creative team JATC, running from June 17 - 19. Day one features a poolside happy hour. Day two is the main event, consisting of a Garden Party Brunch and nighttime fête at The American Legion. It all concludes with a Daddy Day Dance on day three. Expect fabulous DJs, drag, and sickening fashion every day.
A lower-key Pride but great fun and as significant nonetheless, Austin Black Pride will be held this year from June 10 - 12. Details are to be announced but expect parties, wellness events, and more. Show support and make a donation to Austin Black Pride via Venmo (@AtxBlackPride) or Paypal.
Sign up here for our daily Austin email and be the first to get all the food/drink/fun in town.
James Wong is a Libra who spends his time pretending to be a vegan, watching wildlife clips, and booking plane tickets. Born in London, lived in Tokyo, and now residing in Austin, his greatest achievement is giving Posh Spice a hug in 2016.