The Absolute Best Ways to Celebrate New Year's Eve in Austin
Start the year off with a bang.
Photo courtesy of Brass Tap Domain
Well, we did it everyone—we made it through yet another year, supply chain issues be damned. And while you can blame the current shipping crisis for the lack of presents under the tree, there's no excuse for not having an absolutely fantastic New Year's Eve. Whether you're looking to mix it up with a creative costume, take in some classic hometown bands or climb aboard a mechanical bull on a rooftop, the city is bringing its NYE A-game year. Here are the best New Year's Eve parties in Austin this year.
Events listed here may be subject to cancelation depending on the developing situation with COVID-19's Omicron variant. Pease call venues or check websites before booking.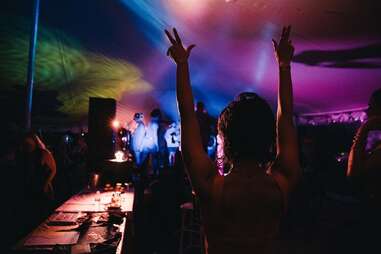 The Far Out Lounge & Stage
What is New Year's Eve without that insanely sequined outfit that's been gathering dust in your closet since you bought it a year ago? Local favorite South Austin's The Far Out Lounge & Stage has your back with the kind of party where paillettes are not only encouraged, but practically required. The Cosmic Disco NYE event is headlined by the hypno-grooves of Austin's own Golden Dawn Arkestra—who, along with openers Superfónicos and Viben & the Submersibles, are sure to transport you to the outer realms of the space-soundscape continuum. For those looking to ball out like a high-level NASA executive, there are VIP packages available that include a Champagne toast, private bar, and late-night snacks.
Cost: Tickets start at $30 per person
Fierce Whiskers Distillery
Let's face it—it might be traditional, but Champagne is totally overrated. If you're going to be hungover on New Year's Day ( isn't that a given?), you should step up your inebriation game with a drink worthy of the pounding headache it's bound to give you. Austin whiskey specialist Fierce Whiskers is getting into the celebratory spirit at their Whiskey & Whimsy event. In addition to a full open bar and bites by Char ATX, there will also be circus performances with belly dancers, acrobats, and aerialists, so you won't be the only one experiencing the spins by the end of the night.
Cost: Tickets start at $160 per person
Uchi and Uchiko
If you want to toast the New Year right—but a packed dance floor full of strangers counting down the seconds until the ball drops feels like your own personal form of hell—heading to legendary Austin dining institutions Uchi and Uchiko might be the perfect plan. The twin award-winning Japanese outposts are offering a 10-course omakase dinner guaranteed to make any sushi fan's jaw drop, spanning dishes featuring bluefish tuna, lobster, crab, caviar, and more. And, while the feast includes a complimentary Champagne toast, skipping over their fantastic sake selection would be as foolish as going to bed before midnight.
Cost: Uchi reservations run $275 per couple; Uchiko reservations run $300 per couple
Hotel Vegas & The Volstead
Dig out a pair of leg warmers and put on a Jane Fonda VHS for inspo before popping into the '80s-themed blast at East Austin's Hotel Vegas & The Volstead. Their "You Make My Dreams Come True" party plays all the hits from the decade of teased perms, including The Ramones, Blondies, The B-52s, and, of course, Hall & Oates. All these classics will be handled by some of Austin's top talent, with Chief Cleopatra, Nolan Potter's Nightmare Band, Moving Panoramas, and others topping the live bill. Consider this the sign you've been waiting for to finally press "buy" on that Member's Only jacket on eBay.
Cost: Advanced tickets run $25 per person ($30 at the door)
Eberly
Here in the Lone Star state, we love any excuse to slip on a pair of cowboy boots. And Eberly's New Year's Eve Galactic Rodeo certainly makes the cut in terms of reasons to snap on a bolo tie. For the 31st, the South Austin restaurant is going full-out wild wild West, with Southern-themed grub to nosh on in addition to complimentary Space Punch upon arrival, sure to rocket you well on your way to tipsy. After you get your fill, try your hand at retro arcade games, take some Instagram-worthy shots in the photo booth, then scoot those boots across the dance floor to the sounds of DJ Gatsby. And if that weren't enough, true cowpokes can test their rodeo-in' skills on the mechanical bull installed on their rooftop.
Cost: Tickets run $125 per person
ACL Live at The Moody Theater
Native sons Spoon are taking the stage for the first time since 2019 for a hometown New Year's Eve spectacular at the most Austin place to do so: ACL Live at The Moody Theater. And if you've only heard them from their days on The OC Mixtapes, prepare yourself for a real treat, as Britt Daniel and crew put on the kind of show that rightfully earned them TIME Magazine's proclamation of "one of the greatest American rock bands." The fire lineup also highlights John Doe Folk Trio, featuring the legendary bassist from X, alongside local gems Sweet Spirit.
Cost: Tickets start at $69 per person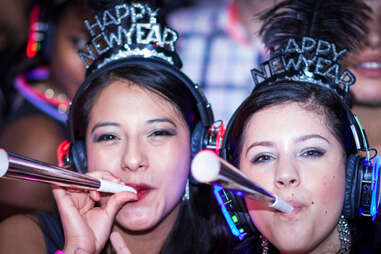 The Brass Tap Domain
Of all the nights of the year, New Year's Eve is probably the worst time to be stuck listening to a bad DJ. In order to insure your optional dance floor conditions, the Brass Tap Domain's Silent Disco Party is bringing in three different turntable masters for your grooving pleasure. Strap on a pair of colored LED wireless headsets and toggle between EDM and Top 40 Dance hits, throwback tracks, and hip hop and R&B while not having to yell above the music when it's time for another drink. A complimentary Champagne toast at midnight rounds out the offerings.
Cost: Tickets start at $20 per person
The Roosevelt Room
Calling all Daisy Buchanans and Nick Carraways! Dress up in your best era-appropriate attire and hit the Roaring '20s New Year's Eve Party at the Roosevelt Room, a downtown venue known for killer cocktails and glitzy vibe. Not only can you show off your flapper threads at this seated event, there will also be tunes by electro-swing specialist DJ Beatsmode and a screening of the ball drop at midnight. A special drink menu stocked with 10 classic turn-of-the-century libations ensures you can not only look like Gatsby, but drink like him too.
Cost: Tickets start at $75 per person
Launderette
Everyone already loves East Austin's Launderette but this New Year's Eve they're ramping things up with a one-night-only "Angry Bear" pop-up experience. This special take-out menu promises to be a radical departure from their usual offerings, with four courses set to transport you straight to Singapore. Options include Brioche Toast with Caviar, Shrimp Dumplings, and Rendang Short Rib with Preserved Peppercorns, Ginger Threads, and Thai Basil. All that plus celebratory cocktails and killer merch like special snapback caps help usher in the Year of the Tiger right.
Cost: Packages start at $268 per couple
3TEN ACL Live
If you're a Talking Heads fan, 3TEN ACL Live is your New Year's Eve go-to. Local favorites HeartByrne will be playing all the Talking Heads and David Byrne cover tunes you need to dance the cares of 2021 away—and, if you haven't seen them play before, believe it when we say they really burn down the house. Experience it all via one of the best sound systems in all of Austin—time to pull out that suit with the oversized shoulder-pads.
Cost: Advanced tickets run $55 per person ($65 at the door)