This year commemorated the 50th anniversary of the Stonewall riots, a series of demonstrations by members of the LGBTQ+ community in 1969 against a police raid that led to the birth of the modern gay rights movement. The aftermath of that event spurred gay communities in cities across the United States to organize for the very first time, including here in Austin.
Back in 1970, only 25 brave individuals showed up for Austin's first LGBTQ+ community meeting -- by 1976, Austin Mayor Jeff Friedman proclaimed a Gay Pride Week Celebration. Austin hosted its first-ever Gay and Lesbian Pride Fiesta in 1990, which continues for the 29th year this weekend at Fiesta Gardens.

Thought most cities celebrate Pride during the anniversary of Stonewall on the last weekend of June, Austin typically hosts its Pride celebration in August. According to KUT, the later date allows the non-profit Austin Gay and Lesbian Pride Foundation to bring in larger entertainment acts, and also attracts more out-of-town visitors because the ATX festival does not conflict with other major Texas cities' pride weekends. The festival and parade also rely on the support of dedicated volunteers, most of whom are college students who don't return to the city until August. Plus, August is historically the driest month of the year -- that means no rain insurance.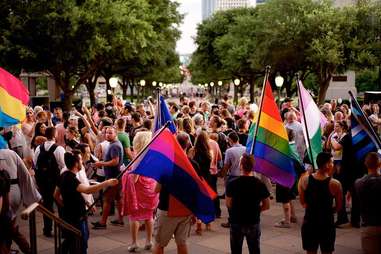 When and where is the festival happening?
The Austin Pride Festival will take place on Saturday, August 10 at Fiesta Gardens at 2101 Jesse Segovia Street from 11am to 6pm. The theme for this year's celebration is "Boogie Wonderland," and the festival will include live musical performers, inflatable games and carnival rides, drag queen storytime, vendor booths, drinks, food, and more.
How much are Pride festival tickets?
Tickets are available for purchase online, and will run you anywhere from $17 for GA to $150 for VIP (which includes access to an open bar, catered food, and an air-conditioned space); you can also purchase tickets at the gate for $20. Tickets are $10 for kids age 7 to 17, and kids six and under get in for free. Those without an ID or those under the age of 21 will be given an "underage" wristband, and anyone 21+ with ID will receive a "21+" wristband that'll allow them to… well, you get it.
How do I get there? Where do I park?
Parking in the area is extremely limited, so you should plan to carpool if possible or use the Butler Hike & Bike Trail to reach the festival grounds. If you still plan to drive, there are two parking lots available to the north of Fiesta Gardens on Jesse E. Segovia, and there is one parking lot to the east of the festival grounds.
When and where does the parade start?
The Austin Pride Parade kicks off at the Texas State Capitol building at 8pm on Saturday, August 10. From the Capitol, the Parade heads down Congress Avenue and turns right on 4th Street into the Warehouse District, where the party is scheduled to continue until 11pm. The parade is also free to attend, so if you're looking for a thriftier way to celebrate, this is it.
What will the weather be like?
It's August in Texas, so expect the weather to be hotter than your outfit -- we're looking at a high of 104 on Saturday as of this writing, so bring LOTS of water. August is traditionally the driest month of the year in Austin, so the chances of rain are extremely low.
Where is the best spot for viewing the parade?
There is a Parade VIQ viewing area available with elevated stadium seating and access to restrooms and a bar. If you can't actually make it to the parade, you can also watch it live from home (or through your mobile device, wherever you are) on KVUE.
What other Pride events can I attend this week?
There are a number of Austin Pride events throughout the week of the parade to help get the party started and keep it going. Here are a few notable events:
Thinkery Community Night Spotlight: LGBTQ Family Pride
Wednesday, August 7, 4-8pm
Thinkery
Cost: Free
The Austin Chronicle's Qmmunity Summer of Pride Party
Wednesday, August 7, 6-9pm
Blanton Museum of Art
Cost: Free with RSVP
Austin Pride Rainbow Skate Pride Week Edition
Wednesday, August 7, 7-10pm
Playland Skate Center
Cost: $9
Bumble & Chappy Pride Ride
Wednesday, August 7, 7pm
Love Cycling Studio
Cost: Free; register online
WerQ it Out! Austin Pride's Inaugural Hiring Fair
Thursday, August 8, 11am-3pm
Workforce Solutions Capital Area
Cost: Free
Official Pride Comedy Show
Thursday, August 8, 9pm-12am
The Velveeta Room
Cost: $5
#DripDrop 7: Austin Pride Weekend ft. Blame It On Kway
Friday, August 9, 7pm-2am
The Venue ATX
Cost: $20-50
DISCO Inferno: Austin Pride Official Womxn's Party 2019
Saturday, August 10, 6pm-2am
The Vaughn
Cost: $5-25
ATX Trans Pride
Saturday, August 10, 9pm-2am
Cheer Up Charlies
Cost: $5 suggested donation
Chappy Pride Party feat. Alyssa Edwards
Saturday, August 10, 11pm-2am
Cedar Street Courtyard
Cost: Free with Chappy profile
Rainbow Connection Summer Swell with InLieu & Chappy
Sunday, August 11, 1-5pm
East Austin
Cost: $10 suggested donation
Lez B In Touch Dyke March
Sunday, August 11, 2-8pm
Cheer Up Charlies
Cost: Free
Sign up here for our daily Austin email and be the first to get all the food/drink/fun in town.