According to a statistic that we're just about to make up, Austin has 36% more fun in the summer than anyone else, despite sweating 55% more than anyone else. To make sure this summer's hot in the right kind of way, don't miss these 14 must-hit fests.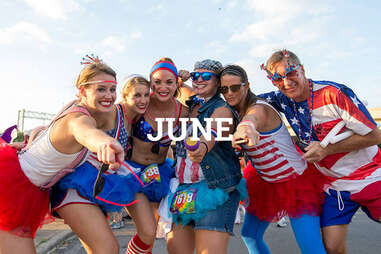 It's like Sturgis in the South. Thousands of bikers take over Austin for a weekend of loud bikes, louder music, and biker babes.
A weekend full of large melons, seed spitting, and watermelon-eating contests. How is this only once a year?!
Prepare for a 5k run with off-the-wall costumes, live music, a sideshow, and a ton of weirdness.
Tons of artists and comic book companies will make the city of Austin cosplay as a comic book convention for the weekend.
It's the largest classic game festival in the state. Arcade competitions, costume contests, and a swap meet are all happening.
Yes, Rooster Teeth are back to bring the best bits of the internet into the real world, and they're expecting a staggering 45k people this time. Get tickets, or get disappointed.
Get gratis ice cream samples from Austin's best creameries, some live music, and the knowledge that it's all for a good cause.
A smaller anime convention for anime fanatics. Expect cosplay contests and gaming tournaments.
Celebrating the Mexican free-tailed bats that call Austin home, there's live music, a bat costume contest, and if you're lucky, over a million bats will emerge from below the bridge at dusk.
A weeklong celebration to the LGBTQ community and equality. It'll feature fashion shows, a festival on the shores Lady Bird Lake, and a parade that starts in front of the Texas State Capitol.
More than 300 glorious hot sauce companies gather to sample some of their mouth-immolating wares to the public. There's free entry with canned good donation or cash donation to Capital Area Food Bank of Texas.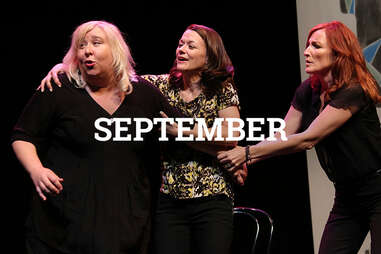 Workshops and live stand-up comedy from today's up-and-coming comedians and improve groups.
The only craft beer festival in the state that is dedicated solely to Texas craft beer. Many breweries will be bringing seasonal, special, rare, and one-off beers for you to sample.
It's the largest genre film festival in the entire country and it brings in celebrities and fans for a week of new releases, panels, and star-studded parties.
This is the fall portion of the festival featuring live music, food, and vendors. It celebrates the old Pecan St, or as some (
including us
) like to call it "Dirty Sixth."