10 Spooky Ways to Celebrate Halloween in Austin This Year
The most boo-tiful time of the year.
It feels like 2020, as a year, has been scary enough to be its own post-apocalyptic fright feature film. However, now that it's October, we can at least take advantage of all of the activities that are intended to make our blood run cold, as opposed to, you know, just day-to-day reality doing that instead. We're talking Halloween—from virtual dance parties to trick-or-treating on kayaks (or with cocktails), here's the best ways to celebrate the night of spirits in Austin. So break out the zombie costume or the always-classic ghost sheet, and don't forget to wear a mask (the other kind).
House of Mesmerize
October 28 through November 1
Native Hostel
While traditional haunted houses may be out of the question this year due to social distancing, you can still enter a new dimension at This is Mesmerize. Crawl through cabinets, walk through psychedelic halls of glowing lights, and fall into the pillow soft-walls of a room decorated like a cross between a cloud and cotton candy. For Halloween, this interactive art gallery will be stepping it up with costume contests, drink specials, and a closing time of midnight -- so you can keep the trip going through the witching hours.
Cost
: $25 per ticket, free for children three and younger.
Saturday, October 31
The Rowing Dock
Take full advantage of the rare blue moon (yes, that's a thing) occurring on Halloween this year by catching the sight on Lady Bird Lake at the Fab-BOO-Lous Full Moon Paddle. Rent a kayak, canoe, or paddle board, and make your way out to themed, trick-or-treat stations on the water. For those not wanting to risk getting their costume wet, they can still enjoy the on-land festivities which include a DJ, photo booth, costume contest, food, and refreshments. If you do want to hit the water, though, be sure to show up before 7:30 pm, as that is the cut-off time for all guys and ghouls to get their rentals off the dock.
Cost
: $20 per adult ticket, $15 for a child ages 8-15, and $5 for a child ages 2-7 riding with an adult.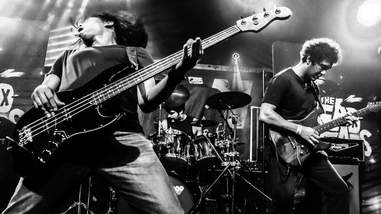 Transit Method - Far Out
Saturday, October 31
The Far Out Lounge & Stage
Conjure up the ghosts of bands past at this Halloween tribute show -- which features local favorite music-makers, like The Watters and Transit Method, taking on the tunes (and costumes) of some legendary groups. The Far Out has taken precautions as well to ensure that you can enjoy live music while still following CDC guidelines, with every group of guests seated, and required to stay, at their own table outside in the venue's large backyard space. In other words, be sure to bring a mask breathable enough for you to rock out in. Bonus points if you show up as the Ocean Spray-drinking, "Dreams" listening, skateboarder who went viral as a meme a few weeks ago.
Cost
: $25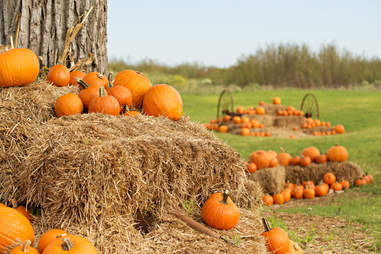 Barton Hill Farms
Fridays - Sundays, October 3 through November 15
Barton Hill Farms
If your idea of October is a little less horror and a little more Pumpkin Spice, you can experience all the fall feels at Barton Hill Farms. Engage in all the Instagram-worthy autumn activities, like picking out the perfect jack o'lantern from their pumpkin patch or finding your way through their themed, three-and-a-half acre corn maze. After all that complicated navigating, reward yourself with a local craft beer or cider at their on-site bar, the Barton Hugel Apfelwein & Biergarten, while taking in some live music at their outdoor stage.
Cost
: $16.95 + tax on Fridays, $19.95+ tax on Saturdays and Sundays. Free for children 2 and under.
Saturday, October 31
Virtual - Twitch.TV/TheDJMel
Get funky, without the risk of flu-like symptoms, at a virtual dance party with tracks spun by Austin's DJ Mel. A favorite of the Obamas themselves (he played the President's Inauguration!), DJ Mel has been hosting digital get-downs throughout the COVID pandemic as a way for families and friends to let off some quarantine steam. His Halloween Edition promises to be extra groovy-worthy, so set up your speakers, make your living room the ultimate dance floor, and get ready to hear at least one remix of "The Monster Mash."
Cost
: Free
Blue Starlite Drive-In
The whole month of October
Blue Starlite Drive-In
Nothing says spooky season like a good Halloween film—and, regardless if you're looking for straight horror slashers, or something more family-friendly, the Blue Starlite has got you covered. Catch everything from "Beetlejuice" and "Ghostbusters," to late night showings of "Halloween," "Scream," and cult-classic, "The Rocky Horror Picture Show." This year, they are even featuring special drive-in comedy nights, so you can balance your scares with stand-up. You can even order your candy concessions ahead of time along with your tickets, because what's Halloween without binging on some fun-sized pieces of chocolate?
Cost
: $25+
Thursdays through Saturdays, October 15 - Saturday, October 31
House of the Rising Tanuki-San
Enter the world of Rob Zombie in this interactive pop-up bar inspired by the horror director's Firefly trilogy. Not only is the bar decked out in decorations that are certain to remind you of the first film's fabled "Museum of Monsters and Madmen," but you can order drinks, like Dr. Satan's Old Fashioned, made with all the traditional ingredients plus pumpkin puree, that reference the movies in all their Halloween glory. There's also a menu of great bites with equally heavy nods to the cinema favorites—after all, what would a trip to Zombie-land be without trying some of The Captain's Favorite Fried Chicken?
Cost
: No cover
Candy Cocktail Crawl
Saturday, October 31
South Congress
Think trick-or-treating but with cocktails—on this trek around South Congress favorites that is sure to have you way more buzzed than anything you ever got in your plastic pumpkin pail as a kid. Stop by Hotel San José for a blood orange Morgue-a-rita and then hit Jo's South Congress for a Ruby Dead Grapefruit punch, before making additional stops at Joann's Fine Foods, Perla's, and June's. For those with kids, or those who love candy (i.e. everyone), there will also be traditional Halloween goodies handed out at every location. Be sure to get there early though — the event runs from 4 pm to when all the treats disappear.
Cost
: Free to participate, drink prices TBD, candy free to children.
Year-round
Various Locations
If you think ghost tours are creepy fun to begin with, imagine taking one in the privacy of your very own hearse (!) limo. That's the kind of option offered at Haunted ATX, which will drive you around to some of the city's most haunted spots, including the Tavern, Clay Pit, Littlefield House at UT, and many more. For those who prefer to save the hearse for the trip to the graveyard instead, they also have public van tours operating at limited capacity due to COVID. While they will provide the stories about spirits, you are encouraged to bring your own as well—the whole experience is BYOB.
Cost
: $49 for public van tour, $99 for the first two tickets for private hearse limo—with each additional ticket $79. Gratuity not included.
Saturday, October 31
The Paramount Theatre
For a date that is sure to blow away the horror movie honey in your life, take them to see a screening of Sam Raimi's 1981 touchstone of the genre film, "The Evil Dead." There, you'll be able revel in all the demonic possession glory in the majestic setting of Austin's historic Paramount Theater, with the actor who played the film's main character himself, Bruce Campbell. Following the film will be a conversation with Campbell, so you can get in all the questions—like, how heavy was that chainsaw?—you've ever had when watching his star-turning role in the fright fest.
Cost
: $35 per ticket
Sign up here for our daily Austin email and be the first to get all the food/drink/fun in town.