Now in its third year, Hot Luck is basically what you'd get if you transformed the spirit of Austin into festival form. It's the brainchild of an all-star trio, including Aaron Franklin, the James Beard Award-winning pitmaster of Franklin Barbecue; James Moody, the owner of Mohawk Austin, and Mike Thelin, co-founder of Feast Portland. Together, they've curated a killer three-day food and music showcase that combines the most exciting chefs from around the city (and the country) with performances by hand-picked artists ranging from garage to soul. What's not to love?
This weekend will see food-focused day events followed after-dark performances at Austin's best music venues. Whether you choose to check out Hot Luck's main events, special parties, industry events, and night shows a la carte -- or were lucky enough to snag a coveted all-in Whole Enchilada pass -- you'll be the envy of your friends who snoozed on this festival. Hot Luck is one of the best festivals in the country for many reasons, but here are just a few for you to consider adding to your weekend plans.
Note: It'll be sweltering hot this entire weekend, so make sure to dress & hydrate appropriately.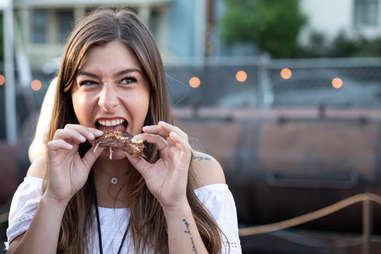 7pm @ Franklin Barbecue / Available only via the Whole Enchilada pass
Eastside block party with bites from an impressive roster of chefs
Aaron Franklin hosts Friday's food event in the parking lot of his popular 'cue joint, only without the line. Attendees will get to enjoy tastes from local chefs Fiore Tedesco (L'Oca d'Oro), Sarah McIntosh (Epicerie), Tavel Bristol-Joseph (Emmer & Rye), Todd Duplechan & Jess Maher (Lenoir), and Ivana & Yamila Maldonado (Cuyo). The guest chefs include Chris Shepherd (Georgia James, Houston), Elias Cairo (Olympia Provisions, Portland), Gabriel Rucker (Le Pigeon, Portland), Rebecca Masson (Fluff Bake Bar, Houston), and star barman Aaron Polsky (Harvard & Stone, Los Angeles).
Ticket price: $175 per person
Don't miss it: Rebecca Masson is not only a former Top Chef Just Desserts contestant, but one of the best pastry chefs in Texas (and beyond), so sampling her creative treats is an absolute must.
7pm @ Wild Onion Ranch
Open-air cooking on a ranch by an all-star cast of chefs
Hot Luck's main event on Saturday is not to be missed; as the name suggests, Al Fuego is a celebration of food cooked over an open flame. The showcasing chefs will display a wide range of local and global flavors and styles, alongside plenty of craft cocktails and ice cold beer (which are included in the ticket price as well). Al Fuego's roster includes chefs and dishes from local favorites Contigo, Suerte, Emmer & Rye, Foreign & Domestic, Pitchfork Pretty, and Comedor, as well as guest chefs Abe Conlon (Fat Rice, Chicago), Alon Shaya (SABA, New Orleans), Chris Bianco (Pizzeria Bianco, Phoenix), Greg & Gabi Denton (Ox, Portland), Jeremiah Stone (Wildair & Contra, NYC), Doug Adams (Bullard, Portland), Sarah Kramer & Sarah Hymanson (Kismet, LA), and bartender Aaron Polsky (Harvard & Stone, LA). Tunes will be provided by Captain Jim & the Heart and Soul Soundsystem.
Ticket price: $215 per person
Don't miss it: Known for his modern Israeli cuisine, Alon Shaya will be serving some bites worth looking out for, and Abe Conlon will plate his unique homage to Luso-Asian cuisine (which combines ingredients and techniques from Portugal, India, South-East Asia, Africa, and China). LA barman Aaron Polsky will be serving a Tabasco-tinged cocktail as a play on the event's fiery theme.
SUNDAY, MAY 26
11am @ Austin Speed Shop
Hot Luck meets hot rods at this vintage flair brunch
Austin Speed Shop will host the final food-focused event of Hot Luck. The hot rod restoration shop will house a bevy of well-known chefs, from favorites like places like Swedish Hill, Easy Tiger, Loro, Dai Due, and Olamaie. The imports aren't so shabby either, including award-winning chefs like Christina Tosi (Milk Bar, NYC), Justin Yu (Theodore Rex, Houston), Jason Vincent & Ben Lustbader (Giant, Chicago), Mason Hereford (Turkey and the Wolf, New Orleans), and Katie Button (Button & Co. Bagels, Asheville).
Ticket price: $125 per person
Don't miss it: Pastry genius and TV personality Christina Tosi of NYC's Milk Bar will undoubtedly have something sweet up her sleeve. Low-key sandwich joint Turkey and the Wolf in New Orleans is one of the most critically acclaimed in the country, and chef/owner Mason Hereford will be in the house serving his unforgettable bites.
Pok-Pok Up
5pm @ Franklin Barbecue
Andy Ricker of Portland's Pok Pok will join forces with Aaron Franklin for the ultimate Thai/BBQ mash-up happening at Franklin Barbecue. The event is sold out with limited walk-up tickets available, but if you snagged a Whole Enchilada pass, you'll be one of the very lucky attendees to dine on a special dinner created by the duo.
Don't miss it: The party will continue after the dinner at Nickel City, where Portland's Westward Whiskey from House Spirits Distillery will have a pop-up of their own with neat pours and cocktails featuring their award-winning American Single Malt.
Music:
7pm @ Mohawk
Lucero
8pm @ Antone's
The Suffers w/ Miss Lavelle White
8pm @ Barracuda
Harlem w/ Flesh Lights & The Stacks
Sign up here for our daily Austin email and be the first to get all the food/drink/fun in town.
Anastacia Uriegas is a writer whose favorite movie is
The Lion King
. Join her as she self-soothes by rocking back and forth and singing "The Circle of Life" every time an MX3 sign goes up at @anaurie.