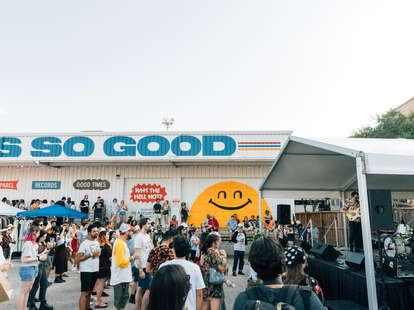 Photo courtesy of Feels So Good Festival
Well Austin, we can officially mark one weekend of SXSW down, and one weekend to go. (Try not to be so grumpy from the increasingly long commute on 1-35 that you act bitter to the out-of-towners discovering that Austin magic for the first time.) Since the festival is here to stay, you might as well reap the benefits of its top-notch programming. Whether you want to hang with Willie, gamble with chickens, or take in some cool, free local live music, this weekend has such great activities in store that it might even make you miss SXSW when it's gone (heavy emphasis on might).
Friday, March 17 - Sunday, March 19
Hotel San José
When it comes to long-running SXSW traditions, one of our favorites is South x San José. This year marks the 22nd anniversary of the free (no badges or RSVPs required!), four-day music extravaganza that goes down at the parking lot between the Hotel San José and Jo's Coffee on South Congress. The lineup is as invigorating as the cold brew that Jo's sells by the gallon –The Nude Party and Blondshell on Friday and sets by Sir Woman and The War and Treaty on Saturday. Be sure to get there early; this one is going to be packed.
Cost: Free
Friday, March 17 - Sunday, March 19
211 E Alpine Rd
Austin company Feels So Good certainly wears many hats: it's a design shop, a screen printing location, a record label, and an event space. This weekend, it will be combining its collective power for a SXSW event, Feels So Good Fest Volume 4. On Friday, hear sets by Jonathan Terrell and Aaron McDonnell before A Giant Dog and Loteria wow the audience on Saturday. Last but not least, Annabelle Chairlegs and Juani Mustard will end your weekend right when they hit the stage on Sunday.
Cost: Day passes start at $15 per person pre-show.
Saturday, March 18
Hotel Vegas
Fact: nothing cures the morning blues better than a hair of the dog and bacon, eggs, and cheese. Lone Star Beers, gets it — which is why it's hosting the Honky Tock Hangover Brunch at East Austin haunt, Hotel Vegas, this Saturday. Going down will be a boot-scootin, live music line-up, including Chasen Wayne & Honky Tonk Machine, along with all the tallboys and micheladas you can guzzle. Refuel for a day of SX- shenanigans with dishes such as a Doritos migas, and the previously-mentioned BEC.
Cost: Free
Escape the city and hang with Willie
Saturday, March 18 - Sunday, March 19
Luck, TX
Without question, there is no one more beloved in Austin than the exalted Willie Nelson — should you have any doubt that this is true, just visit the massive sculpture of him that sits at the corner of West 2nd Street and Lavaca. While tickets to the musicians's popular SXSW event, Luck Reunion, sold out quicker than you could say "on the road again," Shotgun Willie has blessed us all with some additional opportunities to catch a killer live show on his ranch in Spicewood, about a 45-minute drive from Austin. On Saturday, vibe it out Big Easy-style, with performances and food that pays tribute to NOLA, at Luck Origins: New Orleans Takeover. Then, on Sunday, let the spirit of music move you at Strange Things Happening: A Tribute to Sister Rosetta Tharpe, where a bevy of artists will take on the songs made famous by the legendary singer and musician.
Cost: Ticket prices vary based on event — check individual links for more details.
Sunday, March 19
Fareground
One of the best motivations for a weekend workout is the promise of a completely indulgent brunch post-calorie burn. That's where Swift Fit Events weekly Grounded Yoga comes in — show up at 10 am for a fun, free flow in Downtown Austin. More-so, since the whole thing goes down at foodapoolza, Faregound, that means you can celebrate actually exercising for once by refueling with some shumai from Little Wu or a baguette sandwich from Austin Rôtisserie. And, since one of the food court's favorites, Henbit, closes at the end of March, be sure to end your post-savasana meal with their sugar-bomb monster cookies.
Cost: Free.
Friday, March 17 - Sunday, March 19
809 E 6th St
Here comes some brand new flava for your (eyes and) ears: Miami's Museum of Graffiti is hosting a special Austin pop-up guaranteed to lay down some bars. Celebrating the 50 year anniversary of the genre, The Art of Hip Hop exhibit will feature works from a variety of photographers, album cover artists, logo designers, and graffiti artists who helped shaped the visual aspects of the music's identity. Additionally, there will be special appearances and performances by such esteemed names as Talib Kweli and Raekwon, live graffiti demonstrations, and, even, a custom apparel lab to get you looking as fresh as the beats you're hearing.
Cost: Tickets run $12 per person and are available for purchase online.
Saturday, March 18 & Sunday, March 19
Sherwood Forest Faire
We won't blame you if you want to get centuries away from Austin as SXSW kicks into gear. Luckily for those who are badge-phobic, we have a place where no one will talk you up about NFTs. Drive 40 minutes outside of Austin to the town of McDade for the 14th Annual Sherwood Forest Faire, where all references to Robin Hood mean the legendary hero—not the financial app. However, one thing this Faire has in common with its neighboring, more famous Festival is some serious performances: over 150 shows per day featuring jousting, fire juggling, the intriguingly titled "castle siege," and many more. In other words, grab that flower crown and get ready for an epic, full-mouth bite into a turkey leg.
Cost: One-day tickets start at $26 per adult.
Sunday, March 19
The Little Longhorn Saloon
For those visiting Austin for SXSW, let us explain the phenomenon that is Chicken Shit Bingo. Actually, the name is pretty straight forward — the long-time city tradition, a form of Bingo which involves chicken and "what happens after chickens eat," occurs at The Little Longhorn Saloon every Sunday. And if you haven't been — or haven't been in a while due — it's more important than ever to support these foundational city businesses like the Little Longhorn. While there, you can grab free hot dogs, $2 Lonestar specials, and, if the chicken chooses to do its business over your lucky number, some cold hard cash.
Cost: $2 donation per Bingo card.