Actually Fun Things to Do in Austin This Weekend
Drink spirits, see spirits, or both.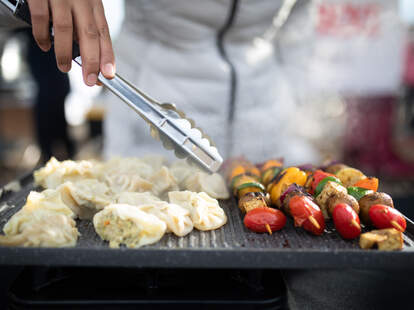 There's certainly no lack of city spirit among the residents of Austin—just the amount of Texas-themed tattoos decorating the sleeves of those on its streets is proof enough. In that same vein, the events that occur here are also infused with an equally deep sense of enthusiasm—which ensures experiences for your days off that will be, at the very least, entertaining. So whether you want to sip alcoholic spirits, encounter ghostly spirits, or evoke the comedic spirit of Will Ferrell, our weekend list has got you covered.
Sunday, January 24
Roosevelt Room or virtual
Since quarantine, it seems everyone's favorite bar has become, well, their house. That said, it seems especially worthwhile to learn the basics of cocktail creation from the pros at
Roosevelt Room
—their Sunday class, Home Bartending 101, will help you be on your way to slinging spirits like the best of them. In addition to learning about the tools and techniques that go into making an Old Fashioned, Martini/Manhattan, Punch, and Sour, you'll even get a bit of a history lesson about the background of bartending. Extra points if you watch the Tom Cruise movie
Cocktail
immediately afterwards.
Cost:
For those who wish to attend in person, it is $85 + fee, per ticket. The virtual class is $40 + fee, and you can buy everything you need to create the cocktails (including a copy of essential cocktail read,
The Bartender's Manual
) for $150 + fee.
Friday, January 22
Ranger Cattle
Relive what could, arguably, be the pinnacle of the Will Ferrell/John C. Reilly comedic pairing, by watching
Step Brothers
at the Ranger Cattle drive-in. And, if you have yet to catch a film at Ranger Cattle, which is an actual, operating cattle ranch, know that it is more than just your usual movie-going experience. This fact will be immediately evident from the moment you pull in and are guided to your spot by house-riding cowboys. There is also live music before the show, wagyu burgers for sale, and, of course, alcohol to purchase—after all, you have to do it right for the Catalina Wine Mixer.
Cost:
$50, plus a sales fee and tax, per car.
Every day
Huckleberry
If Austin has you feeling land-locked, you can at least pretend you are minutes away from the ocean by digging into the dishes at Huckleberry. This food truck specializes in coastal seafood favorites, like po' boys and hot fish sandwiches—and all of their proteins are sustainably sourced. Not to mention the service is as exceptional as the fried shrimp, which must be dipped in a heavy dose of their powerhouse lemon caper remoulade. Be sure to check out their limited time hot dog collaboration with other food truck favorite,
LeRoy & Lewis
—Huckleberry will be dishing out the Dockside Dog, served on a challah hot dog bun with escabeche, beer mustard and topped with cilantro, green onions, papalo.
Cost:
Sides run from $3 - $10, while entrees start at $10 and vary based on seafood ordered.
Sunday, January 24
Central Machine Works
For those whose college major may as well have been drinking games, take your bean-bag tossing expertise into the public arena by competing in a cornhole tournament. You can either register as an individual or recruit your friends with the best hand-eye coordination to compete as a team. Prizes will be awarded to the top team, but everyone who participates gets a team shirt to proudly show off their allegiance. While victory may not be guaranteed, you are at least guaranteed to have a great pint while hanging out at local brewery,
Central Machine Works
.
Every Sunday
4209 Airport Boulevard
Spending the day wandering the stalls of a local farmers' market should absolutely be an item on everyone's Austin bucket list—and the Texas Farmers' Market at Mueller may be the best of the best when it comes to this experience. The sheer amount of fresh produce, eggs, meat, and bread on display will have you inspired to ease up on the take-out and dig out that sauté pan that's been gathering dust in your kitchen cabinet. Grab a growler of cold brew for Monday morning from
Talisman Coffee Co
, and be sure to stop by the
Johnson's Backyard Garden
stall for colorful, organic vegetables that are worth the wait in their (inevitably) long line.
Saturday, January 23
Pioneer Farms
Fans of all things spooky can get their haunt on by going on the Spirit Tour at Pioneer Farms, a 90-acre living history museum. Considering their website describes apparitions and disembodied voices as "common experiences," and carries an all-caps warning for those who are afraid of ghosts to avoid attending completely, we would guess that your chance of encountering the unexplained is at least higher than normal. After the tour, you can compare notes with fellow enthusiasts over soda, snacks, and drinks.
Cost:
Tickets are $30 per person, ages 16 and older only.
Friday, January 22 through Sunday, January 31
Virtual
While the "Hi, How Are You" mural is well-known as one of Austin's most iconic landmarks, many may still be unaware of the story behind the image of the big-eyed frog. Mainly, that it was created by Daniel Johnson, a musician and visual artist whose work we can promise influenced at least one of your favorite bands. The Hi, How Are You Project is a non-profit, founded in honor of Johnson, dedicated to creating conversations about mental health and ending the stigma surrounding it. Support the cause by participating in this weekend's Happy Habit-A-Thon, a multi-day, virtual event full of activities, like the aforementioned bingo, which serve to further their mission of mental health education.
Cost:
While it is technically free, donations are encouraged.
Every day
5610 N Interstate Hwy 35
You know what is the perfect cure-all for workweek burnout? Crab rangoons. Let those crisp, savory bites of delight kick start your free time by ordering from the brand-new Thai eatery, Charoen Express. It is also a chance to experience the COVID-era influenced trend of ghost kitchens, which references a restaurant that operates exclusively through delivery and take-out (aka sans a brick-and-mortar). Although it may lack a location, Charoen does not lack on flavor—in addition to the heart-eye-worthy crab rangoon, the Prik Gang curry will hit the spot for those who love (and can handle) spicy dishes.
Cost:
Entrees run from $11 to $14, but food varies based on what is ordered.
Sign up here for our daily Austin email and be the first to get all the food/drink/fun in town.
FYI: We've also got you covered with comprehensive guides to NYC, Chicago, LA, SF, Miami, DC, Boston, Denver, Dallas, Atlanta, Phoenix, and San Diego -- just in case you're ever out of town.