8 Actually Fun Things to Do in Austin This Weekend
From epic stargazing to cowboy hats full of booze.
UT football dropped a bombshell this week by announcing that, alongside rivals the Oklahoma Sooners, they would be leaving the Big 12 conference. While the repercussions of this decision on the Longhorns' season is yet to be seen, you too can have a Texas-sized impact on your weekend with your choice of activities from our round-up. From walking your dog amid the wildflowers to downing a Stetson-sized amount of tequila, you'll be sitting pretty in your burnt orange by the time Sunday evening hits.
Sunday, August 1
Blue Starlite Mueller
With crop-duster chases and perilous dangling off of Mount Rushmore, North by Northwest is not only one of Hitchcock's top thrillers, but also features some of the most iconic action sequences of all time. What better way to admire Cary Grant having the aerobic capacity to outrun a plane than lounging in your car and scarfing down sugary treats? You can do just that at Blue Starlite Drive-In's dinner theater event. Each ticket includes a main course, drink, and dessert, and with movie-specific specials like Kaplan Cakes, AKA bacon pancakes served on a stick, you'll fall in love with the whole experience as quickly as the main character does with a femme fatale.
Cost: Tickets start at $50 per car (includes dinner for two)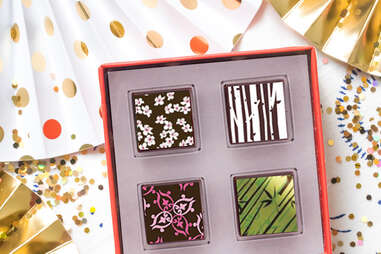 Courtesy of Delysia Chocolatier
Sunday, August 1
Virtual
You may not be able to cheer on Team USA in person this year, but you can dip your toe into Japanese culinary culture at Delysia Chocolatier's Japan Rising Sun Virtual Chocolate Tasting this Sunday. The Austin-based company is hosting the digital session as part of their "Around the World" series. Each ticket includes a link to a virtual class with their master chocolatier and four-pieces of mouth-watering chocolate truffles spanning flavors like wasabi raspberry and cherry blossom. Again, we repeat, you will have free-range to eat multiple pieces of chocolate—if that's not enough to convince you to break your diet, we don't know what will.
Cost: Tickets run $24.95 per person
Saturday, July 31
Lockhart State Park
One of the greatest pleasures of summertime in Texas' Hill Country is taking in the night sky's great starry expanse—not to mention, it actually becomes bearable temperature-wise come sundown. This Saturday, Lockhart State Park is helping you up your planetary game with a Summertime Stargazing event. You won't even have to rely on what's visible to the naked eye either, as there will be plenty of telescopes on hand to provide you with a closer look at the constellations. Bring a blanket and some beers, and you've got a romantic date that surely beats another night of take-out and HBO Max.
Cost: Park admission runs $3 per adult (children 12 and under are free)
Friday, July 30 - Sunday, August 1
Bull & Bowl
Here in Austin we might be a little too urban to fit the Texan cowpoke stereotype, but we can certainly measure up to the Lone Star State's hard drinking reputation. Put your beer money where your mouth is this weekend at Bull & Bowl with their freshly launched cowboy hat cocktails—we're talking 100 ounces of libation perfection filled to the literal brim of a clear cowboy hat. There are four flavor options for you to mosey a straw into, including Trusty Steed, a Moscow mule spiked with Owen's Ginger Beer. Bonus points if you can convince a member of your crew to hop on the resident mechanical bull after polishing off their hatfull.
Cost: No cover; menu prices vary
Photo by Becky Douglas
Saturday, July 31 - Sunday, August 1
Lady Bird Johnson Wildflower Center
We know your pup has a busy weekend of chasing his own tail and begging for bacon off your plate ahead of him, but maybe your four-legged friend can clear their schedule and join you for the annual Dog Days event at the Lady Bird Johnson Wildflower Center. While pets aren't usually allowed in the floral oasis, this weekend they too can trounce among the collection of trails in full bloom. Rest assured there will be hydration stations throughout the Center so your dog will only pant from all the beauty, as opposed to from the heat.
Cost: Admission runs $12 per person and $5 per dog
Saturday, July 31
The Dell Diamond
Far too few people in our city know about the Austin Black Senators, a Texas baseball team that played in the Negro Leagues from the 1920s through the 1940s. This Saturday, local Minor League Team Round Rock Express will honor those athletes and their proud legacy when they take on the Oklahoma City Dodgers at Dell Diamond stadium. The home team will don Black Senators jerseys and caps throughout the game, which will later be auctioned off throughout the evening to benefit the Round Rock Black History Organization, allowing spectators to take a piece of state history home alongside their peanuts and crackerjacks.
Cost: Tickets start at $13 per person
Sunday, August 1
Native Hostel
This summer should be about good energy only—with that in mind, why not check in on what is serving (and not serving) you with a reading at the Sunday Tarot event at Native Hostel? Card master Carly Fischer, of Sound Sight Tarot, will walk you through all the swords, cups, wands, and pentacles to help you understand your present experience and clarify what you need moving forward. As an extra reminder of the awesome power within you, each guest receives a custom, handwritten message designed to motivate them in the future. Afterwards, grab a drink at Native's bar and raise a glass to kissing the negative vibes goodby
Cost: 15-minute sessions run $25 per person
Sunday, August 1
The Far Out Lounge and Stage
Namaste your way into Sunday Funday with an outdoor class by yoga maestros Black Swan Yoga at The Far Out. And if you can't be bothered to work out on a weekend without a little liquid motivation, never fear—each attendee who ponies up a tenner for charity receives a bottle of JuneShine hard kombucha as well as a "one drink on us" card redeemable at the onsite bar. Should you still be recovering from the night before, there will also be caffeine from Try Hard Coffee there for the taking, and donations will benefit Knowbility, a nonprofit which works with businesses, educational institutions, governments, and other organizations to make information technology more accessible to all.
Cost: No cover; $10 donation per person encouraged