Everything Fun to Do in Austin This Weekend
Stay hot with live music or cool down with sotol margaritas.
Any Texan worth their weight in Whataburger knows there's only one true place to get your groceries in the Lone Star State—the often-imitated, never-duplicated, H.E.B. And all those Trader Joe's Instagram and TikTok accounts can officially two-step out of the picture with the rise of H.E.B-related social media offerings, such as the increasingly popular, HEB Obsessed. But, while we love spending a Saturday amongst the boot-decorated plastic bags as much as anyone, for those who want to venture beyond the produce section this weekend there is, as always, tons to do in Austin. From home state crooners to Lindsey Lohan-masterpieces, we got everything you want to do before heading home to that carton of H.E.B. guac waiting for you in the fridge.
Thursday, August 4 - Saturday, August 6
Various locations
It's time to update your thermostat to include some Hot Summer Nights. The good-times festival which celebrates music made throughout Central Texas has returned. And this year's line-up is a serious doozy—with Chief Cleopatra, Big Bill, Sailor Poon, and Naga Brujo being just some of the locally-made wonders gracing the stages of hometown hot-spots like Mohawk, Chess Club, and Empire Control Room. As if there isn't enough incentive already to mark this down as part of your weekend plans, proceeds from the event will benefit the Red River Cultural District's ongoing charitable and programs, all which support Austin's live music community.
Cost: Prices vary based on event.
Thursday, August 4 - Sunday, August 7
Desert Door Distillery
With temperatures continuing to soar to hellish levels, it is essential to stay hydrated. And, while a margarita may not technically be providing the electrolytes your body is craving, it will certainly set your night on course quicker than ice water. This weekend, at Dripping Springs sotol distillery, Desert Door, you can sip on libations to your soul's content as they host the first round of their inaugural Margarita Madness competition. Through Sunday, while enjoying the scenic views (and a round of darts) at their gorgeous property in Hill Country, you can sample Desert Door's first four competitors looking to win your salt-rimmed heart and vote for your favorite.
Cost: Tickets start at $18 per person.
Friday. August 5
Moody Amphitheater at Waterloo Park
Here's your chance to prove you would do anything for Selenas—and you don't even have to sacrifice your car's bumper to do so. This Friday, at the Moody Amphitheater at Waterloo Park, you can catch the new Mrs. Affleck in her fan-favorite role as the legendary singer in the classic 1997 flick, Selena. And, since it is screened outside amidst the beautiful greenery of the park, you can get in your nature fix as you vocalize along to "Bidi Bidi Bom Bom." Extra points if you show up for the event in a full purple, Selena-inspired, flared-jumpsuit.
Cost: Free
Saturday, August 6
Cheer Up Charlie's
If Shania Twain saying, "Let's go girls," makes you want to put on your best Daisy Dukes, bust down a door, and take a shot of Jack Daniels, get ready cause you're going out (Saturday) night and feeling alright. Party palace, Cheer Up Charlie's, is hosting the of pop-country good times with Neon Rainbows, the "gayest little country dance" with a DJ set by Boi Orbison, and The Gay Ole Opry Drag Show this weekend. Which means you can both belt out "Cowboy Take Me Away," and also be swept away in the moment by a Dolly Parton impersonator (we bet there will be at least one).
Cost: Free admission.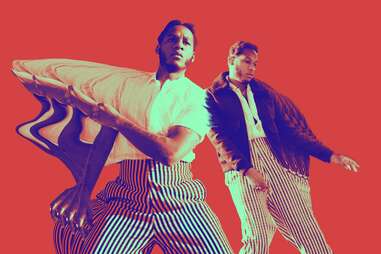 Saturday, August 6
Moody Center
Even if the name "Leon Bridges" has you drawing a blank, you've probably heard his silky-smooth voice crooning on the song, "Texas Sun," during every yoga class offered in the city limits. But the music made by this Fort Worth-legend goes far beyond being the perfect pace for downward dog; the sweet echoes of soul and R&B that radiate throughout the Grammy award winner's set are guaranteed to leave you swooning. You can sink into the sounds when he plays the Moody Center this Saturday, alongside special guest Little Dragon. If you leave the 15,000-plus seat venue with a new musical crush, well, don't say we didn't warn you.
Cost: Tickets start at $79 per person.
Wednesday, August 3 - Sunday, August 7
Bass Concert Hall
Cue Amy Poehler in a pink tracksuit proclaiming, "Happy hour is from four to six," because the musical version of the celebrated 2004 flick, Mean Girls, is hitting the stage at UT's Bass Concert Hall. Get ready to watch the actors make fetch happen as they recreate all your favorite movie moments, from Regina's cut-out tank top to Cady's "ex-wife" Halloween costume, with the additional bonus of some addictive Broadway beats that you'll be blasting in your car on the way to work for weeks after. Remember though, you shouldn't wear pink unless you are attending the Wednesday showing.
Cost: Tickets start at $45 per person and go from there.
Wednesday, August 3 - Sunday, August 7
The Contemporary Austin at The Jones Center
One of Austin's most underrated resources are its incredible museums. This weekend, you can check out one of the most prominent jewels in the city's art crown for free. The Contemporary Austin at The Jones Center is letting you check out their outstanding Modern Art collection—with no dent to your wallet—over the next seven days for their Free Week. This Free Week, in particular, celebrates the last few days of the exhibit, "Tarek Atoui: The Whisperers," which is a mixed-media, multi-sensory experience about sound from the famous Lebanese artist and composer.
Cost: Free
Sunday, August 7
2066 Philomena St
Spending the day wandering the stalls of a local farmers' market should absolutely be an item on everyone's Austin bucket list—and the Texas Farmers' Market at Mueller may be the best of the best when it comes to this experience. Luckily, it is the perfect place to commemorate the occasion of National Farmers' Market Week, which is, apparently, a thing. To mark this holiday, this Sunday's market will feature live music, a photo booth, a kid's craft table, and plentiful amounts of free samples. That is, in addition to the ever-present amounts of fresh produce, eggs, meat, and bread always on display—you might even be inspired to ease up on the take-out and dig out that sauté pan that's been gathering dust in your kitchen cabinet.
Cost: Free admission