Photo by Jack Plunkett, courtesy of Fantastic Fest
Photo by Jack Plunkett, courtesy of Fantastic Fest
Austin may be hailed as a live music paradise—and it very much is—but the central Texas city bursts with oh so much more. Just look at the variety: cool indie bookstores, vintage shops for days, produce-packed farmers markets, bar arcades and gaming hotspots, impressive restaurants, eclectic bars, stellar record stores (of course), coffee shops, elite barbecue, and the list goes on.
Austinites, lest you forget, love the great outdoors. Such nature-basking recreation come in the form of hiking, getting into spring pools or swimming holes, paddle boarding on Lady Bird Lake, or—and, yes, this absolutely counts—chilling on a patio.
When romance is in the air, discover plenty of places for a great date
(the dating scene itself, however, is another story entirely). There's also Austin's rich AAPI and Latinx cultures and a welcoming LGBTQIA+ community that make this Texas capitol feel like home to so many people.
With all this in mind, our monthly events guide will help keep your calendar full with a variety of fun things to do in September 2023. Stay tuned here to discover the best things to do in Austin, updated monthly.
September 2 & 3, 10 am–5 pm
Austin Area Garden Center in Zilker Botanical Garden, $6
Due to the plethora of 100-degree days we've had recently, your yard might be a little scorched. But, you can kickstart the garden of your dreams this month at the Austin Cactus & Succulent Society's annual Fall Show & Sale. Not only will the native plants they sell make your yard (or apartment window) the envy of all your neighbors, but these distinct types of greenery help conserve water, serve local ecosystems, and protect and enrich that Texas soil. And, with experts on hand to help you gain the knowledge you need to grow, you are sure to walk out with a green thumb.
September 16, noon
Hotel Vegas & The Volstead Lounge, Free
September 16 marks Diez y Seis, or, as it is also known, Mexican Independence Day. And you can commemorate this important day in history, and join in the shouts of "El Grito," in East Austin at Hotel Vegas & The Volstead. Their fiesta will start with a day party on their patio, where you can nosh on free tacos, cool off with a paleta, and dance it out to the music of ulovei, Celly, and many others. Then, after the sun goes down, you can head inside for Cumbia Night, where you can showcase your best Selena twirls and taps.
September 17
Various locations, Free
Some of the most underrated gems in the entire area are Austin's wonderful museums. For those whose exploration of the city so far has been at less than-Attenborough standards, you can make up for lost time by diving into these temples of art, culture, and history on Austin Museum Day 2023. More than twenty museums in Austin, including landmark art institute, The Blanton, keepers of Lone Star legends, the Bullock Texas State History Museum, and cultural mecca, Mexic-Arte Museum, will open up free of charge, offering you special programming including guided and self-guided exhibition tours, activities, and more without asking for a cent. Besides $1 frozen margaritas at Doc's, there's no better deal in town.
September 21–23
Various locations, Tickets start at $50 per person
We know its probably been a while since you used your Bachelors in Political Science at that tech startup you work at, but, this weekend, you can finally put that knowledge of Plato's The Republic to use at The Texas Tribune Festival. The all-virtual festival covers issues in public policy in both Texas and the greater nation, including speakers such as New York Times White House Correspondent, Nolan Kanno-Youngs, climate scientist, Andrews Dessler, and infamous Texas Senator, Ted Cruz. Perhaps, most exciting of all, is the conversation going down between writer, Rebecca Traister, Dallas-Fort Worth Representative, Nicole Collier, and Texas Senator, Carol Alvarado about the fight for abortion rights.
September 2, 8 pm
Dell Hall, $29
Unless you live under a Lone Star-sized rock, you probably know famous native rockers, Black Pumas. And, after pulling everything from a Target commercial placement to a Grammy award nomination, one of the band's founders, Adrian Quesada, upped the ante even further with a killer instrumental album, Jaguar Sound. Come enjoy his funky, cinematic grooves this month when he plays tracks off the LP at The Long Center's Dell Hall. If that isn't already music to your ears, he will also be performing pieces with guest vocalists, including Mireya Ramos, from his most recent project, Boleros Psicodélicos.
September 8, 10 pm
The Continental Club, $15
Any Austinite worth their weight in breakfast tacos will tell you that Dale Watson is nothing short of city royalty. And, if you've never heard of him, this honky tonk musician, who plays the kind of Outlaw Country music in the vein of other Lone Star State heroes like Willie Nelson and Waylon Jennings, will have you converted to a fan by the time the first song ends. On Friday, September 8th, he will be showing off his trademark licks, and his equally slick trademark black suits, at another Austin staple: South Congress music venue, The Continental Club. Get ready for a night filled with great tunes, lots of Lone Stars, and some serious hometown pride.
September 10–14
Various locations, $25
While the East Side of Austin today may carry a reputation as a hipster hang-out, did you know it also carries the historical weight of being the first Black cultural district in the state of Texas, and the only Black cultural arts district in the city of Austin? Celebrate the African American musical legacy of our city at this month's Eastside Kings Festival. The Festival will feature artists rooted in a variety of genres, including blues, jazz, and gospel, and take place in some of our favorite Austin hangs, such as King Bee Lounge and Justine's Brasserie. Our must-see pick of the festival, however, would have to be Soul Man Sam, who is headlining the outdoor, Mission Possible parking lot stage on September 12.
Wellness in Austin
September 3, 10 am
Lady Bird Johnson Wildflower Center, $45
Turn your phone on airplane mode, and get some much-needed "om" in your life, at the Forest Bathing session at Austin plant haven, the Wildflower Center, on September 3rd. Sunday Funday will take on a new meaning as Brooke Mellen, of mindfulness company, Cultured Forest, reconnects you with the natural world. Based on the Japanese practice of Shinrin-Yoku, forest bathing is rumored to help you reduce stress, increase inner peace, and reinvigorate your life. While we can't technically guarantee any of those things, we can guarantee that an afternoon spent among the beauty of the Wildflower Center certainly can't hurt.
September 29, 8 pm
Pioneer Farms, $45
The full moon in September is known as the Corn Moon, and was significant to Indigenous Peoples for its relation to the full harvest. While you might not be growing anything besides your Instagram following, you can still commemorate this planetary wonder at Pioneer Farms' September Full Super Moon Workshop. Located on the shores of Walnut Creek, this two-hour class is hosted by psychic medium and Shamanic practitioner, Nicole Riccardo. She will lead you through rituals, such as journaling, healing, and meditation, that will let you fully capture that peak moon energy. You'll get even deeper in touch by walking the grounds of Pioneer Farm, which are bound to be stunning underneath the light of the starry sky.
Film Screenings in Austin
September 16, 7 pm
Dell Diamond, $15
If you're looking for an event that's more than just "alright, alright, alright," head to the Dell Diamond on Saturday, September 16th. That night, Minor League Baseball and movie fandom will collide for the Round Rock Express' Dazed and Confused 30th Anniversary Celebration. In addition to seeing our hometown team take on the Las Vegas Aviators, there will be a bunch of festivities to honor the iconic, Austin-based film. If you're one of the first 1,500 fans, you'll receive a limited edition Dazed and Confused bobblehead. You can then take your seat to see the flick's director, Richard Linklater, throw out the night's first pitch. Throughout the game, clips and special videos from the movie will play on screen, and the whole shebang will end with the bang of fireworks set to the film's classic soundtrack.
September 21–28
Alamo Drafthouse locations, $275
Coming in to kick off spooky season right is one of the city's most film-tastic features: movie fanatic must-do, Fantastic Fest. This film festival mainly focuses on the horror, fantasy, sci-fi, and action genres. And, if you don't think that appeals to you, think again: some of the movies they have premiered over the years include genre-bending classics like John Wick, There Will Be Blood, and Zombieland. While you can't go wrong with any of the hand-picked selections that will be screening, the latest entry in the found series franchise, V|H|S|85, is a highly anticipated standout.
Sporting Events in Austin
September 16, 2:30 pm
Darrell K Royal Texas Memorial Stadium, Tickets start at $50 per person
Anyone who lives in Austin knows that Friday Night Lights is not far off — especially when it comes to University of Texas football. People here bleed burnt orange, and look no further for proof than attending the season opener against Wyoming. So uninterested in sports that you would be hard-pressed to define what a "touchdown" is? There is still plenty to enjoy at the absolutely fantastic pre-game tailgate that goes down on the UT campus. Throw on some Longhorns gear and get ready to make new friends (and raid their appetizer buffets).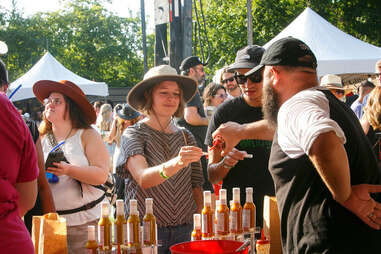 September 10, 3–9 pm
The Far Out Lounge & Stage, $10
Do you live for the pleasure of burning the taste buds off your tongue? Then join up with a crowd of fellow masochists at the 33rd Annual Austin Chronicle Hot Sauce Festival. Be sure to bring along a flask full of milk as you sample the hottest selections Central Texas has to offer, including such masters of the flavorful burn as Yellowbird and ATX Hot Sauce. Should you need to save face amongst your habanero homies, you can use the desire to catch one of the live music sets, featuring artists such as The Tiaras and El Combo Oscuro, as an excuse.
September 24, 11–5 pm
Austin Steam Train - Cedar Park Depot, $79
Combine your love of mechanics and merlot as you take an alcohol joyride on the Wedding Oak Wine Train. You'll start off the day in Cedar Park, where you will then take a two-hour train ride through the scenic South San Gabriel River valley to the Wedding Oak Winery in Burnet. While there, you can snack on small bites and sample the grape goods with the five wine tasting flight included in your ticket. With the Wedding Oak Winery located in a historic building from the 1800's, the vista will be as delicious as the vino.
Molly Moltzen is a writer living in Austin, TX. You can find her on Instagram at @molsquared.