Everything Fun to Do in Austin This Weekend
Get amped up for the holiday season, hunt down a new read, and head to the polls.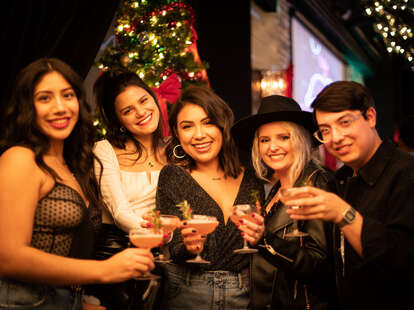 While the enjoyment that comes from "doing you" is always a top priority during the precious moments known as "free-time," this weekend, Austinites should also consider a goal beyond making it to Sunday brunch—one that revolves not around cocktails, but on civic duty. Just when you thought your social media was safe from pictures of "I Voted" stickers, the polls open again with early voting on run-off elections starting on Thursday, December 1, and continuing through Wednesday, December 7. The big kahuna on the ballot, which also includes three city council district races, has to be between Celia Israel and Kirk Watson for mayor of Austin. So, before you dive into those breakfast tacos, find your local polling place and get your vote on—it'll only make those mid-day mimosas all the more satisfying.
Saturday, December 3
The Little Gay Shop
Get your shopping done early this Sunday at the Holigay Market, an annual pop-up hosted by the always wonderful art space/shop/venue, The Little Gay Shop. Browse through a selection of over 50 vendors—from leather goods to embroidered totes to vintage treasures—and support Austin small businesses. After exceeding your credit card limit for the day, warm up with free coffee and score prime content for this year's holiday card at a drag queen photo booth.
Cost: Free admission
Friday, December 2 - Sunday, December 4
Mozart's Coffee Roasters
Jump start your December with a straight shot of holiday cheer by checking out the legendary Christmas Light Show at Mozart's Coffee Roasters. There is no better way to kick the jingle-bell spirit into overdrive than grabbing a hot chocolate and cookie at this full-out, long-standing city tradition that features a musically-coordinated display. Pre-book a table near the spectacular, so you can take in the show at its most Santa-supreme level.
Cost: Free admission for standing with reservation, while four-person pre-reserved tables start at $40.
Set the stage for December with a classic production
Friday, December 2 - Sunday, December 4
The Long Center for the Performing Arts & the ZACH Theatre
Two nostalgic wintertime show-stoppers hitting Austin this weekend are guaranteed to wow your eyes and ears—not to mention, grow your heart three sizes by the final curtain call. Get your festive spirit on point by sashaying to the Long Center to watch Ballet Austin take on the classic, Tchaikovsky-scored ballet, The Nutcracker. The sugar plum event is made even sweeter by the fact that the dancers are accompanied by live versions of the tunes, performed by the Austin Symphony Orchestra. For those who desire a bit more dialogue in their navidad narrative, the ZACH's musical adaptation of the Charles Dickens tale, A Christmas Carol, is the perfect option. In this production, the renowned story is paired with new musical numbers—which add up to an evening that will strike the holiday humbug out of any Scrooge.
Cost: Tickets vary based on show; check individual links for more details.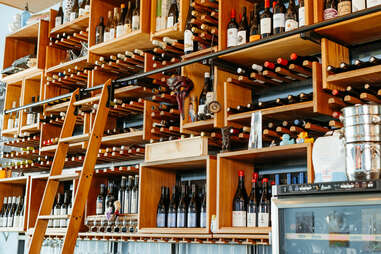 Sunday, December 4
Aviary Wine & Kitchen
South Austin restaurant and vino bar, Aviary Wine & Kitchen, is already one of our top spots to swish and sip on some Pinot. For the next three weekends, its hosting the Sunday Series Chef Pop-Ups. This go-around brings Neapolitan pizzas from the skilled pie-slingers from Chef's Kiss. To round out your Italian food celebration, take advantage of the special drink offers that include $2 off wines by the glass, $10 off bottles, and $2 off beer.
Cost: Menu prices vary based on what is ordered, with all tables seated by walk-in.
Friday, December 2 - Sunday, December 4
Malvern Books
The recent announcement that West Campus den of prose and prosody, Malvern Books, is closing its doors at the end of this year left every Austin bookworm broken-hearted. The shop and community space offered, hands down, the best selection of curated titles in the city limits by highlighting independent publishers and championing the works of Lone Star writers. Luckily, you still have the chance to browse the shelves for fascinating finds through December 31. Even if you haven't cracked a book since college, the helpful staff will guide you to a plethora of options to help reawaken the reader within.
Cost: Books prices vary based on title.
Saturday, December 3
Better Half Coffee & Cocktails/Holdout Brewing
When everyone in the crew is craving something different, choosing a meet-up locale can be a real drain on your day-drinking. Beat your group thread's planning headache at Better Half Coffee & Cocktails and beer emporium Holdout Brewing. This Saturday, the two share more than just a Google Maps' pin as they throw the Second Annual Best Fest event. While the full list of activities going down on this jam-packed day is still under wraps, you can bet on at least one beer collaboration and enough food specials to get the good times rolling.
Cost: Free admission
Friday, December 2 - Sunday, December 4
The Eleanor
Before you take out the holiday string lights and fake plastic wreaths for a day of decorating, why not pre-game for St. Nick with a drink? Get into the mood at Miracle on Fifth Street Pop-Up cocktail bar at The Eleanor. Anticipate multi-rooms and multi-levels of over-the-top Christmas decorations and enough green and red lights to rival the Griswolds. Not to mention delicious libations that will make you feel the warm-and-fuzzy spirit of the holidays, such as the Bad Santa, made with enough rum, nutmeg, and spiced butter, to satisfy the cookie-loving sweet-tooth of the man himself.
Cost: General admission tickets start at $5 per person, and can be purchased online.
Friday, December 2 - Sunday, December 4
Circuit of the Americas
Score bonus points with your tired-out-of-their-minds sister and brother-in-law by taking the toddlers off their hands for a night at Circuit of the Americas' Peppermint Parkway. Not only can you get the essential holiday picture with Santa, both you and the kids will be enchanted by the various festive "lands" you can walk through and explore—including the Twinkle Trail, a display of bright, dancing lights that will have you really feeling the Mariah Carey on the ride home. There's also the opportunity to parade your vehicle down their world-famous 3.41 mile FIA-grade track—which is the fastest track to that favorite aunt or uncle status.
Cost: Packages start at $40 per vehicle and go from there.