Sponsored By
8 Actually Fun Things to Do in Austin This Weekend
Tricks, treats, and everything in between.
Sponsored By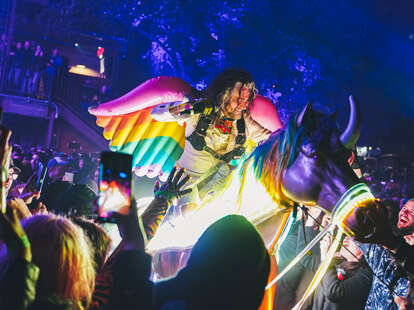 Calling all guys and ghouls—Spooky Season reaches its natural peak this weekend. And, whether you've been planning your costume since March or buying some last-minute devil horns and calling it a day, we've got all the picks for the best ways to get your trick and treat on in Bat City.
And for those looking to avoid the scaries these next few days, fear not—there's also plenty of non-spooky endeavors this weekend, including a psychedelic music festival and a tiki-themed bar. No matter what you do, don't forget to stop at H.E.B. on Monday for all that discount candy.
Sunday, October 31
Various locations
Get ready to get spooky, because every candy-loving, black-wearing, horror-movie watching individual's favorite holiday has arrived. We, of course, are talking about the ultimate cosplay day: Halloween. And on this most boo-tiful of occasions, Austin is delivering every kind of fright night activity you could possibly desire. For those wanting a classic scream-worthy All Hallow's Eve, dare yourself to take on the House of Torment. If you're looking for somewhere to show off that hand-beaded costume, The Surrealist Ball at Devil May Care is your perfect freaky fashion showcase. And should you wish to stray far away from anything that might give you a nightmare, there's always picking pumpkins at Barton Hill Farms' Fall Festival.
Cost: Ticket prices vary
Thursday, October 28 - Sunday, October 31
Various locations
Formerly known as Austin Psych Fest, LEVITATION is a celebration of all the grooves and beats that fit under the psychedelic hood. The festival, which goes down this weekend in various venues across the city, was started by Austin's very own hometown heroes, The Black Angels—and, as per usual, the lineup is straight fire. While you can't go wrong checking out any of the artists taking the stage, we can't wait for Sunday's knockout roster featuring Sweet Spirit, Sasami, and Japanese Breakfast at Stubb's.
Cost: Ticket prices vary
Saturday, October 30th
Beerburg Brewing
Even if you're not a fan of Halloween (which, to be honest, is its own issue), we can't imagine anyone not falling head-over-paws for some pups in costume. And, this Saturday at Beerbug Brewing, you can catch all the dachshunds-dressed-as-hot dogs action by hitting up Dog Costume Contest & Fundraiser. Fido's $10 entrance fee benefits Love-a-Bull, a local volunteer-run rescue for pit bulls in search of a well-deserved loving home. And, if your four-legged friend is lucky enough to score the trophy, you'll win a $100 gift card plus the opportunity to collaborate with the brewery on an upcoming small-batch release.
Cost: No cover; additional costs vary
Saturday, October 30th
Huckleberry
Bust out the erotic fan fiction and grab your Kuchi Kopi for a Bob's Burgers Pop-Up this Sunday at beloved food truck Huckleberry. In tribute to the cartoon wonder, Huckleberry will be serving four dishes, each with a punny name worthy of Bob's specials board. There's One Fish, Two Fish, Not a Fish (a veggie sandwich), Seems a Bit Fishy (fish sandwich), Something's NOT Fishy (a burger) and Neither Fish nor Fowl (a shrimp sandwich). Extra points if you dress up as Mr. Fischoeder and ask where the rent money is.
Cost: No cover; menu prices vary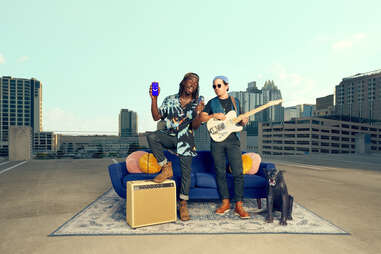 When you're checking out the best spots in the city, the last thing you want to worry about is staying connected. Ball out on a budget with your friends with Visible. With Visible, you get unlimited data, powered by Verizon, for as low as $25 a month, and when you bring a friend, you both get a month for $5. Now all of your faves can stay in the loop for the next party move.

Terms apply.
Sunday, October 31
Easy Tiger East
While most bars simply makeover their spaces in standard Spirit Halloween fashion to mark this weekend's holiday, local bakery and beer garden Easy Tiger East is going all out by transforming their usual German-themed hangout into Tiki Tiger, a pop-up complete with tropical food and drink specials bound to bring whole lot of sunshine to the day of dark magic. Put on your hula skirt and head over to nom on Pulled Pork Sliders and Hawaiian Burgers alongside signature rum-based cocktails.
Cost: No cover; menu prices vary
Friday, October 29 - Sunday, October 31
Virtual / various locations
While it's super tempting to spend the weekend re-watching that same early-2000s sitcom for the fifth time on Netflix, may we suggest an alternative form of entertainment: the timeless novel. And this weekend's Texas Book Festival makes it even easier for you to find your new favorite read—not to mention, interact with the famous faces behind the pages. This year's festival boasts both in-person and virtual events, so not wanting to leave your couch won't fly this time. Highlights include a conversation with Rumaan Alam, New York Times-bestselling author of Leave the World Behind, and a Texas Poets panel featuring wordsmiths Carrie Fountain and Tomás Morín.
Cost: Ticket prices vary
Friday, October 29 - Sunday, October 31
Various locations
Are there any two things more universally loved than Pilsners and pups? And, for the full month of October, you can drink one while helping the other at Austin Humane Society's 3rd Annual Paws & Pours event. Pick up an event passport and score free glasses of wine, free flights, and other specials at participating restaurants and bars across the city. And, considering that list includes places like Rainey Street mainstay Banger's and beer haven Oskar Blues Brewery, you know they aren't going to skimp on those pours either. Most bark-worthy of 'em all? Each passport purchased provides two nights of shelter, love, and care for a needy animal.
Cost: Passports run $40 per person
Friday, October 29 - Sunday, October 31
Lady Bird Johnson Wildflower Center
If you're anything like us, your plant collection still hasn't fully recovered since last February's frost. Kickstart the garden of your dreams this weekend at the Fall Native Plant Sale from the horticultural experts behind Lady Bird Johnson Wildflower Center. Not only will the native plants they sell make your yard (or apartment window) the envy of all your neighbors, but these distinct types of greenery help conserve water, serve local ecosystems, and protect and enrich that Texas soil.
Cost: No cover; market prices vary