Fall is flying by too fast for our liking, so slow down this week's end and enjoy the weather in Austin while we have it. Take in a classic monster film, listen to scary stories, and carve pumpkins if you're feeling Halloween-y. Try Taiwanese food, raise a crafty beer, and Diwali the day away if you're feeling hungry. And if you're just feeling fall, stroll around North Loop's block party or check out new Austin art. 
Recommended Video
Spoil Your Pup at The Dodo's Best Dog Day Ever Event
Friday, October 18th
5202 E Ben White Blvd
Austin is an artistic town and to celebrate that, seven local artists have created temporary two- and three-dimensional artworks around the city. The idea is to spark tourism and imagination, but we can all agree we'd prefer the latter. Grab a sweater (finally!) and wander around the city to check out what these artists have dreamed up.
Cost: Free
Friday, October 18th
Waller Creek
Scary stories are getting their moment in the moon with bilingual storyteller Carolina Quiroga-Stultz sharing a series of native and Latin American spooky tales, accompanied by Graham Reynolds. In addition to tunes and tales, participate in a Halloween-themed dance jam. STEM activities like bubbly potions and oozy slime, a haunted curio shop and a costume contest.
Cost: Free
Friday, October 18th
Community First Village
Embrace Flashback Friday with this showing of The Monsters Squad at our favorite little outdoor theater. Now that the weather is nice, take some stadium chairs and a blanket, bring family and friends, and enjoy a scary movie that's kitschy and not Human Centipede. Snacks available at the Community Grille. 
Cost: $5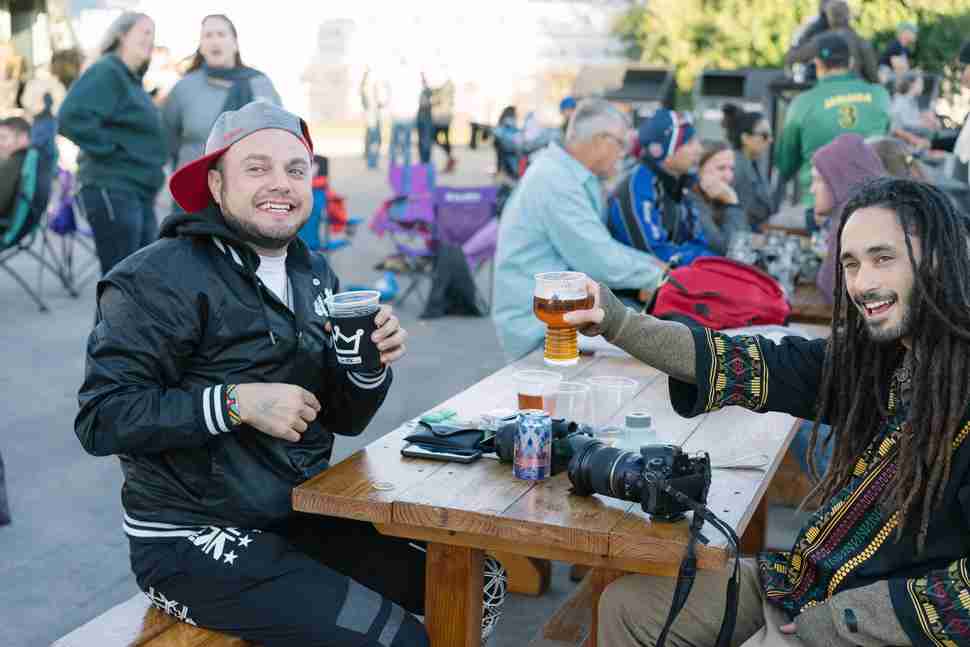 Saturday, October 19th
Independence Brewing Co.
One of Austin's OG breweries, it's time to wish Indy brewing a happy anniversary in the best way… by drinking their beer. They'll be serving special beers you can only get during the party so you can lord it over your friends. Grab snacks from Crossroads: Farm to Truck and tap mugs to live music from Mariachi Las Coronelas, Los Callejeros De San Anto and El Tule.
Cost: Free
Saturday, October 19th
The Highball
The '90s are back, baby and they're ripe for costumery and chicanery. Channel your cinematic faves like Titanic, Pulp Fiction, The Matrix or just throw on a choker and a pair of docs to dance along Zoodust, the ultimate '90s party band. And yes, they've got to totally radical prizes for the best costume.
Cost: Free
Saturday, October 19th
99 Ranch Market
Forget hitting Costco for lukewarm shredded pork bites and a death-defying parking experience. Instead, take this opportunity to sample tons of traditional Taiwanese food and drink for $free.99 at 99 Ranch Market. In addition to the tasty treats, they'll have DJ Classy Smashed, giveaways, and a kids cooking class.
Cost: Free
Saturday, October 19th
North Loop
There are worse ways to spend a Saturday than hitting up parking lot sales and drink specials, and taking photos in a doggie photo booth. Complete your costume with garb from Blue Velvet or Bloody Rose, snag a discounted beverage at any of the bars and maximize your fall day by indulging in a little retail therapy.
Cost: Free
Sunday, October 20th
The Domain
The Festival of Lights has arrived and it's taking over the domain this year. In addition to dance performances, guests should buy some traditional foods, shop for arts and handmade goods, and learn about the significance of the holiday.
Cost: Free
Sunday, October 20th
Moontower Saloon
'Tis the season to show off your knife-wielding expertise. Act like a kid again and bring your own pumpkin to Moontower's adult pumpkin carving event. What goes better with a cocktail than ooey gooey pumpkin strings and sharp objects?
Cost: Free
Sunday, October 20th
Wild Heart Yoga
October is National Domestic Abuse Awareness Month and you can feel good and do some good at this event benefiting SAFE. Yoga classes every hour, live musicians, bites and drinks, tarot, body work sessions, sound healing, and an artisan market. Connect with the community, get your yoga in, and know that it's all for a good cause.
Cost: $10
Sign up here for our daily Austin email and be the first to get all the food/drink/fun in town.