Everything You Must Do in Austin This Fall
With the weather finally starting to cool down, fall is one of the most exciting times to be out and about in Austin -- mostly because you can actually be out and about without drowning in your own sweat. That said, our fair city's got a full roster of concerts, art events, and parties coming up, and it can be hard to know where to get started. Well, look no further: We've planned out the ultimate Austin autumn below, with everything from beer and dessert fests to F1 championships. All you have to do is show up before the winter rains kick in.
UtopiaFest

| UtopiaFest
After a long hiatus from touring, the legendary pop diva is traveling the world in support of her new album, including a stop at Austin's own Frank Erwin Center, where you can spend a night breaking it down to her signature R&B realness.
For the second year running, the AMVF brings five days of music video premiers, parties, and VR experiences to the streets of downtown Austin, including video swim and bike nights, film screenings, live music, and a Flaming Lips costume contest.
Director Stephen Mills presents the ultimate romantic ballet experience: the story of a family feud, two star-crossed lovers, and the tragedy you vaguely remember from high school English class, all set to Sergei Prokofiev's stirring score.
There are a lot of
ways to help Houston
in the wake of the catastrophic floods brought on by Hurricane Harvey, but here's one more: Austin Bakes is holding a citywide bake sale fundraiser, with proceeds going to support hurricane victims
through AmeriCares
.
Austin is home to a
staggering number of museums
, and thanks to the fine folks at the Austin Museum Partnership, you can check them all out for free one day each year. Specifically, this day.
Imagine the typical music festival... now strip away all the stuff that sucks. The result is UTOPiAfest, which eliminates the hassles and headaches of typical massive live music elements with key differentiators: no music overlap (especially key with a
lineup
this good), free parking, a BYOB policy, and attendance that caps at 2,000. Oh, and there's also yoga, hiking, secret shows, and other magical elements that make this event in the hills of Utopia, Texas totally worth the commute.
Reward your inner child for making it through back-to-school season with a stirring live rendition of the John Williams' score, performed alongside a screening of the film by the Austin Symphony Orchestra.
Dirty Sixth gets a family-friendly makeover every fall and spring with this two-day, biannual festival that combines arts/crafts, live music, food, and fun in the heart of downtown Austin. Admission is free, but cash is definitely recommended, for beer and kettle corn, primarily.
With dozens of brewers and nearly 200 beers on site to sample, we're likely to believe this fest when it proclaims to be "the greatest showcase of Texas craft beer. EVER." A $35 ticket gets you a tasting cup with eight sample tickets, while there's also a (sold-out, but probably Craigslist-able) VIP package and even a $10 option for your designated driver, which comes with snacks and NA bevs.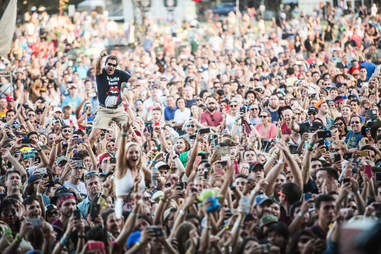 austin city limits festival

| Cambria Harkey/Courtesy of Austin City Limits Festival
You can't really call yourself a true Austinite until you've spent a couple weekends pressed cheek to cheek with thousands of strangers in the Zilker Park mud. 2017's a great year to check it all out, with headliners including Solange, Chance the Rapper, Spoon, The Killers, and The Head and The Heart.
The race is on at COTA, as the "world's premier motorsport series" hits Austin for year six. Think The Fast and the Furious but more regulated... and more European... and instead of Ludacris, a performance by Stevie Wonder. (OK, it's nothing like The Fast and the Furious.)
Public radio institution Selected Shorts comes to the Paramount Theatre for a night of fiction, as a cast of talented performers from broadway, films, and television, bring works of great literature to life.
While a lot of the shows of the upcoming shows at the Moody Theater are already sold out (hit us up if you know anyone who can get into the Flaming Lips/Mac DeMarco show), there are still seats to be snapped up for Nick Murphy's compellingly dreamy sensitive glitch.
Also known as the Writers Festival, AFF is part conference, part competition, and a complete celebration of the craft of filmmaking and the brilliant artists and creatives involved. While many of the panels are geared towards those in the industry, the screenings are enjoyable for both cinephiles and the average moviegoer alike. After all, while we all enjoy blockbusters, sometimes it's nice to take a break from the million Marvel flicks and watch something a little more... artistic.
While kids all over the USA prepare to glut themselves on Snickers and Tootsie Rolls, indulge your palate with a more sophisticated approach to the sugar rush from a collection of Austin's finest bakers, candymakers, and ice cream shops.
'texas monthly' bbq fest

| Robert Gomez
The Texas Monthly is an Austin institution, celebrated equally for their in depth journalistic coverage of all things Texan and, more importantly, their barbecue reportage. Explore the restaurants featured on their latest top 10 in the state BBQ list with a festive weekend of cold beer, sweet treats, and, of course, a metric ton of the best brisket money can buy.
Camping out in the faux-medieval dreamscape of Sherwood Forest while listening to live bands, podcasts, and comedy is one hell of a way to spend a weekend. And with a lineup including the Yeah Yeah Yeahs, Iggy Pop, and LA shredders Cherry Glazerr, you won't hear a single bad set.
Grab a pint of (admittedly overpriced) ale and check out cerebral indie rockers Alt-J, as they fill the glamorous vault of the Moody with their signature, dance-worthy soundscapes. The band's booked for two nights, so you know it's gonna be good.
Ok, so we might be a little biased, but there's honestly no better way to spend your Friday night than eating your way through some of Austin's finest barbecue, comfort food, and fusion dishes at our annual Hotel Thrillist party. Local greats like Cane Rosso, Black's BBQ, and Tiny Pies will be providing the sustenance, and there'll be plenty of craft libations to wash it all down with.
With expert panels, film screenings, wall to wall cosplay, and celebrity appearances from Val Kilmer, Felicia Day, and, of course, the legendary Stan Lee, this year's con promises to be the best yet.
Comedian, actor, writer, and surly podcast judge John Hodgman performs his newest comedy special, based on his book of the same name. Come for the dryly amusing stories about family, aging, and adventures on the road, stay for one of the best mustaches in show business.
Want to feast guilt-free? Start your Thanksgiving off at the ThunderCloud Subs Turkey Trot, which has taken place in Austin for 27 years running (pun absolutely intended). Whether you opt for the 1-mile walk, the timed or untimed 5-mile run, or simply to volunteer, you can feel good about helping
Caritas of Austin
, which combats poverty, homelessness, and hunger in the city. If that doesn't earn you an extra piece of pie, nothing does.
Sign up here for our daily Austin email and be the first to get all the food/drink/fun in town.
Emily Beyda is an Austin-based food writer who is currently at work on her first novel.