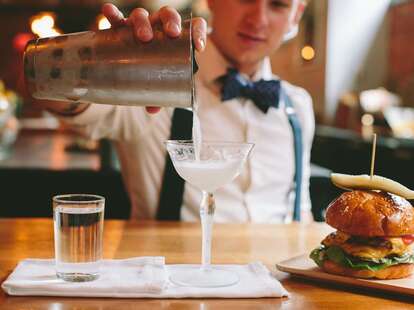 Poe's Kitchen is turning the big 2-5, and it's rocking its greatest hits in honor of the impressive milestone. Stop by on Wednesdays and reminisce about all the nights you spent on roof of the Rattlesnake while taking down old-school favorites like scallop tacos, lamb tacos, and the habanero-smoked serrano stuffed boar tacos. They'll also be pouring commemorative mini-margaritas for $2.50, the original 1990 pricing. (Those were the days, my friends.) Wednesdays only.
The white Alba truffle is only available for two months every year, and Barbara Lynch is ordering a bunch to share with you. Pretty nice of her, right? Get the mother lode at
Menton
with their five-course tasting menu, or dive into a la carte specialty dishes like White Alba Truffle on house-made bigoli (
Sportello
) and white Alba truffle on steak tartare (
Drink
). No tickets required, but you'll probably
need reservations
.
Ribelle Chefs Tim Maslow and Brandon Baltzley square off against Chefs Jonathon Brooks and Zoe Taylor (from Indy hotspot Milktooth) at the appropriately-named "It Takes Two" Rabble-Rouser dinner battle. Each team will use only two ingredients to create each course, of which there will be nine. Boom. There are also two seatings (6pm and 8:30pm) and optional beverage pairings will also be available. Yes, please. Score your tix
here
.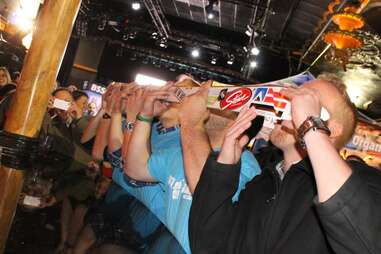 Dream of fresh tracks at BSSC Blizzard
Start doing your wall sits 'cause ski season is just about here. And there's no better way to get pumped up than with snow sport-centric gift bags, swag, raffles, 30 ski exhibitors, and (free) lift tickets at
BSSC's annual winter kick-off party
at Royale from 6pm-9pm. Oh, and there's a cash bar with Shot Ski cocktails, some light apps, and a DJ.
Watch people battle with swords while you eat at the DART Boston show
Short for
Dancing America Rapper Tournament
, DART is actually nothing like it sounds. Apparently a "rapper" is a type of sword, and apparently there are teams that perform elaborate acrobatic routines with them. If you're as intrigued as we are, head to
Saloon
from 12pm-4pm to witness this one-of-a-kind spectacle. Bonus: it's free to attend, and the bar and restaurant will offer regular service.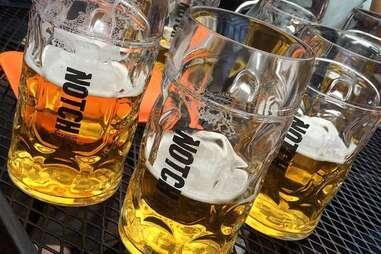 Enjoy seriously good beers at the 6th Annual Local Craft Brewfest
Sample four score and many finely tuned beers, and then meet the local brewers who make such things possible at the always highly anticipated Local Craft Brew Fest (6:30pm-9:30pm). Games, live music, and cocktail demos take it to the next level.
Go VIP
and get early admission, a meal voucher, and $10 off your ticket to the 2016 Hyper-Local Craft Brewfest at The Armory (Somerville).
Lovin' Spoonfuls is getting the band back together for their 5th annual Ultimate Tailgate Party (7pm-10pm), and this is one 'gater you don't want to miss. Start off with complimentary libations from Bombay Sapphire and Peak Organic Brewing Company, then cruise the tasting stations with plates from local all-stars like Cassie Piuma (Sarma) and Tim Wiechmann (Bronwyn). Splurge on the VIP ticket and meet Andrew Zimmern of Bizarre Foods fame during the pre-event cocktail/charcuterie hour (6pm). Bonus: all proceeds benefit Lovin' Spoonfuls' efforts to provide responsible food rescue.
Get properly stuffed at Harvest, Post 390, and Grill 23 & Bar on Thanksgiving
Avoid awkward small talk with Mom's new boyfriend by spending Turkey Day in town, at one of these three restaurants.
Harvest
and
Post 390
are going all in on a 3-course prix fixe feast, while Grill 23 & Bar says, "Why stop at three when we can serve FOUR course AND an a la carte menu?" Pick your favorite spot and call for reservations.