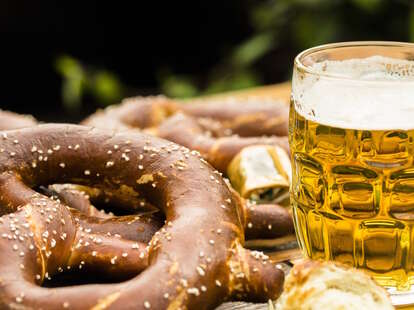 It's Germany inside Bronwyn 24-7/365, but it's pulling out the big steins for its annual Oktoberfest party. For starters, it's imported every beer that will be available at Munich's famed shindig, so you can enjoy Schneider Tap 4 Wiesen Edel-Weisse and Hacker Pschorr Oktoberfest-Märzen without leaving Somerville. It will also have jazzed-up Bavarian fare like biersuppe (fried oyster and aged cheddar) and the decadent schnitzel sandwich with obatzda and smoked onions on a pretzel roll. Live German music and crazy games seal the deal. (P.S. don't forget your lederhosen.)
Don't miss this rumble for Boston brunch supremacy at Gather's First Annual Brunch Battle on Saturday, October 10th from noon-3pm. Multiple area restaurants (TBD) will duke it out with their signature brunch items, and you'll get to sample them all and vote for your favorite. Tito's Handmade Vodka and La Marca Prosecco will also be there to "help" with Bloody Marys and mimosas, and all proceeds will benefit the local nonprofit Community Servings. (Also very helpful.)
Top off your weekend with beers and laughs at Slumbrew's recently launched Liquid Courage Comedy Club on select Sunday evenings (9-11pm). This stand-up showcase features six-plus local comedians with major street cred, including contestants from Last Comic Standing and winners of the Boston Comedy Festival. Tasty suds will be available (of course), as will charcuterie boards and the full dinner menu. Major bonus: the show is totally free. (But you should get there early as the room will fill up fast.)
From Falmouth to P-town, the Cape's best restaurants will offer three- and four-course exhibition dinners for the low, low prices of $25, $30, and $35. More and more restaurants are joining up, and you can view the participating venues on
this handy map
. Good luck with the choosing.
Barely a few months old, Boston Harbor Distillery is off to a great start as it introduces its new Whiskey Wednesdays (7-9pm). For a mere $25, the session includes tastings of Boston Harbor's proprietary craft spirits and cocktails, as well as pairings with artisanal charcuterie, cheese, and chocolate from American Provisions. Pro tip: add the supplemental cigar pairing for $15 to get the full Ron Swanson effect.
Score your tix here
.
You might think wine country is in Cali, but on Saturday, October 17th, it will be in Mendon at the always rockin' Mendon Twin Drive-In (2-5pm). (Who knew?) Presented by Phantom Gourmet, this three-hour tasting party boasts 30+ vineyards, five different flavors of craft popcorn, live music courtesy of Southern City Band, and your very own keepsake glass. Go VIP (
tickets here
) and get in an hour before the crowds. (Also: additional food and beer selections will be available for purchase.)
Learning never tasted so good, as Trademark Tours takes you on a trivia- and food-filled spin through Harvard Square from 3-5pm. Starting at Out of Town News, the tour stops for treats at local favorites like Cardullo's, Grafton Street, Salt & Olive, Follow the Honey, Russell House Tavern, and PARK. Bonus: after the tour, the Grafton Group (Grafton Street, et al.) will offer participants a 10% food discount at any of its four restaurants.
From 8pm-1:45am, The Liberty Hotel will transform into the Deetz's house for its Beetlejuice-themed Halloween blowout. Wear your best stripes and/or ghost sheets, and dance the night away to DJs and live performances while you partake in specialty cocktails. Different packages are available including GA, Table Reservations, Dinner in CLINK, and, for the ultimate luxury, an overnight in the hotel. Note: there is no entry after 11pm, so plan accordingly.