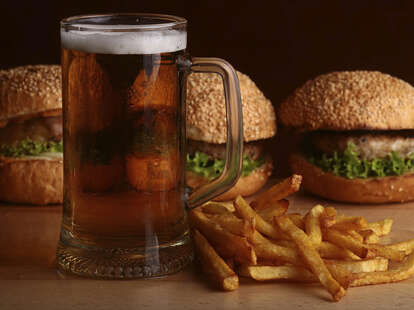 And just like that… summer is in the rearview mirror. Crazy, right? Luckily for us, fall is the BEST season in New England, and we still have plenty of partying to do before the next Snowmageddon. Leave your shovels in the closet (for now) and check out these 10 upcoming fall events.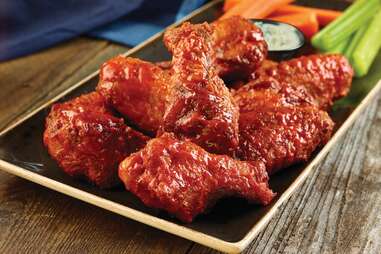 Be an armchair quarterback at Monday Night Football at Hard Rock Cafe
All season long, Hard Rock Café will turn its amps to 11 for Monday Night Football, and you won't want to miss any of the grub or the gridiron action. In honor of the forthcoming Super Bowl 50, all apps (excluding the Jumbo Combo) will be 50% off, and it'll have $5 Corona Light pints. The Corona Street Team will be on hand during the first half with games and legit prizes, such as Corona football jerseys. (See what they did there?) The festivities start at 7:30pm, but you should go early to stake your claim. Mondays only.
Order a side of biscuits and groovy at the Reggae Brunch and Day Party
With a name like "Reggae Brunch and Day Party," how could you possibly go wrong? Answer: you can't. Get extra rasta-vibe mellow at DCBK's recently launched Jamaican-themed Saturday brunch… and also day party (12:30-4:30pm). In addition to Darryl's usual rib-sticking brunchables (waffles!), there will be specialty menu items and drinks, and a different live band every week.
Reservations recommended
. Saturdays only.
The James Beard Foundation's "Taste America" Tour is landing in Boston for two days of foodie action featuring past JBF winners and other major local talent. On Friday night, mingle with said talent at the "Night of Culinary Stars" (Langham Hotel) starting at 6pm. The reception and dinner will be curated by Boston all-stars such as Traci Des Jardins, Tim Cushman, Tony Maws, and Ana Sortun. On Saturday, Sur La Table will host an entire day of FREE culinary events such as cooking demonstrations, book signings, and tastings. Reservations are required for the cooking demos, so grab your seat at the table
here
.
The Drink Craft Beer crew knows exactly what we want: more beer and cider events packed with New England regional goodness. There will be three sessions (one on Friday, two on Saturday) for your suds-sipping pleasure, and you'll have over 70 craft beers and ciders to choose from. (Good luck with that.) Many of your faves (Clown Shoes, Downeast, Slumbrew) will be there, and your ticket scores you unlimited small pours (2oz) of them all. Hungry? Gonna be. Tenoch Mexican, Q's Nuts, and Union Square Donuts will be there with plenty of delicious snacks… and there will be snacking.
The alt-trivia variety spectacle Old School Game Show sets its sights on Halloween with its season opener, and zany costumes are highly encouraged. (Who's going as Deflategate?) The evening will be flush with laughs as the cast guides you through interactive trivia, a costume contest, and maybe a few skits along the way. The swinging house band will be back, as well as the spandex-clad Cubic Zirconia Dancers. So there's that.
As the name suggests, get a little bit of everything at BCAE's five-course pairing party (6:30-8:30pm) complete with its own parade of local all-star chefs. (Take that, JBF!) The dynamic duos include the likes of Burgers + Beer (Ed Brylczyk & Brendan O'Toole), Tacos + Tequila (Erwin Ramos & Randall Bird), and Cheese + Chocolate + Wine (Adam Centamore, Erika Frey). Get your tickets for maximum snackage
here
.
Score some belly laughs and be part of comedy history at Elks Post #1390's first annual Last Comic Standing Contest from 8-10:30pm. Former
America's Got Talent
and NBC's
Last Comic Standing
contestant Bob Gautreau headlines the 10-comic-deep lineup, which will compete for the coveted "Funniest Person on the North Shore" prize. Major bonus: tickets are only $10 and all proceeds benefit the Beverly/Salem Elks Scholarship Fund -- snag yours
here
.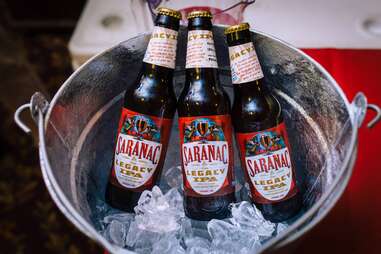 Be your own suds ambassador at Beer Summit's Harvest Fest highlighting the best possible beers you should be drinking this fall. Three sessions (one on Friday, two on Saturday) ensure you get a chance to sample over 200+ barley pops from 50+ local, national, and international breweries like Bad Martha, Henniker, Saranac, and Two Roads… to name check a few. Pro tip: this event sells out fast, and you can get your bottomless mug
here
.
Put on your walking and drinking shoes for the yearly bar-hopping tour de force known as the mighty Mass Ave-A-Thon. A tradition since 1986, this annual pub crawl along Mass Ave's bestest watering holes is a not-to-be-missed roaming party with stops at fan faves like Grafton Street, People's Republik, Woody's Grill & Tap, and Eastern Standard. The Avengers will assemble at the Hong Kong (Harvard Square) promptly at 6:30pm, so don't be late. And seriously, wear comfortable shoes.
Just in time for the holidays, you can learn to make your own chocolate masterpieces to share with the fam at Chocolee Chocolate School (2-4pm). During the two-hour course, you'll learn the basics of chocolate-making from confectioner industry legend Lee Napoli, including tempering, truffle-rolling, and nut-barking. (Please stop smirking.) At the end of the session, you will walk away with a 1lb box of artisanal candy that you made yourself, plus handy recipes so you can do it again. (Congrats, you just earned your chocolate merit badge.) December 5th and 19th only.