Now that the mystery of the Boston Garden monkey has been solved, you can finally escape your cage and check out what's happening in the Hub. Here are 11 snow-defying things to do in Boston this winter. Snowmageddon be damned!
Spike your cocoa at the Boston Hot Chocolate Experience
Holiday shopping, and the rest of winter, will be a breeze when you take a break at the MET Restaurant Group's annual Boston Hot Chocolate Experience, which runs through winter and into spring. Pop into any MET outpost (
MET Back Bay
,
MET on Main
,
MET Bar and Grill Legacy Place - Dedham
,
MET Bar and Grill Natick
) for your choco-fix featuring local
Taza
creations. The flight of four includes Classic, Mexican Hot, Salted Almond, and Peppermint, each with different chocolates (e.g. vanilla, guajillo chili) and flair (e.g. mini toasted marshmallows, almond biscotti). Add your favorite spirit and cozy warmth is only a sip away.
Start training for the next Winter Olympics
Relive your pee wee hockey glory days, or just pretend you're Bergeron (same thing?) at multiple outdoor ice skating rinks all winter around the city. Venues include the
Frog Pond
(the classic, of course), Community Skating @
Kendall Square
(lessons available),
Kelly Outdoor Rink
($2 rentals!), and
Boston Harbor Hotel
(with killer views of the city). Whether you're a Scott Hamilton, an Apolo Ohno, or a Big Bird on ice, there's plenty of room for you at these annual al fresco rinks.
Forget the words to "Auld Lang Syne"... again... at Brass Union's New Year's Eve Gala
The party crew at Brass Union is pulling out all the stops for their New Year's Eve Gala starting at 8pm.
Tickets
are a mere $10, and that sawbuck will score you complimentary canapes and the champagne toast at midnight. (There'll be an a la carte menu available until 1am, too.) DJ ABD will be spinning funk-tastic tunes, so you can dance your way into 2016. Fly cocktail duds are recommended to up the swank factor.
Ease into your resolutions at New Year's Hangover Buffet
If you spent New Year's Eve at Brass Union (or anywhere), then you'll definitely need Olde Magoun's rib-sticking all-you-can-eat
New Year's Hangover Buffet
(10am-4pm). Yeah, you read that right: all you can eat sausage, bacon, muffins, whiskey-soaked French toast, rustic pulled pork hash, mac & cheese with kielbasa, and biscuits & gravy. Need we say more? OK, there will also be killer hair-o-the-dog beverages like the Dirty Mary (a vodka and Guinness float that shouldn't work as well as it does) and the Hip Derby with bourbon and west coast IPA. See you there.
Devour international desserts without leaving Boston at La Dolce Vida
Pastry Chef Renae Connolly travelled the world in search of sweets, and now she's bringing her research home to Café ArtScience's
La Dolce Vida III
(8pm). A cocktail reception with hors d'oeuvres will kick things off, then the sugar starts to flow over five buzz-tastic courses. Savor the likes of Spain/France/Italy-inspired mascarpone panna cotta with blood orange gelee, maple and sugar pumpkin gnudi, and warm cashew lattes. Tickets are $55 with an optional beverage pairing for and extra $25. Short money, long gain.
Croon along with Ol' Blue Eyes at Sinatra's 100th Birthday Bash
Celebrate The Chairman of the Board's 100th birthday with Thinkin' Big Band's tribute to the Rat Pack lifestyle (and a totally bygone era). Starting at 7:30pm, Oberon will become a traditional jazz club as the band plays you through an evening of Sinatra standards and other jazzy crowd-pleasers. Martinis and bow ties are optional, but probably a good idea.
Stuff yourself for a good cause at CityFeast
CityFeast
, the annual Joslin Diabetes Center fundraiser, is back, and this year's slate of North End restaurants is better than ever. Participating hotspots, such as
Bricco
and
Lucca
, are dishing up five-course feasts with wine pairings, and all the proceeds will help the center. Win-win. The special dinners begin at 6pm, and you should
reserve
your seats as early as possible. For real. (There's also an online raffle with serious prizes at stake.)
Rage like a Cajun at the Boston Mardi Gras Crawl
If you can't make the trek to NOLA, don't worry -- the Big Easy is coming to you. Join hundreds of other beaded revelers as you meander your way through Faneuil Hall bars (e.g.,
An Tain
,
Vanderbilt
,
Hong Kong
) in honor of Fat Tuesday. Just on a Saturday. In addition to party swag (masks, more beads), there will be food and drink specials ($2 beers!), and plenty of prizes along the way. Check in for your very own Hub Carnival at An Tain, start time TBD.
Honor the Founding Fathers at the 2016 Boston Wine Expo
George Washington insists that you sip your way through the 25th
Boston Wine Expo
benefitting Tufts Medical Center's summer camp program for children with disabilities. The Boston Guild of Oenophilists has once again gathered over 200 wine producers from around the world in one convenient location, and you get to reap (or sip) the rewards. There are multiple ticket packages, but you should go for the Silver Anniversary Package, which gains you access to both Grand Tastings, three seminars, and the VIP lounge.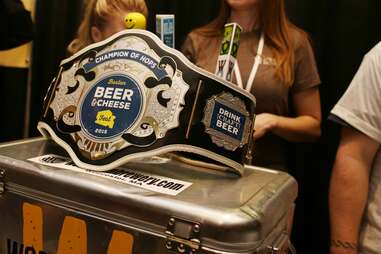 Combine your two favorite things at the Boston Beer and Cheese Fest
The
Drink Craft Beer
folks know just what you want, and that's beer and cheese. (What, no bacon?) Over three sessions (one Friday, two Saturday), the Cyclorama will be filled with 25 New England craft beer and cider makers, such as Night Shift and Bantam, and 25 local creameries like Crystal Brook Farm and Grafton Village Cheese. Together, there'll be 25 exclusive pairings for your eating and drinking pleasure, but feel free to make up your own stellar combos. (Gonna.)
Show off your winter scruff at Bearded Brewfest 2016
It's worth the short road trip to Portland to experience the glory of Facial Hair Entertainment's
Bearded Brewfest
(1-5pm). This trade show boasts 30+ vendors of man gear, as well as 30+ regional breweries and cideries (e.g. Henniker, Baxter). Of course, there will be various biggest/best competitions, so start planning your beard strategy pronto. Games and plenty of food round out the fun. Bonus: the event will benefit the veterans non-profit Til Duty Is Done. Get your
tickets
sooner than later.