It's another year and yet another moment for gym memberships to shine. If you've thought about signing up, you might want to consider your options first. Working out on your own and fighting over free weights can become monotonous so we've rounded up the top workout classes in Boston to consider for your cabin fever and New Year's resolutions -- from rowing to aerial yoga to pole dancing.
North End
As the city's first indoor rowing studio, Row Republic offers 50-minute boot camp-style classes packed with fast-paced, full-body workouts. Nicknamed the Deep Blue, the space turns completely dark minus the rays of blue light to help set the mood before you work nearly every muscle in your body.
Cost: $29 for drop-ins
Downtown
If you think you know barre, think again. Barre Groove takes a different approach to the core-strengthening and glute-toning workout with classes like Bounce & Barre, which is 45 minutes of intense cardio -- all on a trampoline. New to the lineup, Bounce & Dance Sculpt is 45 minutes of choreographed moves to let your inner dancer shine.
Cost: $8 for the first class, then $21 per class
South End
Looking to bump up your yoga game? For an elevated experience, check out Swet Studio's aerial yoga. In these 50-60 minute sessions, you'll work on your form and a variation of poses mid-air. Classes range in intensity, from the slower-paced "Deep Stretch" to the advanced aerial core classes. Swet Studio also offers rowing and meditation classes in case you're more interested in remaining on the ground.
Cost: $30 per class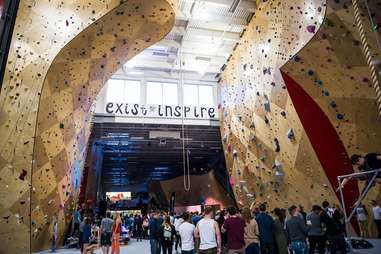 Somerville
You may think of rock climbing as a fun weekend activity or memorable date idea, but your upper body can be your best friend in this scenario -- or worst enemy. At Brooklyn Boulders, you can sign up for an intro to climbing or a Learn the Ropes class to learn the basics. You can even register for Yoga for Climbers or boot camp once you've quite literally reached the right level.
Cost: $36 for a day pass
North End
If you're an avid runner (like most everyone in the city), but would like to avoid braving the elements, classes at MYSTRYDE running studio might be your new addiction. The studio offers classes that incorporate both cardio and strength interval training, which can help pick up your pace and increase your time on the trails.
Cost: $28 for the first class
Multiple locations
If aerial yoga isn't your thing, CorePower Yoga is a great alternative to practicing traditional poses but with a twist. Classes are typically heated (except for CorePower Yoga 1) so you'll be sure to get a good break from the chilly temps for at least an hour. With upbeat music set in a modern studio to help you through, there's no doubt you'll be back for more -- just make sure you bring a water bottle and towel.
Cost: You can sign up for a free trial week, then $28 per drop-in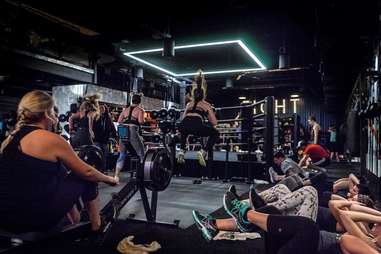 Financial District and Seaport
Founded by George "Monk" Foreman III, EverybodyFights is a studio that fosters the fighting spirit wrapped up in an encouraging community. You'll most likely meet friendly (while still intense) faces and passionate instructors that push you through a variety of classes that include treadmill workouts, circuit training, and boxing.
Cost: $25 per class
Somerville
From intro workshops to classes featuring stilettos, Fly Together Fitness takes pole dancing to new heights. If you're feeling ambitious but still skeptical, the choreography itself will leave you feeling as confident as ever. Classes are approximately 75 minutes long but expect to learn moves you never thought you could do.
Cost: $28 for the first class
Downtown, Back Bay, and Chestnut Hill
You've heard of it but now's the time to give Barry's a shot. This high-intensity boot camp can burn up to 1,000 calories with options to focus on your arms, abs, back, or total body all in 50-60 minutes.
Cost: $32 per class
Sign up here for our daily Boston email and be the first to get all the food/drink/fun the Hub has to offer.