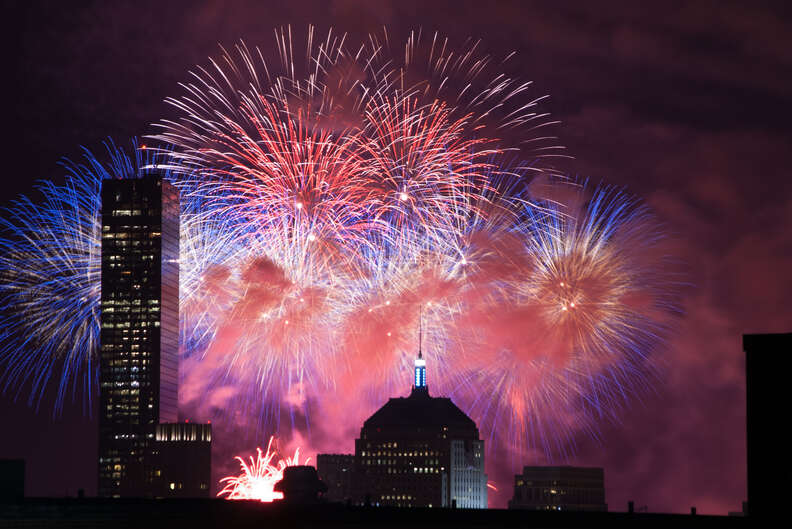 Where better to celebrate Independence Day than in one of the most historical cities in the nation? Boston's skies are lighting up all week long, but the biggest event of all is the annual Boston Pops Fireworks Spectacular. Taking place along the Esplanade, the fireworks start lighting up the Charles River promptly at 10:30pm.
We'll go ahead and save you a trip to your weather app: The rain is expected to hold out on Thursday with mostly clear skies and not-too-hot temperatures hovering around 70 degrees. Feel free to sport your red, white, and blue outfit of choice.
But, pray tell, where is the best place to watch the fireworks? We've rounded up the best scenic spots around Boston with a view of the action. Boston Pops is not the only show is town, and if you'd rather avoid the crowds, there are a handful of other fireworks displays happening around town (almost all for free). Let's begin.
Somerville
Starts at: 9:15pm
If you're pregaming the Fourth, Somerville has an early celebration on Thursday, June 27. The 20-minute fireworks display includes a performance by local disco-funk band Booty Vortex leading up to the main event.
Seaport
Starts at: 9pm
The Parade of Lights & Fireworks happening at the Boston Harbor is another opportunity to get your early Fourth of July fix. On Tuesday, July 2, head to the Boston Inner Harbor to see fireworks along the water. Plus, there's solid date potential: Make moves over to The Barking Crab, Trillium, Envoy's rooftop or Cisco Brewers for a beverage. You can't go wrong with fireworks and rooftop drinks -- unless you have nothing in common.
Downtown
Starts at: 8pm
On July 4, the annual Boston Pops Fireworks Spectacular will take place along the Esplanade, with a concert performance at the Hatch Shell. Musical guests will feature Queen Latifah, Amanda Mena of America's Got Talent, and The Texas Tenors. Afterwards, a massive fireworks display will commence at 10:30pm, with a lively soundtrack played throughout the show.
Financial District
Starts at: 8pm
If the thought of gathering amongst a crowd of 500,000 people at The Hatch Shell makes you want to crawl into a hole, try instead heading to The Greenway for a live simulcast of the concert and fireworks. There, you'll be able to view all of the action from a massive screen. It's like the drive-in, except there are no cars and you don't have popcorn butter smeared everywhere.
Cambridge
Starts at: 10:30pm
Hop off the Red Line at Kendall/MIT and claim your spot on the campus's lawn to view Boston's most hyped-up fireworks display from across the Charles. In past years, MIT has set up speakers to listen in on the show.
Somerville
Starts at: 10:30pm
If you're looking to stick around in Somerville for the Fourth, you can make your way to Prospect Hill Park for an incredible view of the fireworks. Since this is an elevated spot, you can still catch the show despite the distance.
Quincy
Starts at: 10:30pm
Do you prefer sitting near the ocean over the Charles? Pack your towels and head to Wollaston Beach for the Fourth of July. Since the major fireworks display starts later, you might want to round up your group a few hours early to find a sandy spot along the shore.
South Boston
Starts at: 10:30pm
For more views along the ocean, Castle Island gives you a glimpse at the Boston Pops Fireworks from afar. If you arrive early enough, you'll even witness fireworks from neighboring towns.
Brookline
Starts at: 10:30pm
To save you and your family from making a prolonged decision, settle on Brookline's Larz Anderson Park. The park has its fair share of picnic areas and charcoal grills, so you can have yourself a day leading up to the main fireworks event.
Allston/Brighton & Cambridge
Starts at: 4pm
Is taking a kayak out on the Charles part of your summer bucket list? Paddle Boston, a go-to for kayak and canoe rentals, offers an unforgettable view of Boston's Fourth of July fireworks. Launch from either the Allston/Brighton or Cambridge locations to enjoy the Fourth from the water. Rentals are a little pricey, ranging between $65-$90 for a single kayak, but at least you won't have to circle the park for hours trying to find a place on the grass.
Waltham
Starts at: 10am
If you're looking to steer clear of the city for the Fourth, Waltham's Prospect Hill Park will host its annual Fourth of July celebration with mini-golf, trolley rides, and, of course, plenty of food. At 9:30pm, mosey on over to Leary Field for the fireworks show.
Newton
Starts at: 1pm
Newton's Albemarle Field/Halloran Sports Complex will feature food trucks, amusement rides, and a craft fair for the city's Independence Day party. Stick around for fireworks at 9pm for a family-fun filled day and night.

Or watch the fireworks from one of Boston's best rooftop bars
Various spots downtown/Cambridge
Feeling fancy for the night? For breathtaking views, scope out the XV Beacon's rooftop garden. To get up to the roof, you'll have to book a night at the hotel -- which will cost you. Otherwise your best bet for a rooftop spot would be at Daedalus outside of Harvard Square. Seaport also has some of the city's finest rooftop bars to spot the fireworks from a distance -- including Envoy's Lookout Rooftop (as mentioned) and YOTEL's Sky Lounge Rooftop + Terrace.
Sign up here for our daily Boston email and be the first to get all the food/drink/fun the Hub has to offer.