Is the holiday season really upon us? Between the late Thanksgiving and the moderate temps, things feel a bit out of whack. But rest assured that freezing weather and shopping deadlines are still hurtling towards us like a giant snowball. Yes, once again it's time to embrace the city in all its frantic, brightly lit holiday glory. What does that mean? Shopping, eating, drinking; plays, carols, light shows; arts, crafts, cooking; five golden rings. Or something like that. Here is everything you must do in Boston during the holiday season.
November 29 - January 1
Rowes Wharf
Mainland life can be a little much this time of year. When you need to escape, hop aboard a 1920s-style motor yacht for an off-shore reprieve. Classic Harbor Line is all about themed cruises for the holidays, including its jazz cruise, the brunch cruise, and the sunset cruise. And for New Year's, make it a twofer with its fireworks show and next-day New Year's Day brunch.
Cost: $40-$185
November 29 - December 22
Boston Public Market
Sustainable grocery shopping + sustainable gift shopping = an easy excuse to spend money. The third annual artisan pop-up takes place for four weekends leading up to Christmas; this opening weekend, parse the wares of regional artisans Camla Jewelry, B-Organic, Treeline & Tide, and more. 
Cost: Free (at least when you get there).
November 22 - January 4
Stone Zoo
We promise, it's not just for the kiddos. Thousands of LED lights brighten up the homes of residential black bears, arctic foxes, a bald eagle, and -- yep -- reindeer. Fire pits along the way let you warm up. New this year are 40 life-sized Lego animal sculptures, from an elephant to a Tasmanian devil. 
Cost: $10-$15
November 29 - December 24
Kimpton Marlowe
As friends emerge from the woodwork to demand holiday get togethers, make this your go-to drinking spot for the next month. As part of a worldwide seasonal pop-up, the Kimpton Marlowe's lobby bar becomes maximized with garlands, stockings, and drink and food menus that play off the holiday theme. 
Cost: A la carte
December 3 - January 1
Faneuil Hall Marketplace
Blink and you'll miss it. Ha ha, nope. it's impossible to miss more than 350,000 LED lights wrapped around Faneuil Hall's monstrous Douglas fir and other trees around the property. And you certainly can't miss the actual seven-minute, musically timed performance, which begins its daily looping at 4:30pm and plays to seven different holiday musical favorites. 
Cost: Free
December 5
Boston Common
It's pretty much the official kickoff of the city's holiday season. Mayor Marty Walsh plugs into the holiday spirit by lighting both the Boston Common Christmas tree and the string lights throughout the Common and Public Garden. Before the big reveal, enjoy skating performances on the Frog Pond -- you might be inspired enough to hit the ice yourself later in the evening.
Cost: Free
December 6 - December 31
Somerville Theatre
It's not so much a retelling as it is a bawdy reinvention of Tchaikovsky's ballet classic. (There's a reason John Waters is a massive fan.). The adults-only parody of the beloved children's show recasts the kids as adults with names like The Dildo Prince and adds in a bunch of burlesques, belly dancing, and hula-hooping.
Cost: $30
December 6 - December 8
Nantucket
Give each other the gift of travel. Nantucket transforms itself into a winter wonderland for the weekend and lines its cobblestoned streets with hundreds of decorated trees. There's also carolers, craft shows, special restaurant menus, and a visit from Santa, who arrives via Coast Guard cutter.
Cost: Free
December 6 - December 8
SoWa Power Station
Shopping local never gets old. Everyone on your list can get a gift from any of the 130 local makers. Once you've maxed out your prezzie budget, enjoy a cocktail (or wine! or beer!) while watching live ice-sculpting , engaging in holiday-themed workshops, and browsing local galleries.
Cost: Free admission
December 6
North End
The tight-knit neighborhood bands together for a night of late hours, one-off discounts, and holiday treats. More than a dozen indie boutiques and galleries will stay open late to encourage both socializing and spending. But the advice remains the same: Don't attempt street parking.
Cost: Free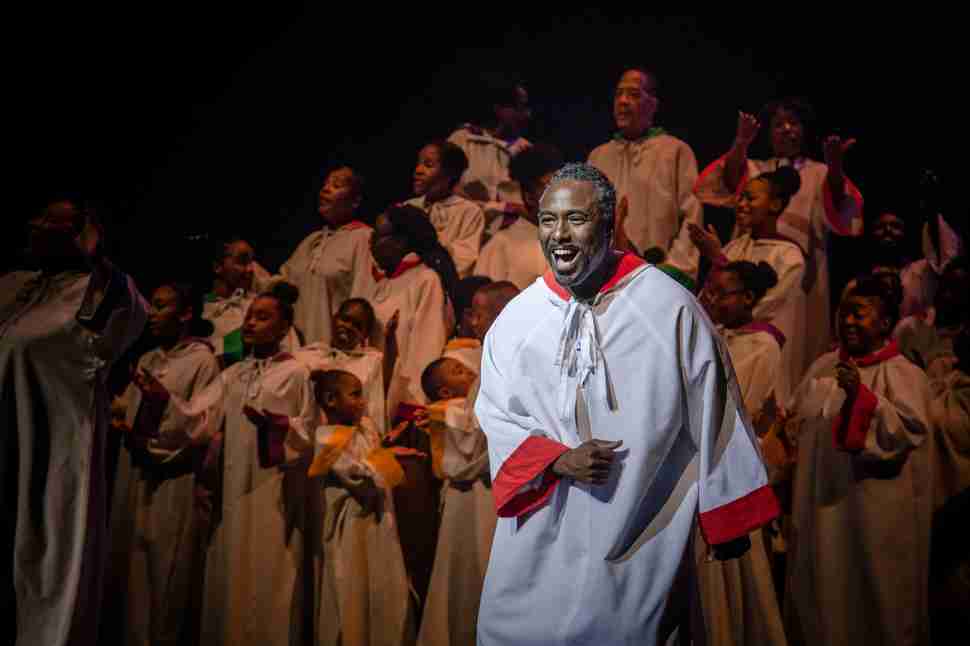 December 6 - December 22
Emerson Paramount Theatre
Why? Because the annual staging of Langston Hughes' nativity retelling always sells out, and sells out quickly. The National Center of Afro-American Artists puts on a performance that melds scripture, music, dance, and Hughes's poetry.
Cost: Tickets start at $35.
December 14
Back Bay
Get your IG filters ready. Cheer on hundreds upon hundreds of joggers as they take over the streets of Back Bay sporting little more than red hats and scandalous bathing suits (though folks get creative with their costumes). The annual run raises money for Play Ball Foundation, which funds sports in Boston middle schools.
Cost: $30 to register
December 10
Fairmont Copley Plaza
Because we're tired of the tinies having all the fun. Adults get their turn at the decorating table, tossing back some distinctly adult drinks while adorning their edible real estate. Tickets include canapés, lots of hands-on guidance, an open bar, and, of course, your new masterpiece to take home.
Cost: $85 per person
December 6-8 & December 14-15
Prudential Center and Cambridge Rindge and Latin School
Enough with the Amazon packages. Instead, spend two weekends browsing gift ideas from international free-trade vendors. The best part of the bazaar is that you can spend your time  leisurely chatting with the indigenous artists behind the work, the better to learn about their jewelry, textiles, and paintings.
Cost: Free to attend
December 14
Somerville City Hall
Okay, so not everyone gives their holiday lights 110 percent. But Somerville residents go all in: over-the-top lights, ornaments, shrines, and inflatable lawn decor. After a 45-minute trolley ride to take in all the holiday gaudiness, enjoy hot chocolate and cookies as you compare notes on the craziest houses. Just know that due to the Somerville High School construction, the route has yet to be determined.
Cost: $15 (cash or check only); $3 
December 18
Museum of Fine Arts
Like everything else, Hanukkah is super late this year. But don't fret: The museum is still here for you, with a tour of the MFA's Judaica collection, live musical performances, and a menorah created by local artists that serves as the centerpiece of a communal candle-lighting.
Cost: Free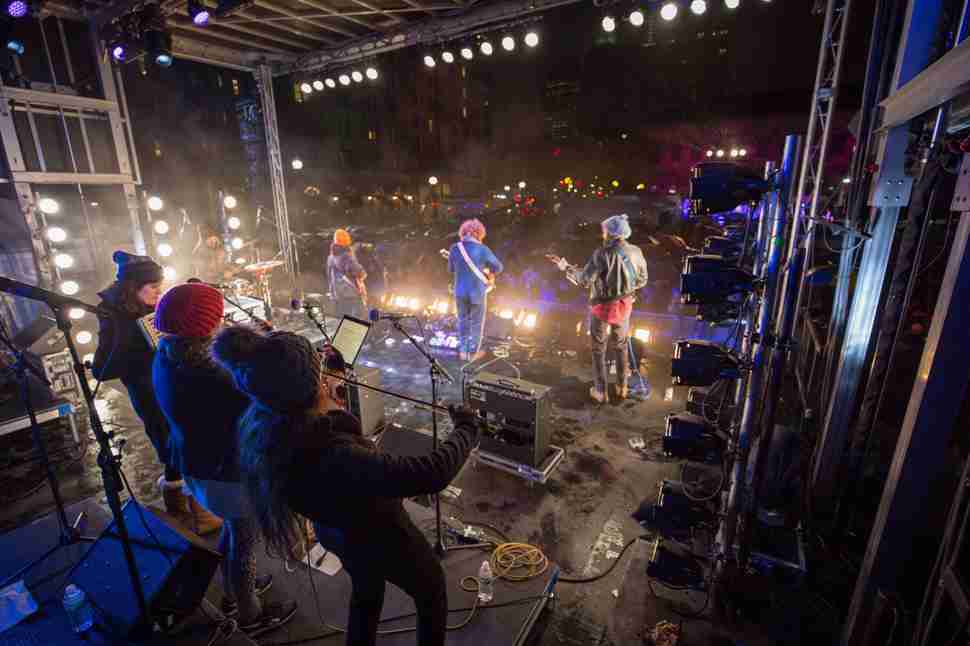 December 31 - January 1
Various locations
Are you looking for a mindless evening and a crippling hangover, or are you looking to start the new year on a healthier note? If it's the latter, the city's annual NYE celebration is all about G-rated entertainment, from dance lessons to ice-sculpting to ice skating to live musical performances. Just make your way to Copley Square before midnight, where the countdown includes a light and pyrotechnic show. Or head to the harbor for its own midnight fireworks. 
Cost: Free (although you can donate to the cause)
Sign up here for our daily Boston email and be the first to get all the food/drink/fun the Hub has to offer.