Along with al fresco happy hours aplenty and days spent lounging in the sun, June ushers in some of the most fun events of the summer for Pride Month. While in-person events have been on hold for the last few years (and we're still without the annual parade since Boston Pride officially dissolved), there are still plenty of ways to celebrate LGBTQ pride in Boston throughout June.
You can always visit local gay bars or run off to P-Town for some revelry, but special parties are happening in the city all month as well. Plus, from learning about LGBTQ history at historic sites around town to donating your time and money to a worthy cause, there are a lot of ways to make meaningful impact. So no matter how you want to honor this month, here are all the best ways to celebrate Pride this year in Boston.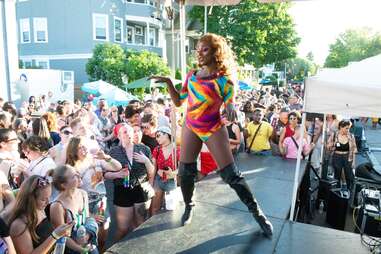 Head to Pride parties all around town
The month kicks off with the City Hall rainbow lighting ceremony on June 1, featuring Mayor Wu and a bunch of live performances from local LGBTQ artists. Atlantico is also hosting a free party that night that benefits BAGLY; think cocktails, DJed tunes, and complimentary oysters.
Over the weekend, Night Shift Brewing is throwing a Tea Dance on Saturday with Boston Proud down at Lovejoy Wharf and hosting a marketplace with LGBTQ makers the next day in Everett. From June 5-9, The Liberty Hotel is staging a whole week of event programming including a drag-show Yappier Hour, a Fashionably Late drag queen fashion show, and so much more.

On Friday, June 10, Roadrunner hosts a special drag and music fest hosted by Gay Bash'd, which raises funds for Trans Resistance MA. LesbianNightLife is hosting a rooftop party that same night at the Revere Hotel Boston. On Saturday, June 11, Pride takes over Landsdowne for Pride Bar Fest 2022 and SomerPride brings day and night music to Union Square. Lighthouse ArtSpace Boston will host two after-hours events on June 11 and 12 with LesbianNightLife and GayNightly. For those who would rather sweat in their sneakers than on the dancefloor, the Road of Rainbows 5K Run/Walk is back on Saturday, June 11, and you can enjoy a day in the sun at Pride Night at Fenway on Wednesday, June 15.
The parties wrap up with the Boston Urban Pride Weekend from Thursday, June 30 through Sunday, July 3, which includes a roller skating party and the crowning of Mr and Miss Urban Pride at an annual pageant.
Eat and drink the rainbow for a good cause
Indulging in all things rainbow is always a fun way to celebrate Pride Month, and it's made even better by food and drink specials around town that also support a good cause. Shore Leave is serving a Pride Roll with spicy Jonah Crab and cucumber, topped with salmon, hamachi, tuna, and avocado all month long, and a portion of proceeds goes to the Trans Justice Funding Project. ​​OAK Long Bar + Kitchen will serve three specials to fundraise money for BAGLY, including rainbow waffles during weekend brunch.
At popular wine shop The Urban Grape, you can directly support the community by shopping from the store's ever-expanding LGBTQ+ Producers Collection, one of the very few such collections in the country. Dorchester Brewing is releasing a new PRIDE beer to benefit the Trans Emergency Fund; head on over on June 11 for a big kickoff and release party.
Get involved with vital LGBTQ nonprofits
The best thing you can do to honor Pride Month is donate to local and statewide LGBTQ nonprofits. The Lesbians of Color Symposium Collective offers services and programming to empower LBTQ+ women and non-binary people of color. The Theatre Offensive offers a liberating art experience for transgender people of color. And Black and Pink Boston's aim is to do the work to dismantle the criminal punishment system, with the particular mission of freeing "LGBTQIA2S+ people/people living with HIV/AIDS who are affected by that system."
The Massachusetts Transgender Political Coalition is doing tremendous work around gender-confirming care during COVID-19, as is the Trans ID Project. Local groups like Fenway Health, AIDS Action, and GLAD have been fighting the good queer fight for a long time; BAGLY has been doing the same for queer youth (and be sure to check out the limited-edition Pride T-shirts from 195essential, 30% of proceeds go right to BAGLY). You can donate to LGBTQ Senior Housing, a nonprofit working to build Boston's first housing complex for low-income LGBTQ seniors. This is just the tip of the iceberg, so spend Pride Month educating yourself on local groups that need support, and donate your time and money.