The Boston Marathon and all its spectator fandom is finally back. With an expected 30,000 athletes participating in the race this Patriots' Day, Marathon Monday continues to be a monumental celebration for those both nearby and visiting.
This year, the Marathon is celebrating 50 years since the first official women's division by featuring eight women—from athletes to human rights activists—who will participate in a special Honorary Women's Team.
So get your crafty signs and comfortable shoes ready to go and read on for everything you need to know about the return of Marathon Monday.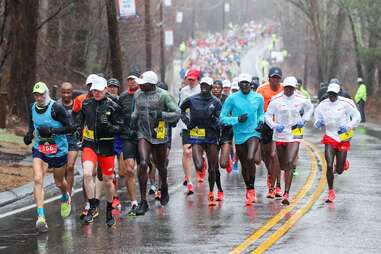 What time does the race start and end?
Get ready to kick the Marathon off at 9 am on Monday, April 18. (But if you're celebrating from the sidelines, your morning will be off to a much earlier start). Timing is broken down by the following divisions:
9:02 am: Men's Wheelchair
9:05 am: Women's Wheelchair
9:30 am: Handcycle & Duo Participants
9:37 am: Professional Men
9:45 am: Professional Women
9:50 am: Para Athletics Division
10 am: Wave One
10:25 am: Wave Two
10:50 am: Wave Three
11:15 am: Wave Four
As for when the race officially wraps, runners in each category have approximately six hours from the time the last official starter crosses the start line. So the race is likely to come to an official close around 5 pm.
What is the route?
Participants begin the 26.2-mile trek in Hopkinton and wrap up at none other than Copley Square's famous finish line. The course takes runners through Ashland, Framingham, Natick, Wellesley, Newton, and Brookline before entering downtown. Check out the Boston Athletic Association's course map or download the official app to find more spectator spots, hydration stations, mile markers, and more.
When and where are the street closures?
Downtown street closures and parking restrictions (there are a lot of them) will be in effect in neighborhoods like Back Bay, Beacon Hill, Brighton, Fenway-Kenmore, North End, and Government Center. Visit the City of Boston's Boston Marathon traffic advisory page for specifics so you can plan your commute without the chaos.
How do I keep track of a runner?
If you're keeping your eyes peeled for a specific runner, you can track them live via the B.A.A. app. How cool is that?
Where are the best places to watch?
The starting line in Hopkinton: If you're looking to witness that first rush of adrenaline, there's simply no better place to spectate. Plus, on Marathon Monday, Hopkinton is anything but your average small town. Grab a picture at the historic "It All Starts Here" sign or visit the nearby Start Line Brewing for a much needed beverage. Brewery doors open at 2 pm with Petty Larceny, the award winning Tom Petty and the Heartbreakers tribute band, putting on a show at 3 pm.
Lake Cochituate in Natick: If scenery is what you're into, consider the trip to Lake Cochituate. The sights alone will make all the time spent securing your spot worth it.
Scream Tunnel in Wellesley: Join in on the ceremonious noise deafening cheers in Wellesley College's famed Scream Tunnel. But you might want to skip out on giving out the traditional "kisses" for obvious reasons.
Newton's Heartbreak Hill: Around the 20-mile mark, runners are challenged to a steep half-mile uphill. Debated as one of the toughest parts of the course, Heartbreak Hill tests runners as they grow closer to the finish line. When we say closer, we're talking six miles left.
Boston College: Once runners leave Heartbreak Hill behind, they're greeted by crowds of Boston College students. Who better to bring energy to all of those participating than college students—their ability to hang is like no other.
Coolidge Corner: Aside from being an extremely quaint and lovable neighborhood, Coolidge Corner is only about a mile or so away from the city. As participants reach the last few miles of the race, expect to catch some triumphant moments. Afterward, you can poke around town and into places like Hops N Scotch for a cold one, Prairie Fire for their delicious pizza, and Lee's Burger for a fast but satisfying meal.
Fenway-Kenmore: With the Red Sox vs. Twins game finishing up later in the afternoon, fans will be pouring into the streets to catch runners on their final mile. And considering the fair amount of activities happening around Fenway and Kenmore Square on Marathon Monday, you could be looking at a much more eventful day (turned night). Hot spots like Fool's Errand (making a big return!), Trillium Fenway, Eastern Standard Kitchen & Drinks, Eventide Fenway, Hojoko, Loretta's Last Call, and plenty more are worth popping into
Copley Square: The finish line on Boylston Street is like no other, bringing about the biggest crowds and the biggest emotions. You simply don't want to miss it. It's best to arrive as early as possible to ensure high fives from the finishers and a chance to actually see your surroundings. For post-race cheers, check out the nearby Bukowski Tavern, City Bar Back Bay (at the Lenox Hotel), Oak Long Bar + Kitchen, Porto, and Solas Irish Pub. Not to mention, Bistro du Midi is offering a limited time only pasta dish in honor of the Marathon from April 15-18, prepared by the restaurant's executive chef and marathon runner himself, Robert Sisca. And over in the South End, The Beehive and sister restaurant Cósmica will host their eighth annual fundraiser in support of the Gillian Reny Stepping Strong Center for Trauma Innovation. So from 3 pm to midnight, 100% of profits will be donated to the organization's mission to fuel cutting-edge research and clinical programs in trauma healing and emergency preparedness.
Can I watch from home?
Yes! If navigating through crowds isn't your biggest strong suit, you can also watch the Marathon live on CBS Boston and for those tuning in outside of Massachusetts, you can watch via USA Network and the NBC Sports app.
Are there any other events going on around the race?
The B.A.A. will host its annual Mile 27 post-race party (presented by Sam Adams) at Fenway from 6:30 to 10 pm, featuring live entertainment, a presentation of the champions, Fenway Franks, drinks, and more. If you're participating in the race, there's no price for admission, but a general admission ticket will cost spectators $15 onsite. You'll even have access to the Red Sox's warning track (weather permitting) for a memorable lap around the historic field.
Leading up to Marathon Monday, the B.A.A. will also host its free Fan Fest at Copley Square Park. All weekend long from Friday to Sunday, catch a glimpse of famous Boston Marathon champions with live music, fitness classes, a Sam Adams tent, and more.