How to Celebrate New Year's Eve in Boston
Ring in 2023 with fancy dinners, lavish parties, and hangover brunch specials.
It's the age-old predicament of trying to come up with a solid plan for New Year's Eve. Should you go all-out or choose to lay low and avoid the hoopla completely? No matter which strategy sounds more appealing to you, there's no shortage of activities like fancy meals, bar parties, and low-key events to help you say goodbye to 2022 in Boston this year. If you're in need of a little inspiration for New Year's plans, look no further—here are the top ways to spend NYE in Boston this year.
Back Bay
If you're looking to sport your finest New Year's fit, look no further than at the lavish Resolution Ball at Westin Copley. The event will include Italian-inspired dinner stations followed by a whole slew of Tuscan appetizers, and after filling up, take a quick break and eventually get out to the dancefloor, which will be lit up until 2 am. There will also be a silent auction happening to raise money for the Ellie Fund, which helps provide assistance to breast cancer patients residing in or receiving treatment in Massachusetts.
Cost: $99-$199 per ticket
South End
Shore Leave never disappoints around the holiday season, from over-the-top decor to top-notch entertainment. And in honor of another year of exceeding expectations, Shore Leave is hosting a disco-themed NYE party with Boston-based drag performer Kirbie Fully Loaded and friends.
Cost: No cover before 10 pm; $30 per ticket after 10 pm (includes one drink ticket)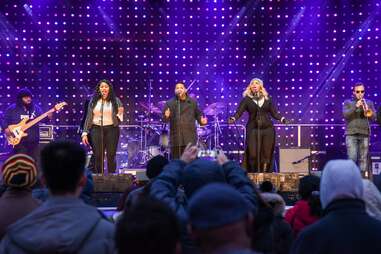 Copley Square
First Night Boston is back again to ring in the New Year, with a packed list of performers kicking off December 31 at 10 am leading all the way up till midnight. The celebration takes place in none other than Copley Square, featuring live bands, puppet shows, ice sculptures, the Frog Pond's ice skating spectacular, a parade kicking off just before 6 pm, drumming sessions to join in on, a laser show, and more, ending with a bang (literally) during the fireworks display at midnight over the Boston Harbor.
Cost: Free
Various locations
NYE activities tend to lead to extravagant celebrations, so why not look for an extravagant menu in the hours leading up? In Cambridge, choose from Alden & Harlow's a la carte eats and specialty cocktails or sister restaurant Waypoint's extensive list of fine spirits. Over in South Boston, there's Fox & the Knife for fresh pasta to lead you into the new year and Capo for more Italian dinner options plus dancing downstairs at its famous Supper Club. Back Bay's The Salty Pig will have charcuterie and festive specials all night along with French restaurant Bistro du Midi's full five-course meal. And forever dedicated to a good theme, Cósmica will host its New Year's Eve Fiesta Suprema featuring champagne margaritas, a la carte and a mariachi band. See the restaurants' websites for more on pricing and their NYE menus. Make sure you get that res as soon as possible!
Cost: Prices vary
Cover all the bases at Time Out Market Boston
Fenway
Time Out Market Boston, the culinary and cultural hub at 401 Park in Fenway, is back hosting its New Year's Eve party all night long. This year, the event, Kicks & Confetti, will feature music by DJ El Sid, tarot card readings, photo booth, late night bites, and of course, a champagne toast at midnight.
Cost: $95 per ticket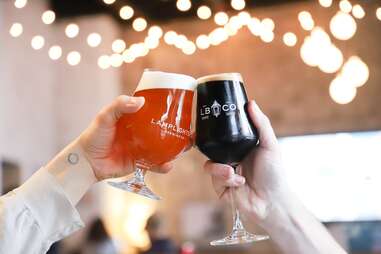 Bounce around brewery parties
Various locations
If you prefer to toast with an IPA in hand, there are quite a few options that should meet your standards. Night Shift Brewing in Everett is hosting a Y2K-themed party, with tickets coming in at $75 per person for two drink tickets and Brut Fizzylifter for the midnight toast. Meanwhile, over in Somerville, Aeronaut Brewing Co. is having its annual New Year's Eve bash featuring live music by DJ Donuts to get you dancing, Hungry Nomads food truck supplying their hot honey chicken sandwiches, and at midnight, a complementary pour of their event-exclusive Glitter Beer. Early bird tickets start at $15. There's also Hips and Hops Burlesque New Year's Eve Party at Notch Brewing in Brighton for $30 a ticket, NYE Masquerade Ball at Lamplighter CX for $40 a ticket, and another Y2K-themed bash over at Lamplighter Broadway for $30 a ticket.
Cost: $15-$75 per ticket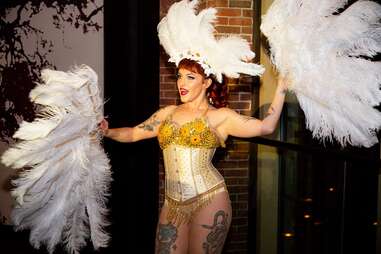 Beacon Hill
The luxurious Liberty Hotel is ready for its annual NYE party. This year's party, Gilded, a Lavish New Year's Fête, will include live DJs and of course dancing, not to mention live aerialist and cirque performances by Boston Circus Guild on all levels of the hotel. Talk about extravagant! General admission tickets will get you access to both the Liberty and ballroom bars, dance floors along with access to the fourth floor rotunda cash bars, and light bites buffet from 8 to 10 pm served on the fifth floor rotunda.
Cost: $205 for last chance general admission ticket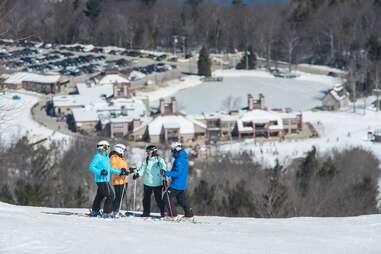 Spend the day on the slopes
Princeton, Massachusetts
More of the adventurous type? Wachusett Mountain in Princeton has more than 11 trails, five lifts, and ideal skiing conditions and sights for those avid winter sport enthusiasts. The resort is also hosting its annual New Year's Eve celebration with skiing from 7 pm to midnight, an outdoor DJ, parade, and more—not to mention suites are available featuring stunning views and top-tier dinner options. If you're looking to only spend the day, check out our list of the best ski slopes in New England for more ideas.
Cost: Lift ticket prices vary
Various locations
When New Year's Eve rolls around, it can be stressful to come up with plans. So this year, why not spend the day taking in the city's picturesque backdrop and carving time out for a leisurely stroll? Along downtown's waterfront, you can admire the ice sculptures lined up as part of Boston Harbor's Ice Sculpture Stroll from 1 to 5 pm. And while you're there, stay a while to eventually catch a glimpse of the holiday lights and get a pic under the trellis at Christopher Columbus Park.
Cost: Free
Fenway
For some mid-day activity, The Rink at 401 Park will be open on New Year's Eve from 11 am to 8 pm. While you're there, you have all the food and drink options around you considering its Fenway neighborhood location, and more specifically, this gem is conveniently the center point between Time Out Market Boston and Trillium Fenway. For more ice rinks, check out our list of the top spots around Boston for skating.
Cost: Depending on the rink, admission is either free or tickets can range from $6-$10
Charlestown
The Anchor, Boston's multi-story public gathering space, performing arts venue, and open-air wine and beer garden, is hosting its Navy Yard New Year party kicking off at 7 pm. You can reserve your package online, with offerings from the Pop, Fizz, Clink, which gets you a glass of prosecco, fleece blanket, and set of hand warmers or the Ring in the New Year, perfect for larger groups, which includes a glass of prosecco, fleece blanket along with a mulled beverage, access to the dessert bar, $50 food and beverage credit, and more.
Cost: Packages run from $19.99-$499