Boston New Year's Eve Parties You'll Actually Enjoy
You did so well this year: bought all your presents with time to spare, nailed your Secret Santa gift, decorated you apartment well before late December, and made it through all your holiday parties without embarrassment or regret. Except one thing. You forgot to make New Year's Eve plans. This is where we come in. We've done the heavy lifting to curate a list of Boston parties that'll please enthusiasts and curmudgeons alike. Get down and dirty or keep it clean, spend a lot or spend a little, go out early or stay out late. And if you want to delay thinking about the next decade for one more day, we also have a few next-day brunch plans for you. The only question you have to ask yourself: What are you feeling like this year? 
Shore Leave
Who needs a Hawaiian getaway when you can hula into 2020 with a pig roast and a bunch of drag queens? The tunes start at 8pm thanks to DJ Brother Cleve, with the drag performances happening at 11pm and midnight. You can order special a la carte delicacies (Spam musubi, BBQ ribs, and Kalua pork) or bring your posse (eight or more people) and spring for the $400 roast suckling pig with all the expected accompaniments (order by 12/23).
Cost: Free admission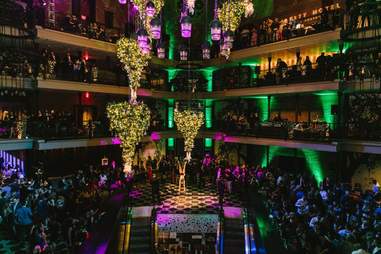 Burlesque - A Risqué New Year's Eve Celebration

| Liberty Hotel Boston
Liberty Hotel
Imagine performers from the Boston Circus Guild occupying every floor of The Liberty as you sashay around in your sultriest outfit. The ticket includes access to the Liberty Bar, the Ballroom Bar, and the fourth Floor rotunda, each of which will have its own DJ; when you start to feel peckish, head to the fifth floor rotunda for a light buffet from 8-11pm.
Cost: $120 ($150 for last-minute admission)
Better Sorts Social Club
There's nothing like a mask to rid you of your inhibitions -- even better when the mask is provided to you free of charge upon entrance. Don your best Eyes Wide Shut apparel and become a whole other person on the last night of 2019 (hint: champagne helps).
Cost: $95
South Boston Yoga
One of Boston's best yoga studios has kept this NYE tradition going for ten years now, and it only gets more popular every year. The two-hour class starts with a sweaty flow, then segues into a series of restorative poses. You'll then usher in the new year with a silent meditation that'll likely leave you feeling a lot better about yourself than that drunken midnight kiss with a sweaty someone-or-other last year. And don't forget: the studio has its own disco ball.
Cost: $25 in advance, $30 day of
The Smoke Shop Assembly
Maybe your life circumstances changed drastically this past year. But just because kids have come into life doesn't mean you can't celebrate. The afternoon party includes kid-friendly games and activities, a separate BBQ buffet for adults, free baby carriage valet, and a balloon drop at 4:30pm.
Cost: $10 for kids 6-12 years, $25 for adults; free for children under 6
'Friends Pop-Up'

| Superfly
401 Park
It's important to be honest about who you are. And if you're the kind of person who can envision no better evening than one spent chilling at Central Perk, throwing out a few Chandler zingers, and learning the Ross and Monica Dick Clark's New Year's Rockin' Eve dance routine, then you have found your Nirvana. The pop-up will stay open until 1am, and all guests, no matter what time they arrive, will receive a complimentary champagne flute. 
Cost: $55
Duxbury
Want to make sure you're invited back next year? Then show up with this over-the-top spread: 50 Island Creek Oysters, 50 grams of Island Creek caviar, and two pounds of cooked shrimp. And don't delay -- oysters can actually chill in the refrigerator for up to 10 days, so you might as well place your order sooner rather than later.
Cost: $250
MGM Springfield
I mean, hell, which not just give in entirely? The entire casino is pulling out all the stops for the night, including multiple comedy shows and live music performances, a decades-themed dance party, multiple dinner specials (how's a 20-ounce lobster tail hit you?), and VIP packages at both the bowling alley and the outdoor igloo experience. And yes, there are still rooms available.
Cost: VIP bowling packages are $350; igloo experience starts at $500
Restaurant Dante
Not every NYE needs to be epic. Show up at 10pm and spend the next four hours dancing your cares away with views of the Charles River as your background. It's basic, it's carefree, and it's wallet-friendly. 
Cost: $20
A4Cade
The 2000s were a simpler time: baby social media, baby smartphones, baby Britney. Oh, and far cheaper parties. Look backwards before looking ahead at an anachronistic shebang that includes throwback tunes, real arcade games, and a complimentary Jell-O shot at midnight (things didn't get classy around here until the 2010s at least). 
Cost: $25
Bar Mezzana
Next year is already shaping up to be another unnerving one, but at least you can say it began with tiki drinks and Hawaiian shirts. On top of some indulgent brunch specials, there will also be -- wait for it -- magnums of your favorite wine in case you want to revisit the excesses of the evening. Nothing like a little (mustache) hair of the dog. 
Cost: A la carte 
Black Lamb 
Not everyone wants you to immediately break your resolutions. Kick off the next decade by keeping costs down: one-buck shucks and caviar at cost should do the trick. Or the lobster omelette and French toast while you keep the party going with bubbles and juices for your table.
Cost: Rest of menu is a la carte
Sign up here for our daily Boston email and be the first to get all the food/drink/fun the Hub has to offer.