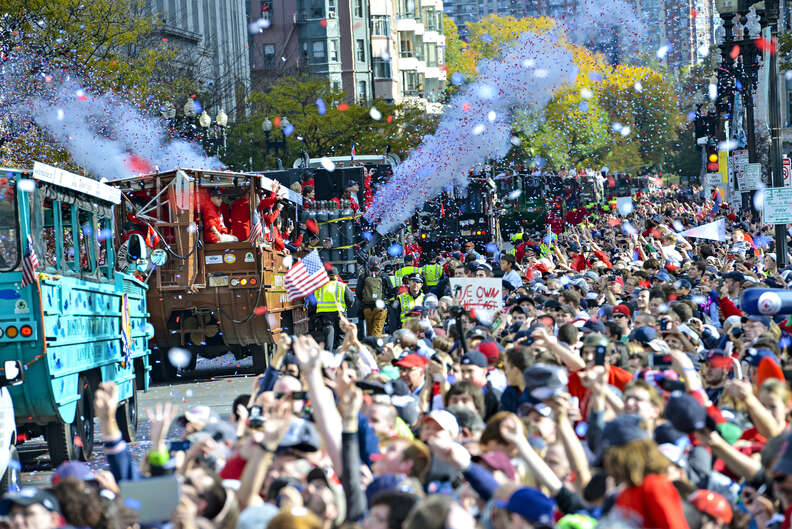 It's that time again: duck boat time! After securing a 5-1 World Series win against the Los Angeles Dodgers on Sunday, the Red Sox are coming home, and Boston's gearing up to fete them in style. Moments like Eduardo Nunez's three-run home run in Game 1 and Mitch Moreland's epic homer that clinched Game 4 will now make it into the history books, and somehow watching all 18 innings of Game 3 was worth it in the end. All that's left to do now is fire up the duck boats and take to the streets (again).
Here's everything you need to know about the Red Sox World Series victory parade.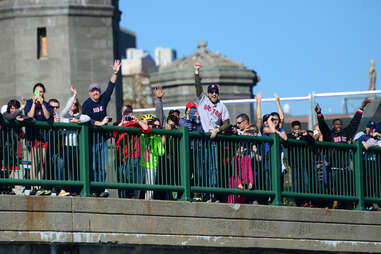 Where and when will the parade start and end?
According to details announced by Boston Mayor Marty Walsh and the City of Boston, the parade kicks off bright and early at Fenway Park on Wednesday, October 31 at 11am. Mostly following Boylston St, the parade and its scores of duck boats will end at the corner of Cambridge St and New Sudbury St near Boston City Hall.
What is the parade route?
The route starts at Fenway Park on Landsdowne St and will hang a right on Ipswich St, continuing on Ipswich before taking a left on Boylston St. It will follow Boylston St through Back Bay and up to Boston Common opposite the flow of traffic before making a left onto Tremont St. From Tremont St it's a left onto Cambridge until you get to City Hall and New Sudbury St.
How do I get there?
Don't drive. Just don't. There is a long list of streets under a parking ban that goes into effect at 12am Tuesday and continues on additional streets through Wednesday. Even if you don't plan to park on them, parking will be hell, and you'll probably just make it harder for yourself and kill any time you saved by driving. "Do not try to drive to the parade," Walsh said at a press conference, encouraging folks to take public transit instead.
The MBTA and commuter rails will provide additional service for Sox fans on Wednesday morning. For more information on this, check out the city's website.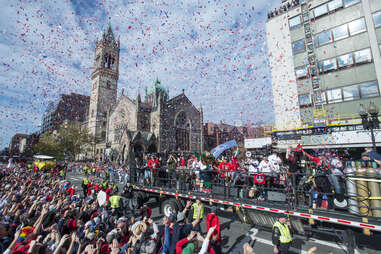 What will the weather be like?
The parade is on whether it rains, pours, hails, snows, or shines, but the weather forecast mostly looks good, leaning toward the "shine" end of the spectrum. As of mid-day Tuesday, the report for Wednesday is partly cloudy, with a high of around 56 degrees, low of 53 degrees, and a 10% chance of precipitation. Fingers crossed it stays that way.
What should I wear?
Obviously every shred and strip of Sox gear you own. And the weather doesn't spell doom for anyone out there, but my loving mom would probably advise me to bring a sweater, if not a coat, so I'm going to tell you to do the same.
Anything else I should know?
Have a blast! But also, for the love of Christ, stay safe. Don't be an asshole. Don't break stuff that doesn't belong to you. Don't break any bones that do belong to you! I won't tell you "don't drink too much," but definitely don't climb high things and jump off.
In his remarks at the press conference, the mayor emphasized safety to a city known for its rowdiness. "Don't do anything on the streets of Boston on Wednesday morning that you wouldn't do in your own house," Walsh said. "Be respectful of the city, be respectful of the property, be respectful of the people, be respectful of the businesses, be respectful of the Red Sox. When you come into town, just come in to enjoy the parade."
Sign up here for our daily Boston email and be the first to get all the food/drink/fun the Hub has to offer.