Everything You Need to Know About Boston's St. Patrick's Day Parade
Including the parade route, nearby Irish pubs, and other ways to celebrate St. Patrick's Day in Boston.
After a two-year hiatus, Boston's St. Patrick's Day parade is finally back—and if there's ever been a time when we've earned an outdoor party, it's now.
The country's oldest running St. Paddy's Day parade will return this year at 1 pm on March 20. The event typically attracts up to 1 million spectators, but this year it will see a reduced route to keep that number down a bit. Despite COVID-19 precautions, viewers will see many of the same offerings. Organized by the Allied War Veterans Council of South Boston, the parade includes marching units, military vehicles, floats, and costumed performers galore—from as many as 20,000 participants in any given year. Oh, remember the reintroduction of "The Mayor of Southie" in 2019? The "election" is back again, and this year's contenders are Romina Bendo and Patrick Dillon, with voting happening through March 15.
With so much Irish heritage in the city, there are plenty of events in Boston where you can revel in the streets and celebrate St. Paddy's Day. Here's everything you need to know to navigate Boston's St. Patrick's Day parade this year, from the parade history and day-of specifics to other parties and all the best Irish bars to visit before, during, and after the event.
What time does the parade start, and what is the route?
The parade starts at 1 pm, and this time around, the route is just one mile and far less complicated than usual. In fact, it's the route that's been used in years past when the weather was really crappy. The processional will start at the Broadway T Station and continues down the entirety of Broadway, ending at Farragut Road. For once, there's no need to turn around trying to come up with a creative viewing spot.
So, what is the best viewing spot?
The name of the game is securing wherever you can muscle your way in—and the sooner the better. Veteran parade-goers often secure prime viewing spots with the Southie space saver of choice: the lawn chair. This time around, Broadway will be an absolute mob scene. So you could commit to morning-of restaurant dining and secure a window seat at one of the many restaurants on Broadway. But if the thought of all those crowds is wigging you out, settle in with a Guinness at home and watch the parade live on NECN.
How far back does Boston's St. Patrick's Day history go?
First things first: Boston was the first American city to celebrate St. Patrick's Day 285 years ago. Our parade is also a bizarre hybrid celebration of St. Patrick's Day and Evacuation Day, the holiday no one outside of Suffolk County has ever heard of. For those not up on their Revolutionary War history, Evacuation Day honors General George Washington and his fortification of Dorchester Heights (a terrific viewing spot for the parade, FYI). This caused the British to—wait for it—evacuate Boston on St. Patrick's Day. Evacuation Day was made an official local holiday in 1901, when South Boston held a parade to celebrate and the tradition was born. (Our state legislature has periodically debated getting rid of both Evacuation Day and Bunker Hill Day, citing the work hours lost. To which we say: Pfffffft.)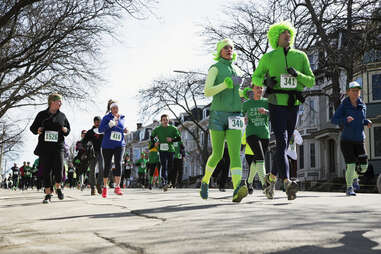 What else is there to do that weekend?
Things starting to feel normal again: the Dropkick Murphys' run of "blowout" shows at House of Blues is back; the annual St. Patrick's Day Road Race before the parade has returned; and of course, there are Irish bars and pubsd hosting themed brunches galore, both along the parade route and throughout the city at large. And don't you fret: Anna's Taqueria has once again unveiled its lauded corned beef burrito.
Planning on pregaming? Blackmoor Bar & Kitchen will kick the party off on Thursday, and Dorchester Brewing is going strong all weekend. Lucky Lounge is throwing a day-of music party. Boardgame bar, Tavern of Tales, will lure you in with special game-themed St. Paddy's day parties on Thursday and Friday. We're predicting a steady run of events from Thursday through Sunday night and even lower-than-usual remote work productivity on Monday. Ah, Boston living.
Meaghan Agnew
looks more Irish than she is, which means she always gets more free drinks than she deserves on March 17. See how many by following her on
Twitter
and
Instagram
. ​​​​​​