It's not Pride as we typically celebrate it -- and yet, it sort of is! No, we don't have a parade again this year, but flags are flying fast and furious, drag brunches are coming back strong, and Provincetown recently held its first tea dance in more than a year (proof of vaccination required). Little wonder that the theme of this year's Pride is "The Rainbow After the Storm," reflecting a long-overdue sense of excitement and hope after the last 16 months of, well, hell.
So how to celebrate this bridge year? Let us count the ways.
Hit up in-person and virtual Pride parties
First off, the parade is not canceled, only delayed—the plan is to hold it this fall, but you might as well set up your lawn chair now, because that ish will be LIT. Meanwhile, we're looking at a hybrid of official events this month including in-person Pride Night at Fenway (June 10), a virtual Express Your Pride Day on social (June 13), and pride illumination throughout the month. Plus we have a virtual Mayoral Candidate Forum (June 14) moderated by Sue O'Connell that will give each candidate the opportunity to put forth their positions on policies and issues affecting the LGBTQIA+ and BIPOC community. This, of course, on top of all the informal events happening throughout the city, from brunches to wine dinners to dance nights to daytime family celebrations to even more brunches.
Drop some cash at queer-owned bars and restaurants
Full reopening is fully upon us, y'all, and things are feeling eerily normal. Which means it's time, first and foremost, to revisit all the queer faves. Cathedral Station is now open at 2 pm on weekdays, just in time to sneak out for a midday reprieve and some Red Sox action. DBar's nightlife scene isn't quite back up to par just yet (June 13's Tea Dance excepting!), but that epic expanded patio still beckons. Stalwart Club Cafe is fully back in action (weird!), as are the likes of The Alley Bar and Jacque's Cabaret; and keep an eye on Trophy Room, which is slated to reopen in August. (Of course, not everyone survived this ugly time—while you're on the town, be sure to pour one out for the Eagle Bar and Bella Luna & The Milky Way. RIP.)
There are literally hundreds of LGBTQ+-owned businesses in our state, many of which we all thankfully supported during this past year and change of pandemic time. So where are we putting our money right now? Queer-owned and -operated wine bar Rebel Rebel in Bow Market, Tiffany Faison's entire restaurant franchise, LGBTQ+-friendly cafe and bookstore Trident Booksellers in the Back Bay, the queer-staffed Diesel Cafe in Somerville, and beloved fave Metropolis Cafe, which debuted its first-ever patio this season.
Spread rainbow love, not rainbow capitalism
We scoff as much as the next person when a giant corporate bank trots out the rainbow flags each June. BUT, there are a lot of local small businesses embracing the flag for far better good. Flour Bakery and Cafe is selling a rainbow Rice Krispie treat cake and rainbow sable cookies throughout the month and donating a portion of proceeds to BAGLY. The Urban Grape has built an LGBTQ+ Producers Collection, one of only two known such collections in the entire country. Nightshift Brewing has created a Celebrate Pride virtual marketplace to honor and uplift its favorite local LGBTQ+ makers, creators, and business owners; a portion of proceeds from its Proud. Pale Ale and Proud Roast coffee releases will benefit the It Gets Better Project. Clink is relaunching its Summer Outdoor Dinner Series on June 10 with a $95 sit-down meal that raises funds for The Theater Offensive. And we won't lie, we're suckers for the Pride cones that Starlite Snack Shack has whipped up this month.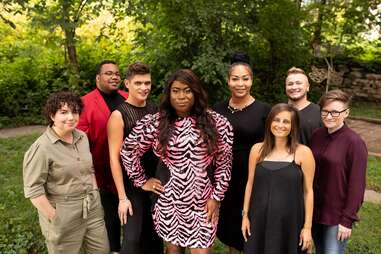 Get involved with vital nonprofits
Every year, the best thing you can do to honor Pride month is donate to local and statewide LGBTQ+ nonprofits. And protecting the rights, safety, and dignity of queer people of color should continue to be our highest calling. The Lesbians of Color Symposium Collective offers services and programming to empower LBTQ+ women and non-binary people of color. The Theatre Offensive offers a liberating art experience for trans folks of color. And Black and Pink Boston's aim is to do the work to dismantle the criminal punishment system, with the particular mission of freeing "LGBTQIA2S+ people/people living with HIV/AIDS who are affected by that system."
The Massachusetts Transgender Political Coalition is doing tremendous work around gender-confirming care during COVID-19, as is the Trans ID Project. Local groups like Fenway Health, AIDS Action, and GLAD have been fighting the good queer fight for a good long time; BAGLY has been doing the same for queer youth (and be sure to check out the limited-edition Pride T-shirts from 195essential since 30 percent of proceeds go right to BAGLY). And last but certainly not least, you can donate to LGBTQ Senior Housing, a nonprofit working to build Boston's first housing complex for low-income LGBTQ+ seniors.