That 13-3 victory against the Rams may not have been the prettiest -- in fact, it was the lowest-scoring Super Bowl in history -- but a championship is a freakin' championship. Or as a sleep-deprived Julian Edelman put it on CNN: "I'll take an ugly win over a pretty loss any day." And so, a mere 14 weeks after the Red Sox victory parade, the duck boats are set to roll once again, this time in honor of the NFL's greatest dynasty. (Yeah, we went there.) Once you're done rehashing the quality of the ads, Gilmore's interception, Gronk's 29-yard reception, Belichick's defensive plan, and Edelman's all-around awesomeness (for all we know, he and Brady are still hugging on the Mercedes-Benz Stadium sidelines), don your Pats apparel and take to the streets once more.
Here's everything you need to know about the Patriots Super Bowl victory parade.
Where and when will the parade start and end?
According to details announced by Mayor Walsh and the City of Boston, the parade kicks off at Hynes Auditorium (corner of Boylston and Hereford) on Tuesday, February 5 at 11am. (So well-versed are we in this whole winning thing that Mayor Marty Walsh tweeted out a few details of the parade mere moments after the clock hit 0:00 Sunday night.) The rolling rally will end at City Hall on Cambridge St.  
What is the parade route?
The route starts at Hynes Auditorium and will travel the length of Boylston Street before taking a left onto Tremont Street, working its way past Boston Common, before ending up at Cambridge Street and City Hall.
How do I get there?
Hopefully you know this by now, but once more for the cheap seats: Don't drive. The extensive parking restrictions start to kick in today, and cars will be towed starting 6am on Tuesday. So plan on walking or Ting it -- the MBTA and commuter rails will provide additional service for Pats fans on Tuesday morning. Lyft is also offering $6 rides to the parade route from 5 to 11am; just use the code SIXRINGS (obviously named for the latest round of Super Bowl rings).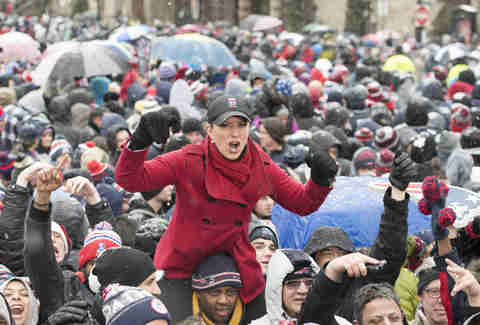 What will the weather be like?
You might remember that the weather in 2017 was rotten: rain, snow, sleet, the works. This time around, though, we're golden: a high of 58 degrees, and only a 20% chance of precipitation, with some sun poking out later in the day. You know what that also means? Patio season, at least for a day: Lots of restaurants along the parade route plan to open up their outdoor space (see more info below). The only thing  to be aware of is that temps are slated to fall to 29 degrees that night, so if you're planning to party Mike Napoli-style, you might want to bring your your warmer coat.
What should I wear?
I mean, duh. Pats jerseys, Pats hats, Pats beads, Pats face paint, Pats everything. See above about a coat, but a hoodie beneath a jersey should carry you through the day.
Where can I eat and drink?
The Boylston bars and restaurants have the whole thing down pat at this point. Summer Shack opens at 10am and is offering a free cup of chowder from 11am to 1pm. City Table swings its doors open at 6:30am and starts slinging brunch at 7am. Ora Trattorizza will be slinging football-shaped pizzas and will open its patio. Back Bay Social Club, which opens at 8am, will deck the halls with Pats decorations and also plans to open its patio.
And it's not just the parade-route restaurants offering specials. All three Smoke Shop BBQ outlets will be giving away free pulled pork sandwiches to the first 200 patrons (doors open at 11am). And Sonsie -- one block away from the parade route, and one of Brady's favorite restaurants -- plans to open its bar at 9am.
Anything else I should know?
Just do right by the team and the city. No fights. No breaking stuff. No throwing stuff, unless it's a canned beer to Gronk. No public vomiting. No climbing into trees and then jumping. In sum, don't be an asshole. But to be fair: In 2017 there was only one reported arrest post-parade, and that dude was from Los Angeles.
And that's it! Until next year anyway.
Sign up here for our daily Boston email and be the first to get all the food/drink/fun the Hub has to offer.