On March 9, it was announced that the 2020 St. Patrick's Day Parade in Boston had been canceled due to the coronavirus outbreak. The decision was made "out of abundance of caution to ensure that we are doing what is needed to keep the residents of Boston safe and healthy," Mayor Martin J. Walsh said in a statement.

The following article was published prior to the announcement and includes other St. Patrick's Day events in and around Boston unrelated to the parade.
If a Boston winter comes and goes without debilitating snowfall occurred, did it really happen? The St. Paddy's Day parade typically marks the beginning of spring for scores of Boston revelers (we're impatient that way), but this year it feels a bit . . . unearned. Then again, maybe we should just thank the luck of the Irish for a mild season and move on. With the 119th iteration of the city's St. Patrick's Day Parade nearly upon us, there's no time to fuss about winter angst.
So how big is Southie's annual procession? The parade annually attracts up to 1 million spectators each year, even during inclement weather. Organized by the Allied War Veterans Council of South Boston, the parade includes marching units, military vehicles, floats, and costumed performers galore -- as many as 20,000 participants in any given year. Oh, and last year marked the reintroduction of "The Mayor of Southie." Finalists competed to raise money for the council. This year's winner is Christina Andrade, whose campaign poster included her dog Lincoln for "Good Boy," so we're in complete approval.
But tradition, schmadition. This is above all an al fresco party, an excuse for Bostonians to revel in the streets even when there's no championship parade on the horizon (sniff). Here is everything you need to know to navigate the craziness, from the parade history, to the day-of specifics, to everything you'll be doing before, during, and after.
What time does the parade start, and what is the route?
The parade starts at 1pm and will last around two and a half hours. The 3.2-mile route sounds more complicated than it is, but it's really just a long, eventually narrow pathway that doubles back from where it began with a couple of quick turns thrown in. The procession begins at the Broadway T stop at the corner of West Broadway and Dorchester Avenue, heads up West Broadway, then takes that soft left onto East Broadway. After that, it's a right onto P Street, another right onto East 4th Street, a left onto K Street, another quick right onto East 5th Street, a short left onto G Street, a quick right onto Thomas Park, and then follow it onto Telegraph Street and Dorchester Street, traveling through Andrew Square, continuing onto Southampton Street, and ending up on Ellery Street. Whew.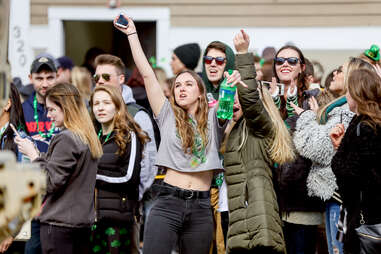 What's my best viewing spot?
While Broadway is the obvious choice, it's really wherever you can muscle your way in -- and the sooner the better. Veteran parade-goers secure plum viewing spots with the Southie space saver of choice, the lawn chair -- which has been sorely underused this season, so folks might be more rabid than usual. You can also commit to morning-of restaurant dining and secure a window seat at one of the many restaurants on Broadway. (Although, sadness: Doughboy Donuts won't be open this year due to the hassles of "drunk people." Whatever do they mean?) And of course, an invite to a parade route party promises you great views, bodily warmth, and legal imbibing.
What are the parade rules?
The Allied War Veterans Council prefers to call it a "code of conduct," but yup, there are rules and regulations. Here's the full rundown of all the parade no-nos. Shorter list: don't be political, and don't be an ass.
Conduct a demonstration or political protest.
Use vulgar language, either written or spoken (good luck to the aural police on the latter).
Get nude or otherwise indecently expose yourself, which will earn you a lifetime parade ban.
Throw any objects except those that are pre-approved for float riders and gently handed down to parade participants; no distribution of any printed materials of any kind.
How far back does Boston's St. Patrick's Day history go?
Our parade is a joint celebration of St. Patrick's Day and Evacuation Day, the holiday no one outside of Suffolk County has ever heard of. For those not up on their Revolutionary War history, Evacuation Day honors General George Washington and his fortification of Dorchester Heights (a terrific viewing spot for the parade, FYI). This caused the British to -- wait for it -- evacuate Boston on St. Patrick's Day. Evacuation Day was made an official local holiday in 1901, when South Boston held a parade to celebrate and the tradition was born. (Our state legislature has periodically debated getting rid of both Evacuation Day and Bunker Hill Day, citing the work hours lost. To which we say: Pfffffft.)
Like many others across the land, our parade was justly mired in controversy for decades owing to its decision to ban LGBTQ groups from participation. But current operations director Bryan Bishop is the founder and leader of OUTVETS, an LGBTQ group that just three years ago was initially banned from marching in the parade. Times have changed, albeit way too slowly.
There is as yet no word whether the Veterans for Peace will be allowed to participate this year. Denied entry for years, the organization instead created the Peace Parade, which follows the main event and rallies for peace, equality, jobs, environmental stewardship, and social and economic justice.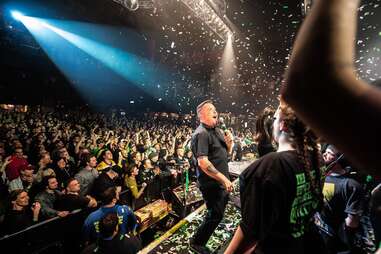 What else is there to do that weekend?
There's the usual: the Dropkick Murphys' run of "blowout" shows at House of Blues; the annual St. Patrick's Day Road Race before the parade benefiting the Edgerley Family South Boston Club; the "you're not invited" St. Patrick's Day Breakfast; the "you're all invited!" Irish sessions at the Burren, Black Rose, and Brendan Behan (the latter of which is getting an outdoor patio soon!). And, of course, there are Irish-themed brunches galore, both along the parade route and throughout the city at large (yes, green eggs figure prominently).
Planning on pregaming? Encore Boston Harbor is hosting an Irish Whiskey Fair on Thursday. Flight Club will have green cotton candy over the weekend. Lucky Lounge is throwing a Pre-Paddy Satty. New board game bar Tavern of Tales will lure you in with a special games-themed St. Paddy's day party, also on Saturday. Black Lamb is offering Irish Coffee all week starting Saturday. Summer Shack Cambridge is dishing out a traditional boiled dinner starting on Wednesday.
And that's just some of what we know about as of press time. Given the awkwardness of the actual holiday falling on Tuesday, we're predicting a steady run of events from Thursday through Tuesday night and lower-than-usual work productivity on both Monday and Wednesday. Ah, Boston living.
Sign up here for our daily Boston email and be the first to get all the food/drink/fun the Hub has to offer.
Meaghan Agnew looks more Irish than she is, which means she always gets more free drinks than she deserves on March 17. See how many by following her on Twitter and Instagram. ​​​​​​