The Boston Summer Self-Improvement "T" Map
It's summertime and the livin' is easy, but that's no excuse to rest on your cultural laurels. From fitness and food to art and film, we've got the clickable Boston transit map to self-improvement, with 30 summer happenings in and around the city that will give you plenty to talk about through fall -- possibly in a second language.

If "read more" is on your summer bucket list, kick your weekends off at The Harvard Book Store for 15% off fiction, staff recommendations and a Top 100 list.
Courtesy of City of Cambridge Dance Party
Stately Cambridge City Hall provides the backdrop for the annual neighborhood boogie bonanza on Mass. Ave. between Prospect and Bigelow Streets. Shake it with thousands of your closest friends while DJs spin dance hits from old school Motown to '80s/'90s party classics. (Parachute pants are optional.)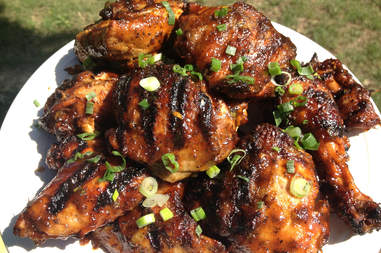 Courtesy of Boston JerkFest
The third annual Boston JerkFest takes you to the Caribbean via Boston with authentic food and drink, live reggae, steel band music, a cooking competition, and specialty foods, arts, and crafts.

Experience the best of Chinatown at this day-long carnival. While you ponder how many dumplings you'll eat, catch shows like the Lion Dances, as well as martial arts demonstrations, and traditional Chinese festival games.

True story: you can see the entire production of Puccini's La Bohème FOR FREE…next to the ocean, thanks to the Friends of Christopher Columbus Park. Seriously. Net some noshes from your favorite North End eatery, and then grab some grass on the lawn.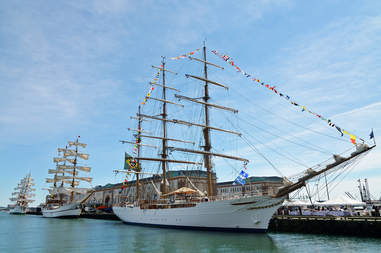 <a href="https://www.flickr.com/photos/rosino/7500807578/" rel="nofollow" target="_blank">rosino/Flickr</a>
Boston Harborfest is one-stop shopping for July 4th info with guided tours, the USS Constitution 21-Gun Salute, and other special events spanning five full days. America's birthday party culminates in the flagship Boston Pops show and fireworks extravaganza over the Charles River. (Pro tip: if the Esplanade is too crowded, there is usually some breathing room on the Cambridge side.)
<a href="https://www.flickr.com/photos/johnjoh/6306542046/" rel="nofollow" target="_blank">John Joh/Flickr</a>
Get a side of history with your barbecue: Boston Harbor Cruises throws weekly barbecue bashes next to Fort Warren on scenic Georges Island. Board the ferry at Long Wharf (6:30pm) and the BHC crew will transport you directly to the buffet table, loaded with spice rubbed chicken, burgers, dogs, and fire-toasted s'mores.

In conjunction with Free Thursday Nights, the ICA hosts the Harborwalk Sounds music series on their ultra-cool seaside deck. Mad Satta will take the stage with their original neo-jazz sounds and funky Amy Winehouse and Curtis Mayfield covers.
Cross "drinking beer with an astronaut" off your bucket list during Speakeasy Science, a casual and informative evening of presentations from a bona fide astronaut and a member of the International Space Station research team, followed by some Q&A.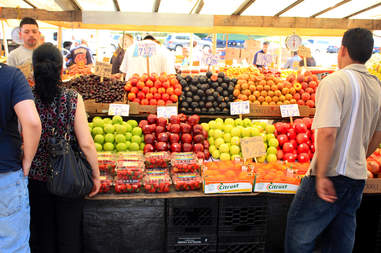 <a href="https://www.flickr.com/photos/amiefedora/3824415477/" rel="nofollow" target="_blank">Amie Fedora/Flickr</a>
Historic New England leads a behind-the-scenes tour of the market as it opens for the day (8:30am-10:30am). Learn how this 185-year-old gem went from a modest gathering of farmers to a bustling open-air produce store, and sample of fruits, veggies, cheese, and pizza.
Davis Square morphs into one giant interactive gallery at the Somerville Arts Council's annual ArtBeat shindig: 75 craft vendors, 12+ bands, food vendors, and dance troupes will converge in the streets, around this year's theme, "Loops."

Save the planet and rock out to mega jams at EarthFest, the yearly tribute to the environment, AND the largest free radio station concert in Boston. Guster, New Politics, Atlas Genius, and Alex Preston provide the soundtrack while you check out educational exhibits on various environmental issues.
The Commonwealth Shakespeare Company presents King Lear at the Parkman Bandstand. The 20th season production stars Will Lyman (narrator of PBS' Frontline) as the aging king in the Bard of Avon's tragic opus. Bring some snacks for the show, and, ummm, maybe your Cliff's Notes.
<a href="https://www.flickr.com/photos/bostonphotosphere/14523061159/" rel="nofollow" target="_blank">Bill Ilott/Flickr</a>
What can a person do with exactly 10 tons of sand in an 18'x18' square? Find out during the 12th annual Revere Beach National Sand Sculpting Festival. More than 20 international grainy gurus contend for the Master title as they transform the shoreline with incredible creations. Food trucks, live entertainment, exhibit booths, a community village, and fireworks round out this one-of-a-kind weekend.

The Boston Globe, WGBH, and Citizens Bank proudly sponsor Summer Arts Weekend, a city-wide celebration of epic proportions. Renowned musicians like Emmylou Harris, Aaron Neville, and the Dirty Dozen Brass Band will join a full spectrum of local and national talent in Copley Square for two days of free concerts. So there's that. There will also be new arts, food, and cultural programs throughout the landmark event.

To commemorate their 25th anniversary and ongoing collaboration with ISG, the award-winning Borromeo String Quartet will present a classical music program that consists of C-sharp Minor Fugue (Bach), String Quartet No. 12 (Shostakovich), and String Quartet No. 14, Op. 131 (Beethoven)…if you want to keep track of the set list.
This exhibition of Native American arts and culture features well-known performers (Sidy Maiga, AfriManding), storytelling sessions, and international artists such as wire sculptor Bernard Domingo, who will have a rare opportunity to sell their work directly to the public.
<a href="https://www.facebook.com/bostonseafoodfestival/photos/pb.180204252099772.-2207520000.1434475546./784321211688070/" rel="nofollow" target="_blank">Boston Seafood Festival/Facebook</a>
Support a sustainable fishing industry AND enjoy the fruits of the sea. Win-win. This jam-packed event raises awareness about New England fishing through seminars and demonstrations, and then turns up the fun with an oyster shucking battle, an all-day lobster bake, and fresh-catch treats from regional chefs. All proceeds support future festivals and the ongoing efforts of The Boston Fisheries Foundation.

The BPL is not only a fully functioning local library, but also a National Historic Landmark, and an architectural icon deeply seated in Boston's history. Learn more about the old (McKim Building) and the new (Johnson Building), and view significant works by painters Daniel Chester French and John Singer Sargent.
<a href="https://www.flickr.com/photos/ycchang/9549683179/" rel="nofollow" target="_blank">Yi-Chien Chang/Flickr</a>
If you haven't had enough seafood yet this summer, check out the 105th Annual Fisherman's Feast. Since 1910, the North End has brought the city together with mountains of food (fried calamari, Italian sausages), live music, games, and street parades in honor of Madonna del Soccorso (Our Lady of Help). Be sure to catch "Flight of the Angel," the festival topper of all festival toppers, on Sunday night.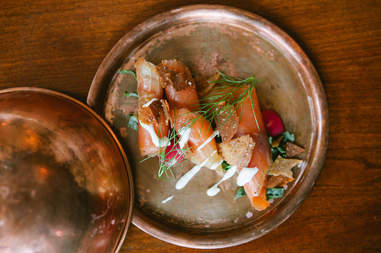 <a href="https://www.facebook.com/dineoutboston/photos/pb.579020348813554.-2207520000.1434571131./631163716932550/" rel="nofollow" target="_blank">Dine Out Boston/Beacon Hill Hotel and Bistro/Facebook</a>
Formerly known as Restaurant Week, the retooled Dine Out Boston is actually two weeks of special tasting menus, at local culinary hotspots in August. New pricing guides enable diners to select between lunches ($15-$25) and dinners ($28-$38), as well as multiple coursing options. Seats will go fast, so reserve spots early at your favorite restaurants.
The Boston Landmarks Orchestra puts rhythmic thunder in the sky for an evening of music and dance on the Esplanade. In addition to the world premiere of The Swordfishers by Donald Krishnaswami, Drums Along the Charles includes Gayane: Sabre Dance, Glass' Concerto Fantasy for Two Timpanists, and Rahmaninov's Symphonic Dances, Op. 45. As a bonus, Conductor Christopher Wilkins welcomes timpani soloists Jeffrey Fisher (Boston Ballet Orchestra) and Robert Shulz (Boston Modern Orchestra Project).
The region's largest multicultural environmental music festival celebrates green living through three days of educational forums, activities, and healthy foods. Take in hallmark programs like the Boston Green Film Fest, EcoFashion and ecoArt, and the Electric Car Showcase. Hang out in the Smoothie or Wine & Beer Garden, and then score gratifying goodies in the farmer's market.

The Boston Landmarks Orchestra is back with Mendelsohn's A Midsummer Night's Dream, Op. 61. This version of the classic rom-com, in conjunction with Commonwealth Shakespeare Company, boasts stage and musical stars of Boston and the choreography of Yo-el Cassell. Fun fact: Mendelssohn composed The Overture when he was 17, and finished the remaining incidental music 16 years later. What have you done?
Creative entries by New England auteurs as well as flicks from exotic locales (e.g. Australia, Iran) will compete for top honors like Best Feature, Best Short, and Best Doc. Along with screenings, Somerville Theatre and The Brattle will also host panel discussions and parties where you can meet the filmmakers.

Soak up the sun while you stroll through over 50 juried artists' booths, watch glass-blowing demonstrations, and paint something yourself (if you're ähtsy) on the public mural. Other festival highlights include 10+ live bands, a PBS radio storytelling program, poetry recitals, and fireworks over the water.
<a href="https://www.flickr.com/photos/northendwaterfront/7978400466/" rel="nofollow" target="_blank">NorthEndWaterfront/Flickr</a>
Italian street foods (e.g. arancini and zeppole) are the main attractions, and there are 100+ pushcarts of tastiness lining the lanes. Pizzeria Regina's Open Air Piazza (aka beer tent), Filippo Berio tastings, and Fast Freddy's "15 Seconds of Fame" contest totally seal the deal.

Unwind with a beverage and watch some of Boston's best bands (e.g. Tigerman Woah) rock the Rose Kennedy Greenway at Boston's Biggest Block Party. Check the Boston Calling Block Party Facebook page for the evening's performers.
From classic standards to genre mashups, the jazz-fusion sounds of 21-year-old piano prodigy Alexander Anderson define the modern jam session. Currently a student at Berklee, Alexander has been mentored by Herbie Hancock, Chick Corea, and other living legends, and has performed with Esperanza Spaulding, Lenny Stallworth, and Tia Fuller.
Bring your crazy paintings, odd baubles, and/or ironic art pieces to Improv Boston and let those comic geniuses curate an unforgettable Night at the Museum. Performers combine the audience's dusty treasures into one hilariously random art collection, and they that no artwork will be harmed during the show. (Unless, of course, you let them.)