8 Things You Must Do in Boston This April
Courtesy of Connie Miller
Ok, yeah... dirty snow and ice are still lingering around like unwanted house guests. It's about time to break out and flee to any of these eight upcoming events.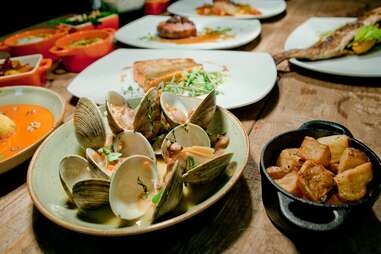 Tavern Road's fast-casual lunchtime grab-n-go, TR Street Foods, will put on its parking brake all month long as it takes over the TR dinner menu. Swapping out his daily crave-worthy fare, Chef Louis DiBiccari will present sophisticated riffs on classic street foods and pair them with specialty cocktails. Sized to share, dishes will rotate throughout the month... necessitating frequent visits.
Foundry on Elm hosts "Tap Takeover"
It's an ale vs. lager cage match at Foundry on Elm as they host the ultimate Tap Takeover (6pm). Rare specialty suds from Dogfish Head (Beer 1000, American Beauty) and Jack's Abby (Maibock, BA Framinghammer) will duke it out for beer supremacy, and everyone's a winner. Special bonus: Dogfish Head will unveil its invention called the "Randall," a double-chamber filter that infuses flavors while it pours. Call 617-628-9999 or visit Foundry's
website
for reservations.
The American Lamb Board hits the road for its annual multi-city Lamb Jam, and it'll be baaa-ck in Boston with a new theme this year: Global Flavors. 20 award-winning New England chefs will sear up a flock of creative lamb dishes, and you get to vote which chefs have earned their "chops." GA tix include tastings and brew/wine pairings, and VIP passes feature a special early session with additional tastings and a pasture-to-plate butchering demonstration.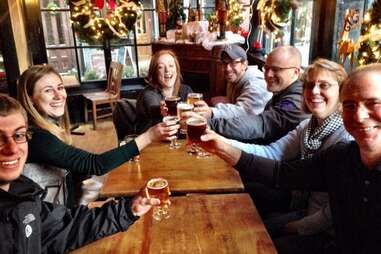 Learn about Boston's very own drunken history with the
BCAE
and
Ye Olde Tavern Tours
from 6:30-9pm. The one mile stroll along the Freedom Trail mixes stops (and pints) at our historic bars with in-depth facts about how booze helped us win our independence. 'Merica. $40 for non-members, $34 for members, and $24 for "materials"... a bargain to drink along with the Sons of Liberty.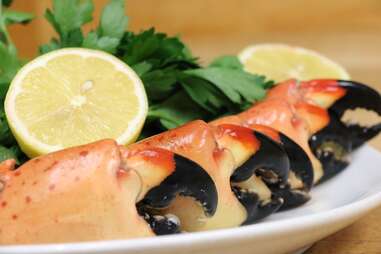 Boston's beloved steakhouse
Grill 23
goes fishing for a monumental surf-and-turf five-course dinner that even Neptune couldn't resist. Savor three traditional crab dips and a smooth cocktail during the 6:30 reception, then adjourn to the dining room at 7 for decadence like Stone Crab Dim Sum and Oscar-Style Stone Crab & Ribeye with lobster hollandaise and caviar. Call 617-542-2255 for more info and reservations.
You can finally impress people with your encyclopedic knowledge of all things Springfield at Cuisine en Locale's Simpsons Trivia Night starting at 8pm. Free to play, there will be a Simpsons-themed food menu and adult beverages for purchase, and prizes galore for top scorers in the Field of Excellence. This website tastes like purple.
Eat, drink, and learn your way around Harvard Square, courtesy of the Grafton Group and The Hahvahd Tour, from 3-5pm. The fact-filled walkabout stops for signature bites at
Grafton Street
,
Russell House Tavern
, and
PARK
, and also meanders into foodie store meccas Cardullo's, Salt + Olive, and Follow the Honey. Congrats, now you're wicked smaht and wicked full.
All of Earth's Mightiest Heroes will assemble at Showcase Cinema de Lux's epic 24+ hour "Ultimate Marvel Marathon." Suiting up first is Iron Man at 6:45pm on Wednesday, and the action won't stop until they premiere Avengers: Age of Ultron in 3D at 7pm on Thursday. For $40 your inner Hulk gets to smash all 11 films, special concession discounts, Avengers 3D collectible glasses, Marvel-themed trivia with prizes, a $5 Showcase gift card, and an exclusive "Ultimate Marvel Marathon" gold medal.