<a href="http://www.shutterstock.com/gallery-192436p1.html?cr=00&pl=edit-00">Marcio Jose Bastos Silva</a> / <a href="http://www.shutterstock.com/editorial?cr=00&pl=edit-00">Shutterstock.com</a>
Is it over? Has it passed? Did we somehow escape yet another whiskey-soaked Snowmageddon in Boston and move safely into spring? Or did I just play Jinxy McJinxalot and guarantee an early April blizzard? Taking for granted that last part will not be the case, the arrival of the new season brings some of the city's most iconic events (looking at you, Boston Marathon). So take off those winter jackets and get outside, because the city's got a ton going on this spring.
Editor's Note: We'll be updating this throughout the season, so keep checking back to stay up to date on all the best spring happenings.
Boston's Institute of Contemporary Art is like a glass-encased antidote to a bad mood: you get sunshine and water views even as you're protected from the still-crappy March conditions. The museum's newest exhibition, the Walid Raad display, represents the first North American survey of the Lebanese artist's work, and gives you all the immersive goodies you expect from the ICA, including live performances, video, and sculpture.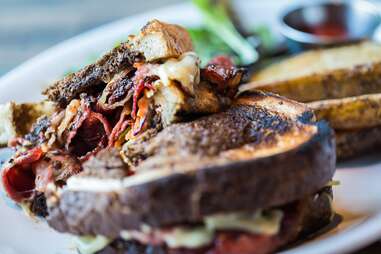 When Restaurant Week morphed into Dine Out Boston, suddenly the whole rigmarole became appealing again. More restaurants joined the fray, and chefs reinvested their creative energies. Plus, those $20 lunch menus pretty much require that you ditch the sad desk salad you've grown way too used to.
Did you know Union Square's Journeyman is on the cusp of reinvention? Gone are the four-hour tasting menus and "oh shit" dinner bills. Instead, it has simpler, wood-fired fare served à la carte, with impeccable wines by the glass to match. Owners Tse Wei Lim and Diana Kudayarova are teasing their vision with three pop-up dinners this spring, the last of which occurs March 14-16.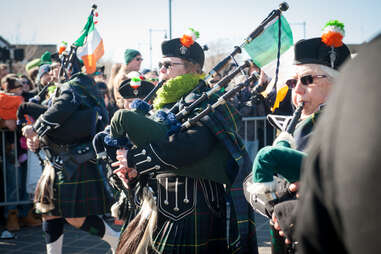 Of course you'll be green-beering your way through the Thursday before, but everyone knows our official St. Paddy's Day happens on Parade Monday. That's when your Southie buds try their hands at slow-cooked corned beef and everyone's in a more inebriated state by 11am. True story: one time I saw a parade dude carrying a sleeping toddler while pushing a stroller full of Bud Light cases. So, yeah, you need to be there.
Because binge-watching is not supposed to be a 12-month habit. BUFF used to be a wackadoodle all-night screening fest, but has since morphed into a slightly more staid event at the Brattle Theatre. Still intact, though, are the obscure, subterranean, and otherwise bizarre talkies that earn you serious #filmnerd cred.
Otherwise known as day one of the 81-game Ortiz lovefest (though no doubt he'll feel the love on the road, too), we're pretty sure you'll have to kiss up to some connected family friend to make tickets happen here. Then again, ditching a Monday workday and joining your fellow layabouts at a sports bar by 2pm sounds totally worth it, as well.
No one has what we have on this day. The runners, the fans, the resilience, the pride, the all-day feeling of camaraderie... The 11:05am Red Sox game: it's as vital as the Ted Williams Tunnel air we breathe.
Does anyone actually come to see the flowers? Okay, fine, sure, lots of people do -- and they are lovely and will definitely jump-start your spring fever. But this festival is really about whetting your summer appetites: stores and restaurants reopen, people picnic on the beach, and Cisco Brewers gets mobbed. Plus, there's the chance to gawk at those $4.75-million boat slips that probably won't see any usage until August.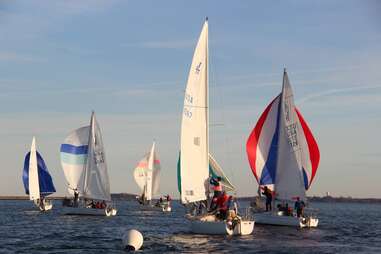 There is no surer way to shake off the last winter vestiges than by getting on the water. Boston Sailing Center at Lewis Wharf spends two days bringing anyone and everyone out into the Boston Harbor -- free of charge! All you need to do is register. And no, you're not asked to show off your bowline talents; you can just sit back, dip a pinky in the water, and let the captain take charge.