Lean Into Fall with These September Weekend Plans in Boston
Fun things to do in Boston this weekend and every weekend of the month.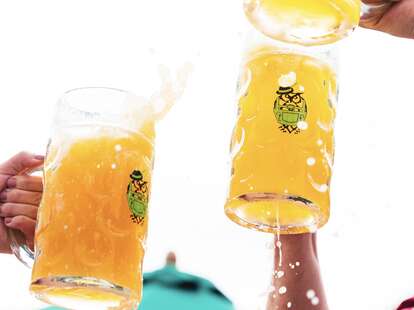 Night Shift Brewing Oktoberfest

| Photo courtesy of Night Shift Brewing
Night Shift Brewing Oktoberfest

| Photo courtesy of Night Shift Brewing
If you've been in town for more than a minute, you're either intimately aware—or have been emotionally prepped—for the incoming chaos of college move-in day in Boston. Labor Day brings throngs of students to the area, some 160,000 in total, and guess what? The newbies don't know the roads, and the UHauls and stuffed-like-sardines SUVs are double-parked all over town. There's abandoned trash (read: fabulous freebie treasures) on the sidewalks, and we all hold our collective breath until it's over—taking the occasional booze break, of course.
Though we welcome their spirited scholarly vibes, we'll also need a bit of patience and a few distractions along the way. The occasional Storrowing laugh-fest aside, we're also busy stargazing, cheering on the ladies of roller derby, sipping Autumn beers, and singing holiday songs while celebrating Allston Christmas.
We'll update this monthly, so be sure to check back regularly. Here's everything fun to do on the weekends in Boston this September.
Music in Boston
Allston Christmas at Silhouette Lounge
September 1, 4 pm
Allston, Free admission
It's pretty much the best when Boston turns an irksome college move-in day into a hilarious holiday. So, thousands of college kids roll into town with UHauls, sometimes getting stuck under bridges (much to our combined delight), and then folks start abandoning furniture on the sidewalks. Maybe it didn't fit. Maybe the roommate already brought one. Either way, it's free and up for grabs. Merry Allston Christmas! The holiday jams will be on full blast at Silhouette Lounge, so stop by for $1 Sil-dogs—and sing along to the Christmas classics while swapping tales of sidewalk treasures.
Y2K Party at City Tap Boston
September 1–4
South Boston, Free admission
Bust out that Juicy Couture tracksuit and Razr phone, folks. City Tap Boston is ushering in Labor Day weekend with the butterfly-sweet vibes of Y2K. Revisit Beyonce's roots Friday night when the DJ spins nostalgic jams from Destiny's Child and other '00s throwback faves. Luckily, there's a hangover brunch on Saturday, as well as a best-dressed contest. Once Sunday Funday rolls around, yet another brunch, this time with a Y2K trivia theme, so cue up your Bad Boys record label knowledge. Throughout the long weekend, including Monday, get in on the 2000-inspired cocktails, like the cherry-lime spritz, Total Request LIME.
Liberty Hotel End of Summer Lobster Bake with DJ Music
September 8, 6 pm
Beacon Hill, Starting at $110 for adults
How about a sea of seafood classics paired with some end-of-summer tunes to make the city feel like the Cape? The Liberty Hotel's outdoor shenanigans space, The Yard, will be packed to the gills with an extraordinary Lobster Bake buffet. The spread includes lobster (duh), Wellfleet oysters, clam chowder, Gloucester Swordfish, Chatham Cod Loin, Cape Cod Bay Wild Mussels, plus all the classic sides and summery desserts. Get your chill and chowder on while playing yard games and listening to the DJ spin up a sweet end-of-season song-storm, rain or shine.
Emo Night Brooklyn
September 15, 8:30 pm
Brighton, $15
Sometimes, when friends make music together, it's paper towel tube kazoos and out-of-tune lyrics. Core memory-making aside, that's not usually the goal for a big Friday night out. Cue up Ethan Maccoby and Alex Badanes; these two besties cracked the code and started throwing ragers in a Williamsburg, Brooklyn basement. Now Emo Night Brooklyn is on the road, so if you're down for a night of scream-'til-you're-hoarse emo and pop-punk vibes, grab some tickets while the gettin' is good. The show is 21+, so have your ID ready for the door check.
Live Music from Local Bands
Every Weekend
Various
This month, reconnect with the local music scene and shake up the usual routine. The Regent Theatre in Arlington hosts Jamie Walker & Friends with The Gravel Project featuring Jen Kearney on September 23, and it's sure to shake the paint loose in that cozy theater. The Gravel Project is as local as it gets, and their bluesy-rock vibe is a brand of grit you won't soon forget. For a more intimate scene, swing into Hunter's Restaurant in South Boston, where they're serving up brunch and the artistry of local musicians. As a bonus, Hunter's understands that live music—at brunch—needn't be at an ears-bleeding-banger volume level.
Arts & Culture in Boston
The Newbury Boston X Institute of Contemporary Art
September 1–4
Back Bay & Seaport District, Varies by room
The clock is ticking on this one, but it's a doozy of an art-meets-style deal. The Newbury Boston has teamed up with the ICA to help with the US debut of artist Simone Leigh's latest exhibit. Leigh is a renowned artist, working in varied media, but always through the Black feminist lens. This special room package includes a commemorative tote bag, two exhibit tickets, and a welcome gift from luxury skincare company eu2be. It's a great date night, getaway weekend, or gift, but the package is only available through September 4 and must be booked 24 hours in advance.
10th Annual Boston Seafood Festival
September 10, 11 am
South Boston, Free general admission + specialty packages for purchase
Celebrating a decade of decadent seafood, The Boston Seafood Festival is back. General admission includes entrance to the fish pier, live entertainment, and access to 20 different food and beverage vendors—including some freebies. You'll also see over 15 cooking demonstrations, including chefs from Woods Hill Table, Union Oyster House, and Porto. If you think you've got what it takes to out-shuck the masses, get in on the oyster-shucking contest by emailing the coordinator via the button on the event page. Bring a bit of cash since many food vendors will be selling scrumptious bites.
Special Movie Screenings from Fathom Events
September 17
City-wide, Cost varies by theater
Long live the movie theater! Fathom Events regularly releases special screenings, and September is a big month with the 35th-anniversary limited re-release of Rain Man, starring Tom Cruise and Dustin Hofman. The 1988 film centers on Hoffman's character, an autistic savant, and won four Academy Awards. It's playing at select theaters on September 17. As an added bonus, Fathom Events is also offering up some retro John Carpenter classic horror movies this month, Christine and They Live; check listings for times and locations.
Watercolor Classes at The Hidden Art Gallery
Every Saturday, 10 am, 12:30 pm, and 2:30 pm
Beacon Hill, $120, Art supplies included
Watercolors is one of the easiest ways to dabble in painting as a hobby: brush some water onto your canvas and then the paint travels along that little roadmap. You have plenty of wiggle room to blend and play, and even a canvas of gradient color is as soothing as a cozy meditation sesh. The two-hour classes at The Hidden Art Gallery include guidance from an art instructor and all necessary supplies. Afterwards, workbooks under $25 with lightly printed designs on watercolor-specific art paper are perfect for honing your newfound skills. Of course, the gallery is a gallery, so leave time to peruse and gather some inspiration.
Sports in Boston
Bowling at Urban Wild
Every Weekend
Charlestown, Starting at $40 per person
The artwork alone is enough to visit Urban Wild—like some rainbow-speckled psychedelic artscape offering a spectacular night of bowling, music, and food. In line with its artsy vibe, the menu is more than just bites and bar food; everything is a hard-to-achieve balance of comfort and creativity. Think Mushroom Truffle Bites, Cool Ranch Popcorn Chicken, and wildly over-the-top, sharable Queen's Cake. Bowling prices are per person and depend on the time of day; definitely, book before you arrive.
Boston Roller Derby Lobstah Roll Tournament
September 9, 4 pm
Wilmington, $16 General Admission, $24 VIP
Roll on over to the Shriners Auditorium to cheer for the badass ladies of Boston Roller Derby. The Lobstah Roll Tournament is your only chance to see them roll, smash, and score until the 2024 season starts up. If you're new to the scene, check out the rules posted by the official Women's Flat Track Derby Association. Choose from general admission bleacher or VIP trackside seats, and remember to bring cash, which you'll need for concessions. Either way, stick around for the after-party.
New Outdoor Bocce Court at Gufo Restaurant
Every Weekend
Cambridge, Free for restaurant patrons
Gufo means "owl" in Italian, and you'd be wise to arrive early and call dibs on their new outdoor Bocce court. The indoor space is gorgeous, but take advantage of their rustic-vibe covered patio before Autumn gives way to winter. The eatery-style menu offers sandwiches on freshly baked focaccia or ciabatta and those looking for larger plates can order the Whole-Roasted Sea Bass or the dinner of your fancy childhood dreams—Fried Dough with prosciutto, garlic butter, and parmesan.
Pumpkin Carving at Boston Landing's Fall Crawl
September 23, 1 pm
Brighton, Free Admission
Boston Landing is always up to something, and in September, these folks are doin' it up. We're most excited for the fall crawl because they're including everyone's favorite fall sport—pumpkin carving. Food and drinks will be available for purchase, but if you get there early, you can fill up on the free churros. The event will have all the fixin's for a fabulous fall day—cider, caramel apples, lawn games, and live music by the Jimmy Buffet tribute band, Changes in Latitude
On The Mark Archery
Every Sunday, 11 am
Watertown, $50 (includes admission and equipment rental)
If you saw The Hunger Games movie and the whirly sound of the bow made you quiver (see what we did there?), give it a shot at On the Mark Archery. Archery puns aside, it's an incredibly satisfying sport with plenty of room for beginner's fun. This class includes equipment rental, a lesson, and an hour and a half of shooting time. Perhaps best of all, you'll get to casually use archery lingo like bowyer, longbow, and, of course, the party favorite, flu-flu.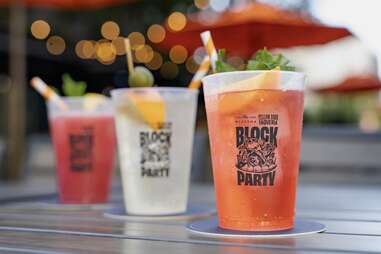 Drinking in Boston
Remnant Brewing's New Cambridge Location
Every Weekend, 4 pm
Cambridge, Cost varies
Remnant Brewing's Bow Market location in Somerville has a cozy aesthetic—like hanging out in a friend's jazzed-up drinking garage. They're in tune with the community, serve a heck of a brew, and now they're expanding to Cambridge, so cue the squeals and confetti. The branch, Satellite, will officially open its doors to the public on Friday, September 1 at 4 pm. The walls are wrapped in handsome wood paneling, the bar's got more taps than a five-star General, and the Beer Garden's tables are ready and waiting. Stop by for some kick-butt coffee, a gorgeously petite-yet-perfect menu, and their incredible pours.
Bar Mezzana and Yellow Door Taqueria Block Party
September 10, 2 pm
South End, $95
A block party in a jooshed-up courtyard? Count us in, especially when said courtyard is between Bar Mezzana and Yellow Door Taqueria. The two gourmand powerhouses have teamed up for an Ink Block Party, complete with lawn games, a photo booth, and music vibes by DJ BREK.ONE. Tickets are required and get you admission to the block party, two drinks (additional drinks available à la carte), and Bar Mezzana and Yellow Door Taqueria food. The grill flames will flicker, and the laughs, bites, and outdoorsy memories will be the stuff that buoys you through the cold days of winter. Yup, it's coming, so get out there and patio parties while you can.
Dorchester Brewing Company's Fall Release
Every Weekend
Dorchester, starting at $9
Just in time for the official start of Autumn, Dorchester Brewing releases its latest beer, Pie Fight, and she's a beauty, folks. They've taken an amber ale and mixed it with some New England-style sorcery in the form of pumpkin-spiced seasoning—but nothing too cloying, just a nicely balanced light malt brew with a hint of seasonal whimsy. A 16 oz from the tap will run you $9, or snag a four-pack for $12.80. They brew all their beers onsite at Dorchester Brewing's Taproom location, and Fridays and Saturdays after 6 pm are 21+, so stop by for seasonal beer—and some quality Skee Ball time.
Oktoberfest at Night Shift Brewing
September 23, 4 pm
Everett, Free general admission, $30 Stein-holding Competition
Night Shift's Oktoberfest is spread between their Esplanade and Allston beer gardens, Lovejoy Wharf brewery and restaurant, and Everett location, which will have a Stein Holding Competition. The brewers have been busy crafting five German-style biers for the event, including the Prost Malone—a Munich-style lager—which gets bonus points for its perfect name. Yodeling is optional, but everyone's secretly hoping that someone—anyone—kicks it off (are you that hero?).
World Sake Day Celebration
September 24, 5:30 pm
South End, Starting at $100
The air is getting crisp, and the allure of sake is in the air. Celebrate Nihonshu-No-Hi, the Day of Sake, in both style and delightfully glutinous volumes. Head to Garage B at The Charles River Speedway and meander the twenty or so sampling stations featuring Mutual Trading Sake, Farthest Star Sake, and sake culture purveyors like Koko Utsuwa Pottery. Admission includes sampling and educational conversation with sake experts, but you can also sign up for various $35 sake workshops, like the discussion on Ancient, Heirloom, and Local sake.
Traditional Greek Brunch at Bar Vlaha
Every Weekend
Brookline, à la carte menu
Starting September 2, join Bar Vlaha for their newly launched brunch and experience a smattering of Greek culture. Will there be spontaneous traditional Greek dancing? Perhaps, but there will undoubtedly be plenty of boukies (sharable bites). Larger plates also include the Strapatsada with scrambled eggs, wild mushrooms, and black truffle. The eatery is named for the Vlach people—nomadic shepherds—known as the pioneers of hospitality and Greek cooking. The main ingredient in every dish is philoxenia—the idea of loving all you meet and creating warm, lasting bonds. Pair it all with cocktails featuring fun names like the Pump the Briki.
Melanie Carden is a private chef turned travel writer. She's equal parts adrenaline-seeker and
Golden Girls
vibes. You can find her trying new things, thrifting for treasures, grinding it out on a trail, or lounging on a picnic blanket—Aperol spritz in hand. She's fickle about social, but the sporadic nuggets are worth the wait—cricket tacos, anyone?