The leaves are changing in New England and the temps are cooling. It's finally beginning to finally feel a lot like fall. Which means all the classic trappings of the season: apple-pie baking, (more) Oktoberfest beer tasting, and a whole lotta chowder. But the weekend isn't just about autumnal cliches: It also includes the debut of a downtown arcade bar, an adult lemonade stand (for a good cause), and a bubble soccer tournament (also for a good cause, and a good laugh). Here is everything you must do in Boston this weekend.
Rediscover your Ms. Pac-Man mojo at the new Versus
Friday-Sunday, October 12-14
Versus
We can never, ever have too many adult arcades. This latest one, from the Big Night Entertainment Group, is '80s nostalgia writ enormous: Throwback games augmented by pop-art murals from local artist Dirty Dek. Pub grub, creative cocktails, and craft beer and wine seal the deal. And it's also open for lunch, which means Donkey Kong at noon.
Cost: Your whole allowance
Recommended Video
Fireball Whiskey Apple Pies: A Dessert Fit for a Frat Party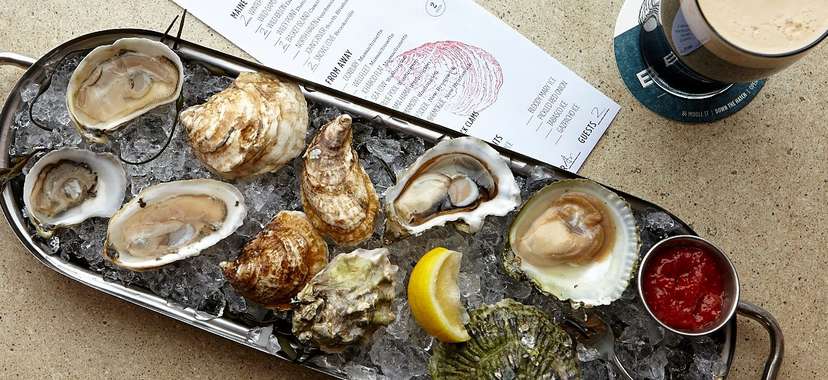 Get your oyster fix and then some during Eventide Fenway's First Anniversary Party
Friday-Sunday, October 12-14
Eventide Fenway
Any birthday party involving one-buck shucks is already a winner in our books. And this one goes for a full three days: $1 oysters on Friday (4-11pm), two-for-one chowders all day Saturday, and then on Sunday, the Golden Oyster Giveaway. The latter will grant three slurpers the gift of the gods: $1 oysters every Friday night for a year. Just look for an actual golden oyster nestled amongst your otherwise humdrum bivalves.
Cost: Next week's allowance
Friday, October 12
Rocky Woods Reservation
Sorry, Sarsgaard: There's only one Pennywise in this world, and it's played by Tim Curry. Those who have never seen the original TV miniseries need fair warning that it's legit terrifying -- and much more so when watched in the actual woods at night. The screening also includes a Q&A with screenwriter Lawrence D. Cohen during the intermission (the movie's a long one), and an actual Pennywise costume from the movie will be on display.
Cost: $25; food and beer available for purchase
Drink your last(?) hard lemonades of the season at the Lemonade Stand Off
Saturday, October 13
Kirkland Tap & Trotter
Call it one final picnic for the road. Local bartenders like Mary Kurth (Spoke), Jared Sadoian (The Hawthorne), and Jacki Schromm (Lion's Tail Boston) descend on Kirkland Tap & Trotter to mix up adult lemonade cocktails. Chef Tony Maws provides the downhome vittles, including grilled cheese sandwiches and green chile chicken wings. All proceeds go to Alex's Lemonade Stand Foundation, which fights childhood cancer.
Cost: $40
Saturday, October 13
Lopresti Park
Soccer without fear of headbutts? We're down. Bounce, boink, and roll your way to victory (or defeat -- who cares?) during three-on-three matches played while your upper body is encased in a giant, yep, bubble. Proceeds benefit Soccer without Borders.
Cost: $20 per individual; $75 per four-person team
Saturday, October 13
Copley Square
We'll just leave this here: Doris Kearns Goodwin, Michael Pollan, and Tayari Jones, to name but three. Drink deep their creative juices and get your own flowing during the annual Copley Square effort to make reading cool again.
Cost: Free
Sunday, October 14
University Park
More than 30 trucks are putting on their brakes for one of the last food fests of the season. Stuff yourself stupid with grilled cheese sandwiches and whoopie pies before dancing to live music from local band Dan and the Wildfire and refueling at the Lamplighter Brewing beer garden.
Cost: Free to attend
Indulge all your favorite pleasures during BARCtoberfest
Sunday, October 14
Down the Road Beer Co.
We prefer our autumn beer fests with a side of furry friends -- and if altruism is involved, so much the better. In the name of Boston Animal Rescue Collaborative, bring your pups for an afternoon of live music, local beer, and training workshops for both two- and four-leggers alike. On top of that, three different adoption groups will be on site to introduce you to your next best friend.
Cost: Free to attend -- but feel free to donate; workshops run $40-$60
Sunday, October 14
Sofra Bakery & Cafe
Time to learn from the badass bakers. First up is Lisa Ludwinski, owner of the Detroit-based Sister Pie and all-around pastry professional. Under the approving eye of Sofra executive pastry chef Maura Kilpatrick, she'll show guests how to make her famous pie crust (created daily and sometimes communally), all the better to serve the fall's massive apple-picking haul.
Cost: $85
Sign up here for our daily Boston email and be the first to get all the food/drink/fun the Hub has to offer.