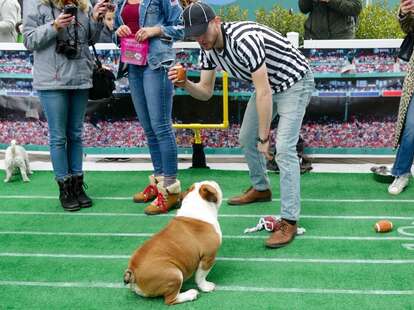 Bad news: It's going to be absolutely freezing this weekend. Good news: Jennifer Coolidge is in town! After you've properly paid homage to the queen, you can head indoors to honor Black History Month, shop a Valentine's Day-themed market, sample all manner of cocktails, and learn everything you've ever wanted to know about yarn. Once you've warmed up, you can head back outdoors for a little Puppy Bowl action. There's a lot on the docket, so clear your calendar and check out this list of the most fun things to do in Boston this weekend.
Saturday, February 4
Harvard Square
Because of course Tanya McQuoid is the Hasting Pudding Woman of the Year. Who else could it be? Head down to Harvard Square at 1:45 pm sharp to watch Jennifer Coolidge (and hopefully not her posse of murderous gays) parade through the neighborhood before accepting her award at Harvard's Farkas Hall.
Cost: Free
Saturday, February 4
Time Out Boston Market
There are plenty of drinking events around town that have you sipping cocktails made by Boston's top bartenders. But this weekend's celebration at Time Out Market put your own talents front and center. Teams of attendees will pair up with an expert bartender who will whip up a bevy of creative cocktails; then the team is on the hook to replicate that expertise.
Cost: $29
Saturday, February 4
Crane Beach at the Crane Estate
What better way to take in a full winter moon than during an evening beach hike? Join your fellow outdoorsy souls for a Cape Ann sunset followed by a sojourn through the trails of Castle Neck under the light of February's Snow Moon.
Cost: $30
Sunday, February 5
Polkadog Bakery Seaport
This is the only game that matters this weekend. Head to the Seaport to meet adoptable puppies as they play a couple of quarters under the watchful eye of official Puppy Bowl referee Dan Schachner. Even if you're not in the market for a new pup, you can bring your fur baby to enjoy some doggie treats and cheer on their competing counterparts.
Cost: Free to attend
Sunday, February 5
State Park
Atone for your past V-Day missteps by shopping for locally made prints, ceramics, florals, and more at the Valentine's Day Markers Market this weekend. Add in craft beer and some live music, and you might even be able to make a proper date of it.
Cost: Free to attend
Sunday, February 5
Boston Public Market
What do you know about New England's yarn exports? Acquaint yourself with more than two dozen regional alpaca and sheep farmers, learn the difference between Merino and Shetland wool, try your hand at needle felting, and otherwise immerse yourself in the pleasures of fiber farming.
Cost: Free
Friday, February 3 – Sunday, February 5
Upham's Corner
It's here! This brand new cafe and a full-service restaurant is set to serve African Diaspora dishes inside a former comfort station in North Dorchester. This means you can stop by in the morning for a latte, pop in again at noon for a salad or sandwich, then finally return in the evening for a delectable menu of jerk roasted duck, potato curry cakes, za'atar brown butter trout, and pistachio cardamom ice cream.
Cost: A la carte
Meaghan Agnew
is very, very happy to be done with her least-favorite month of the year. Find out how her February shapes up by following her on
Instagram
.