Listen, we're not actually here to tell you what to do this weekend. If you want to sit in a dark corner and stuff your face with Reese's Peanut Butter Eggs for 48 hours, send us a Zoom invite, because we're right there with you. This is not getting any easier. But these unprecedented times are already revealing the tremendous poise and generosity of our city, qualities we don't often get credit for. So let's keep it going! 
We've already shared some ways you can support the local dining and drinking industries. This weekend, you can also help feed frontline healthcare workers, out-of-work restaurant staff, and seniors. And once you've done right by your neighbors, settle in for some free acoustic music, a virtual game night, and a weekend of gardening advice. Here is everything you can safely do in Boston this weekend.
Friday, April 3 - Sunday, April 5
Feeling healthy and hearty? Consider leaving the house for a safe hospital space to join the Big Night blood drive. If you donate and email a picture of donating yourself to give@bignight.com, you'll receive a $100 gift card that can be used at any of Big Night's 17 venues -- and, Big Night employees will receive $100 cash. 
Cost: A bit of lightheadedness is certainly worth a gift card and the health of the greater good
Friday, April 3 - Sunday, April 5
No, you're not revisiting the heist itself -- which is good! The art always becomes the also-ran in the theft discussion. But it's beautiful, as you'll see when you take a photo tour of all 13 missing works along with related background and ephemera. 
Cost: Free -- but don't forget that the museum is still offering a $5 million award to anyone whose tip leads to the recovery of the art
Friday, April 3 - Sunday, April 5
Consider this a balm for your battered soul. Local artists are recording virtual concerts as part of Club Passim's larger effort to bring music to the housebound masses. Tune in when you need a little pick-me-up, then send money to the Passim Emergency Artist Relief Fund (PEAR Fund).
Cost: Donate here
Help feed a healthcare worker
Friday, April 3 - Sunday, April 5
Our nurses, social workers, doctors, home health aides, and custodial staff are out there on the front lines every day fighting for us, often with inadequate equipment. Let's do what we can to keep them well. Cafe Landwer is giving you the opportunity to "Adopt a Nurse, Doctor, or Pharmacist" by purchasing breakfasts or lunches for the hospital of your choice. Meantime, Off Their Plate is raising funds to feed hospital workers while also supplying lost wages to restaurant workers -- for every $100 donated, you send 10 meals to frontline workers and restore three shift hours to the restaurant community. 
Cost: $30-$100 for meals from Cafe Landwer
Friday, April 3 - Sunday, April 5
This is a national effort, but you can focus your efforts on Boston folks. Through the LEE Initiative, Blue Dragon is now a relief center for local restaurant workers who are laid off or dealing with severely reduced hours. Every night the restaurant offers hundreds of to-go meals that folks can come to pick up and take home. 
Cost: Your normal weekend dining budget -- so give here
Friday, April 3
Doesn't this sound pure and good? Hook up with the BKB crowd for a different Jackbox party game each Friday night at 6pm (suggestions welcome). You can chat with other players if you want, but if you just want to quietly wind down from another insane week, that energy is welcome, too. 
Cost: Free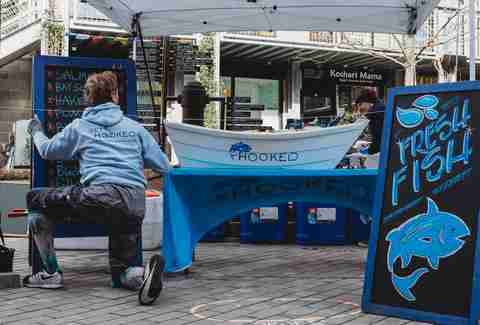 Saturday, April 4 - Sunday, April 5
Bow Market
Eternal love to Bow Market for bringing a bit of (relative) normalcy to our lives. The outdoor market will feature appropriately spaced regional vendors hawking fresh fish, meat, produce, dairy, and pantry staples. You just have to book your 30-minute visit in advance and wash your hands when you get there. Oh, and no touching -- the vendors will handle and bag everything for you. 
Cost: Free, but you must register to attend
Saturday, April 4 - Sunday, April 5
Not one, not two, but three virtual classes over Saturday and Sunday are here to turn that brown thumb green. It kicks off with a gardening Q&A to get some of your basic questions answered, then leads into sessions on how to garden with local wildlife in mind and how to start your own vegetable seeds. 
Cost: Free
Sign up here for our daily Boston email and be the first to get all the food/drink/fun the Hub has to offer.