About ready to bid January adieu? We're right there with you. Never mind that this month has felt about 300 days long -- the cold, ice, and icy rain are really starting to grate (we know, we know, we've still been lucky on the snow front). But there are always ways to combat the mid-winter blues. For example: free chocolate, and lots of it. Or schnitzel, or wine tastings, or an '80s apres ski party, or even a little, um, stoner yoga. Here is everything you must do in Boston this weekend.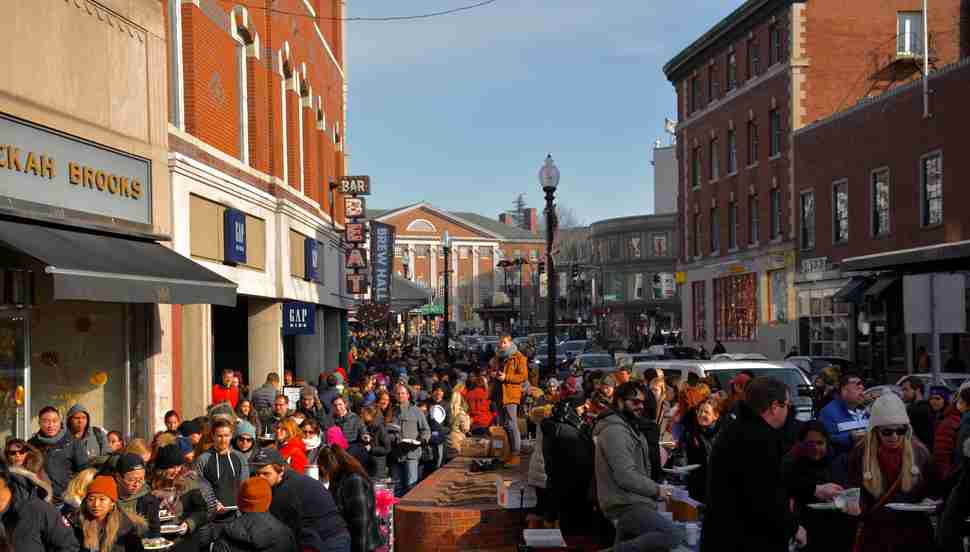 Friday, January 24 - Sunday, January 26
Harvard Square
There is no quicker way to happiness than free chocolate. The marquee event is Saturday's free tasting from 1-2 pm in Brattle Plaza, where loads of area businesses are doling out the sweet stuff to anyone who begs. But the whole weekend is about chocolate-centric deals and giveaways, guaranteed to lift you out of your late-January doldrums. 
Cost: Free
Saturday, January 25 - Sunday, January 26
Mandarin Oriental
The Year of the Rat can only be celebrated in one way: with a champagne toast. Oh, and five different teas -- plus treats like cucumber, tofu sandwiches, and egg tarts. A portion of the proceeds from every tea booking will be donated to the Boston Chinatown Neighborhood Center. (And if you can't make it, the tea service is available next weekend, too.) 
Cost: $78
Friday, January 24 - Sunday, January 26
Bronwyn
Schnitzel is one of the world's great undersung delicacies. Question why you don't make it at home more often while diving into the last three days of a "schnelebration. BBQ (pork loin with smoked pork shoulder and haus bbq sauce), Jaeger ("hunter's" pork loin with hen-of-the-woods mushroom sauce), and Hirsh (venison loin with brown butter pears and chestnuts) are the three remaining schnitzel varietals, all served with potatoes and kraut. 
Cost: $22 per plate; $10 per liter of beer.
Friday, January 24 - Sunday, January 26
Mohegan Sun
Because it'll probably take you as long to fight the traffic to Encore as it will to drive down to Connecticut for three days of wine tastings, dine-arounds, bourbon and beer events, and a little post-vino gambling.
Cost: Grand tasting is $95; a designated driver ticket is $20 
Friday, January 24 - Sunday, January 26
Tisch & Koppelman Galleries
When art becomes social action. Work from dozens of contemporary artists created over the last 40 years combine to take a holistic look at the ways citizens move through our criminal justice system, from the courtroom to incarceration and beyond. 
Cost: Free
Friday, January 24
The Lodge at Publico
Did you know that skiing movies in the 1980s were a whole subgenre? Learn all their cheesy ins and outs during a retro night of film screenings, '80s music, a raffle, and an ice luge. Have a large crew? Consider giving a call to reserve a couch by one of the firepits, the better to enjoy a large-format cider. 
Cost: Free to attend; RSVPs encouraged 
Saturday, January 25
Joppa Flats Education Center
Football fandom ain't the same this year. Time for a new hobby! Join up with birders both seasoned and nascent during a daylong competition that pits birding teams against one another to see who can ID the greatest number of species. 
Cost: $35 per person 
Sunday, January 26
ONCE in Somerville
We're just as curious as you are. It's yoga done to a stoner rock soundtrack -- which is to say, a blend of heavy metal and psychedelic rock. How does that work during savasana? We repeat: We're just as curious as you are. 
Cost: $17 in advance, $20 day of
Sign up here for our daily Boston email and be the first to get all the food/drink/fun the Hub has to offer.