The weekend after Thanksgiving truly is the most wonderful time of the year. Your fridge is full of leftovers, you have a prolonged reprieve from work, and shopping is not only encouraged but basically mandated. So get in the holiday spirit and hit up a Black Friday vinyl sale and a Small Business Saturday home store sale (with champagne!). Why not buy a holiday tree or check out some seasonal pop-up bars while you're at it? Here are all of the best things to do in Boston this weekend to get into the holiday spirit.
Friday, November 27
Tres Gatos
Because vinyl is always a wonderful gift. Our favorite tapas-slash-record store will open bright and early on Friday morning at 9 am for a sidewalk sale featuring the elusive, the unreleased, and the otherwise coveted. There will be plenty of used books to peruse as well (CDs and cassettes too, if that's your thing); and the free pastries and coffee seal the deal.
Cost: Free to attend
Saturday, November 27
Suffolk Downs
Grab a niece or nephew and head to Eastie for hot cocoa, a little Christmas tree and wreath shopping, and a chance to pose with Santa. And be sure to show up with at least one unwrapped toy, as both Eastie Elves and the Revere Police Department are running toy drives.
Cost: Free to attend
Friday, November 27 –Sunday, November 29
Kimpton Marlowe
Lots of meet-ups on your calendar now that you're boostered? The halls of this Kimpton hotel's Lobby Bar are decked once more, and they beckon with holiday music, a crackling fireplace, ugly Christmas sweaters, and drink and food menus that play off the holiday theme. Just beware: The returning Christmapolitan (vodka, elderflower, dry vermouth, spiced cranberry sauce, rosemary, lime, and absinthe mist) is lethal.
Cost: A la carte
Saturday, November 27
Home at Rowes Wharf
This is the way to do Small Business Saturday: Sipping on complimentary Moët & Chandon while browsing luxe home items. And hell, maybe you're just shopping for yourself, given how much time we're all still spending at home. Either way, all visitors are entered into a giveaway for the hotel's upcoming wine festival, and those who actually make a purchase double their chances of winning.
Cost: Free to attend
Friday, November 27 – Sunday, November 29
Shore Leave
Turns out more than one holiday pop-up is returning this year, so get excited. Shore Leave is decking its subterranean halls with all manner of schlocky Christmas decor and pouring the likes of the Kris Kringle Colada (dark Jamaican rum, Cynar, allspice, lime juice, pineapple juice, and cream of coconut), and the Christmas Eve of Destruction (dark overproof rum, herbal liqueur, nutmeg syrup, lime juice, and Angostura bitters). Add in Shore Leave's new sushi menu, and we're predicting repeat appearances.
Cost: A la carte
Friday, November 26 – Sunday, November 28
Stone Zoo
It may be kid-friendly, but it's far from kid-exclusive. Thousands of LED lights brighten up exhibits like the Yukon Creek pavilion; new this year are large-scale lantern displays that further light your way. You can also spring for a hot chocolate date with the zoo's reindeer and take a whirl on the carousel.
Cost: $14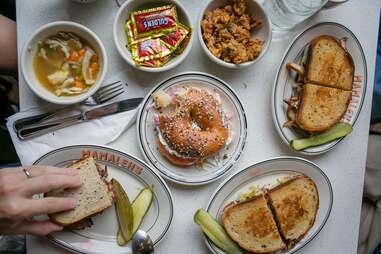 Sunday, November 28
Mamaleh's
With Hanukkah happening so early this year, we're guessing you're not planning on doing quite as much cooking. So put in your order at either the Cambridge or Brookline location for matzo ball soup, braised brisket, potato latkes, apple sauce, and more. And while you're at it, might as well do a little Hanukkah gift shopping in the restaurant's new gift shop—everything from a favorite Jewish food puzzle to "Nice Jewish Boy/Girl" socks.
Cost: A la carte
Friday, November 26 – Sunday, November 28
Seaport Common
G-rated outdoor fun is exactly what 2021 ordered. We're talking iceless curling, light-up bocce, and large-scale versions of classic games like Battleship, Jenga, and KanJam. Stand beneath 2,000 twinkling lights and share your holiday cheer on the 30-foot interactive wish wall, then head over to Tuscan Kitchen for seasonal cocktails and pizzas from their wood-burning oven. New this year is a European-style holiday market showcasing more than 60 artists and vendors, so you can get some shopping done, too.
Cost: Free
Saturday, November 27 – Sunday, November 28
401 Park
Our city will always be served by more open-air skating rinks. And this one comes with a bonus twist: It's right outside both Time Out Market and Trillium Fenway, which means your food and drink options afterward are far more epic than the typical hot chocolate stand.
Cost: $10; $6 for skate rentals
Meaghan Agnew
needs to restock her oversized sweater collection. See where she lands by following her on
Instagram
.